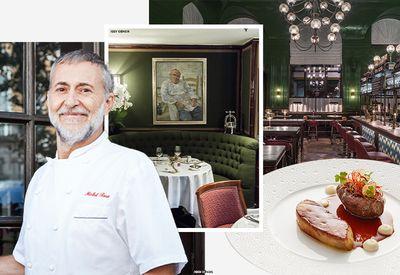 My Life In Food: Michel Roux Jr

---
Michel Roux Jr is the MasterChef: The Professionals judge with a stellar kitchen career of his own. He took over multi-Michelin-starred Le Gavroche from his dad and uncle in 1991, gradually creating his own style of cooking – classic French with a lighter, modern twist. Now he also runs Roux at Parliament Square and all the restaurants at five-star hotel The Langham. As he returns to TV screens with a new show – Michel Roux's French Country Kitchen – he shares his favourite restaurants, entertaining tips and the dinner he relies on after a long shift.
As a child growing up, we'd always eat at home. My first restaurant memory would have been going to see my father [the late Albert Roux] at the old Le Gavroche when I was about nine or ten around 1969, but not actually to sit down and eat, just to say hello to dad. I remember getting some macarons and a madeleine or two in a little box from him and my uncle [the late Michel Roux]. But in terms of sitting down to eat, I do remember going to Mr Chow near Harrods when I was about 12 with my parents and sister. Back in the 70s it was the very poshest of Chinese restaurants and it would have been the first time I tasted things like Peking duck and fried rice. It was totally different to anything I'd eaten before, and I loved it.
The first dish I learned to cook was probably helping mum at home to make shepherd's pie. Everything was made from scratch, from mincing up the lamb and the vegetables to mashing the potato. I used to enjoy getting involved with peeling.
The restaurants I revisit most often are Zuma or Roka. Since they've re-opened, I've probably clocked up more than 50-odd visits at both of them. I love that kind of food and I don't make it at home. I can slice up some raw fish and make a nice sashimi, but it is not the same. They do it really well. And I'm a bit of a creature of habit, so I like going back to places I enjoy. I've never had a bad meal or a dud experience there.
I always find myself going back to the places I really like for reassurance and comfort. Even though I love going to new restaurants and experiencing different things. I used to go to Chez Bruce a lot – I've clocked up a heck of a lot more than 50 visits there. We used to take my daughter Emily. My parents never took me to restaurants at a very young age because they couldn't, but I could as a parent – so I did. We'd go nearly every other Sunday dinner. We were one of the first ones in at 6pm and they could resell my table at 7:30pm, in and out. We have great memories of Chez Bruce and still go a couple of times a year. 
My favourite chef is my son-in-law, Diego Ferrari. He is an exceptionally talented chef. He and my daughter own their own restaurant called Caractère in Notting Hill. It's really good, and to me he is a supremely gifted chef. It was the first place I went to when we were allowed to go out again after the first lockdown.
I've been fortunate to have eaten in some of the most amazing places all over the world. But it's not necessarily the amount of money you spend on the meal or the place which makes it memorable. It's the time spent with the person you're eating it with. And some of the meals I'll never forget are the simplest of meals. I remember doing the New York Marathon in 2000 and I'd arranged to meet my wife in a particular area and she wasn't there. After a while of waiting, I ran back to the hotel as we needed to get ready for our flight back to London the very same day. She was there, but it was two hours after the run so I was starving and getting to the point where I was shaking and needed to eat desperately before getting into a taxi to get to the airport. There was a deli just on a corner, so I grabbed a typical New York sandwich pastrami on rye and I will never forget it. The sheer pleasure that sandwich gave me. I will never be able to find that deli again. And, to be honest, it probably wasn't the greatest sandwich on earth, but I will never forget it. Sometimes just a moment in time that makes something special. 
"I've eaten in some of the most amazing places across the world. But it's not necessarily the amount of money you spend on a meal, it's the time spent with the person you're eating it with, which makes it memorable."
I'm not a pub person. But it would be remiss of me not to mention The Wigmore, the pub that I run at The Langham. Outside of family businesses, The Hardwick in Wales is run by a young man who used to work for me in the kitchen called Stephen Terry. It's just outside Abergavenny, which is stunning. It's a beautiful pub architecturally and a proper bar, but the food is spot on. In terms of bars, again The Langham hotel bar is definitely up there. But if you're coming as a tourist for the first time to London, the bar on top of The Shard is well worth a visit.
I like a lazy Sunday because it's my day off. It might involve a visit to the gym or doing some yoga, then a late lunch of something very simple, like a good roast chicken with a good bottle of wine. I always cook. 
I can't remember the last time I went dating. When it comes to planning a date, I would say do your homework, make sure that you take your date somewhere that they are going to enjoy eating. The worst thing you could do, for example, is taking your date who's a vegan to a steak restaurant. And food should always be involved: it's fine going to a bar before or afterwards, but the idea of a date is to get to know the person and to enjoy each other's company, not get plastered.
I tend to snack a little bit when I come home from work. Staff food is around 4:30-5pm, so when I come home around 11pm, I'm hungry. I usually opt for cheese, which is not good for sleeping, but I've always got good cheese in my fridge. 
I like to buy my ingredients from any local independent shops I find. There seem to be more and more, which is fantastic. And we should support them. We should all be buying less in supermarkets and online, and actually going to local independents and spending our money there. They need it more than anybody else.
My most used ingredient has got to be some form of seasoning. Salt goes in everything including desserts. And it has to be good-quality salt like Maldon sea salt or Cornish sea salt – something that's got flavour, because salt isn't just salt. I love nutmeg too – grating a nutmeg in food really livens it up – and chilli flakes.
My favourite dining companion is my wife, Giselle. Because Le Gavroche is now closed for lunch, we'll generally have a light lunch together. But on days off we go and eat out.
If I'm entertaining at home, my signature dish is a cheese soufflé. There's a certain wow effect, isn't there? Everybody loves cheese – well, we do in our family – so a cheese soufflé with a nice white burgundy, or maybe even a good bottle of champagne, is my go-to dish.
My dream dinner guest would be Eric Cantona. I'm a Manchester United fan and have watched him play loads of times. I'm a huge fan of his and I'm actually quite enjoying his acting career as well – I think he comes across really well. He seems like a bit of an oddball, but I reckon he'd be absolutely great entertainment. And he certainly loves his food and wine. 
The secret to hosting a good dinner party is keeping it simple. You want to spend time with your friends or your guests, not in the kitchen. So keep it simple and get it all ready in advance. And don't do five or six courses: it can even be just one course – just do it properly.
The best party I almost threw was my 60th birthday party which was cancelled due to Covid. Not cancelled – postponed! I had the date, the menu, I'd chosen the wines and had everything all organised at Le Gavroche but then lockdown happened. It'll have to be my 62nd birthday instead!
When it comes to brunch I'm quite classical in my taste. I love smoked salmon, but it has to be good quality – there's a lot of cheap rubbish out there. If you're going to have smoked salmon, pay a little bit extra and get some decent stuff. It makes a huge difference.
If I'm after a quick mid-week meal, I'll go for an omelette. Eggs are so versatile and quick to cook. And an omelette is a great vehicle for putting stuff in – you can flavour an omelette with anything you've got left in the fridge.
My perfect Sunday lunch would be with my wife, daughter, son-in-law and 15-month-old grandson. Just sitting around the table and chowing down on a lovely piece of roast chicken or something like that. Simple, but family is very important.
"My dream dinner guest would be Eric Cantona. He seems like a bit of an oddball, but I reckon he'd be absolutely great entertainment."
The most decadent meal I've ever had is probably Le Louis XV in Monaco. Pricewise and probably ingredient-wise – we had a mountain of truffles, caviar, lobster… You name it, the works. It was the most amazing experience.
My death row dinner is roasted lobster with loads of garlic butter, big fat chips cooked in goose fat and a pot of béarnaise to dip them in. Food hell would be okra flavoured with liquorice. I hate both ingredients equally.
For a culture hit abroad, I love the Basque region around Biarritz, rather than San Sebastian, because of the mixture of cultures. They are so proud of their heritage; they consider themselves Basque first and then French if they're living on the French side. It really is an interesting place to visit, as people forget there's a Basque French side as well.
One of my favourite places in the world is the south of France, where I've been going for many, many years. My wife's family is from the Gard and Ardeche regions and I love the area. It's very warm with a lot of sunshine, so like every region in France it has got good quality ingredients. They grow and produce what grows well in that area. Food is heritage in France – it's hundreds of years of recipes being passed down that make the food special. My new series, Michel Roux's French Country Kitchen, is all about ingredients and seasonality, and hopefully it will inspire people to cook my recipes at home.
Michel Roux's French Country Kitchen premieres at 9pm on Thursday 9th September on Food Network and Discovery+.
Visit MichelRoux.co.uk
DISCLAIMER: We endeavour to always credit the correct original source of every image we use. If you think a credit may be incorrect, please contact us at [email protected].