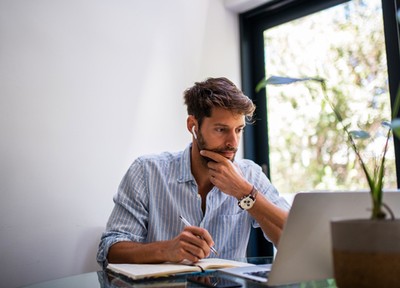 Side Hustles: How To Build Your Own Website

---
If you've finally got the time to get your side hustle off the ground, you may well need some kind of website. To find out how to build your own, SLMan asked the pros.

Photography
ISTOCK/MSTUDIOIMAGES
Think About Your Audience
"When you're ready to start building your website, first consider who it's for and take some time to research your target audience. You should also think about imagery and content because without them your website won't generate any revenue or entice visitors. Limited content on a website isn't aesthetically pleasing, and you need to give your audience a clear picture of what you do to boost the site's rank on search engines." – Harvey Morton, founder, Harvey Morton Digital
"Have a clear idea of what you want the website to do, how many pages you'll need and what content needs to be produced. This requires some planning, perhaps looking at competitors. If your website is the key presence for your business, think about how it aligns with your overall business objectives and the role it plays in delivering them. Knowing your target audience will help you create the site that's right for you and your visitors." – Luke Tobin, MD, Digital Ethos
 
Choose A Domain Name
"Unless you're building your website as a hobby, it's crucial to have a domain. This is your website address and what your customers will use to reach your website. Careful deliberation and research should be applied before you purchase a domain, as it might be the most important decision you make when setting up your website. Long domains are easily forgettable and won't be good for search engines. If you are building it for a hobby, you can be a bit more flexible, but it's still important to include your keywords." – Harvey
 
"Keep it simple and relevant to your brand. You want something that people will easily remember. No one wants a long website name or a URL that is completely unrelated to the brand. There may be cases where the domain name is already taken but you can work around this. If the domain is inactive, you can reach out and see if it's up for sale. Alternatively have a play around with different variations of your brand or business name to see if there is any way the domain can match. It's worth doing this early on when starting your business so you don't fall into any issues down the line." – Luke
 
Have A Go Before Asking The Pros
"You don't need necessarily need a specialist to create your own website. There are plenty of free website builders out there, including Wix, Squarespace, WordPress and Shopify. Back in the early noughties, free website builders were very limited, but drag-and-drop platforms have come a long way, so there's not so much need for a specialist web designer to build something from the ground up. However, just because free website builders offer lots of functionality, it doesn't mean you should go it alone. If you have a clear vision or you want to create something complex, it's worth getting in touch with a professional web designer. These days, lots of website designers will work with your budget and tailor something to suit you. It's important to consider what you can't achieve without a professional and whether your dream site is worth missing out on." – Harvey
 
Choose The Right Software Or Platform                  
"One of the best platforms out there is Wix. It offers tons of functionality, allowing you to have lots of creative control and the ability to add nifty features like an online shop, interactive polls, pop-ups and more. However, if you've got a large online shop and want to generate revenue, Shopify would be a sensible choice. Shopify makes it easy to manage orders and keep on top of customer enquiries, and offers customers the ability to use Apple Pay and other payment options. If you fancy taking a more traditional route like WordPress, I would recommend searching for and purchasing a theme using ThemeForest, which has lots of reliable templates with good support if you get stuck. Once you've chosen your platform, you can start building. The platform you choose will provide you with templates of pages, galleries and content. Building a website is a marathon, not a sprint, so take your time and pay attention to the little details." – Harvey
"Update your website regularly to keep the content fresh. This shows search engines that you're active and relevant, and it also keeps people informed."
Don't Go For The Cheapest Option
"If you're using a free website builder, upgrade your subscription to a pro-level plan to remove any third-party advertising. Having a banner across your new website saying which platform it was built with is not a good look. Free website builders can set you back £8-£29 per month, depending on the plan you choose." – Harvey
"It's worth shopping around as there are a lot of options out there. Compare website platforms and, if you're using professional help, shop around for the right agency partner. Using a free website may be appealing at first, but there might be some barriers when it comes to add-ons or extra functionality that isn't included in free versions." – Luke
 
Get Feedback
"Once you're happy with the website you've drafted, get as much feedback as you can. Send a preview link out to friends, family and a select group of customers or your target audience. You could even create a usability survey to collect good-quality feedback. Afterwards, use this to improve your website where necessary. Remember to carry out a complete spelling and grammar check before you go live. It's also worth testing your site on numerous devices to ensure the content is sized appropriately for the screen it's being viewed on." – Harvey
 
Get Your Website Out There
"There are several things you can do to get your website out there and ranking on search engines. Traditional routes include word of mouth, having a link on the bottom of your email signature or even handing out flyers that promote your website or product. If there's a place to publicise your website URL, use it. On the technical side, get to grips with SEO (search engine optimisation) which will help drive organic traffic to your site." – Luke
"SEO will help you reach a wider audience. While there are lots of online SEO tools available, some of them can be quite costly. If online presence is important to you, consider getting an SEO specialist. Building SEO is a journey: a good SEO plan will involve securing backlinks, establishing a reputation through regular blogs, posting on social media, and using metrics to analyse your success. It takes a lot of time, and it's definitely a long-term game. Sometimes new websites can take up to six weeks to appear on Google, so don't count on search engines to generate traffic for you in the early stages. Instead, focus your efforts on social media and use your existing customer base or audience to promote the website." – Harvey
 
Make Regular Updates
"Update your website regularly to keep the content fresh. This shows search engines that you're active and relevant, and it also keeps people informed. You should carry out updates if your services and focus changes to prevent customers from reading out-of-date information. It's also a good idea to keep reviewing your website speed to ensure it's not too slow." – Harvey
 
"Update the FAQ page or the banner, or even use a pop-up box with a short message so users know your website hasn't become defunct. If it's an ecommerce site, update product information regularly so people know when items are out of stock." – Luke
Ready to go? Here are Harvey's dos and don'ts for creating your own website...
Do
Keep your design simple and clean – nobody wants to see a website that's hard to navigate.
Spend time crafting your content to ensure its beneficial for your users, and ensure your design aids your content rather than overpowers it.
Choose your font carefully. It's important that users can actually read the content on your website (especially on mobile).
Allow some breathing room – be sure to leave plenty of white space so that users don't feel overwhelmed with content. A cleaner design ensures the user is taken on a clear journey through the website.
Make your website mobile friendly. The majority of users today are likely to view your website on a mobile or tablet, so test it to ensure it looks good on the small screen.
Don't
Choose a distracting background that will take away from the important information.
Choose your website colours based on personal preferences. Choose combinations that enhance your branding.
Use cheap stock images. It's always better to hire a professional photographer if you can.
For more information, check out HarveyMorton.Digital and DigitalEthos.net
DISCLAIMER: We endeavour to always credit the correct original source of every image we use. If you think a credit may be incorrect, please contact us at [email protected].