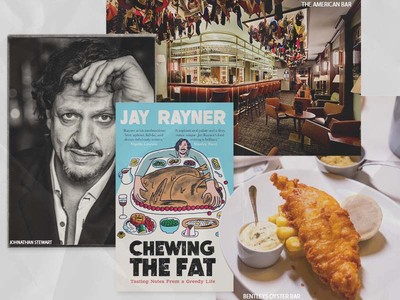 SLMan Meets… Jay Rayner

---
Jay Rayner is an award-winning journalist and broadcaster who's best known as restaurant critic for the Observer. He chairs Radio 4's The Kitchen Cabinet, and is a regular on TV, where he is one of MasterChef's more formidable judges. Somehow he also finds the time to be a jazz pianist, touring with the Jay Rayner Quartet, and a writer. As he publishes his latest book – Chewing The Fat – he spoke to SLMan about lockdown learnings, dining trends that need to disappear, and how to write a restaurant column when restaurants are closed...

I love restaurants because I'm greedy. But it's not just that. There's a theatre to it. When restaurants work at their best, you close the door on the world outside and are taken somewhere else for two or three hours. Plus they're brilliant for disclosure: you get people to tell you stuff over restaurant tables. That's why Out To Lunch, my podcast, works so well, because you put well-known people at a table, you start feeding them, and they forget the microphone's there and start to talk.
 
Of course, I also love the food and not having to do the washing up, and – you can smell my privilege from a mile away – I can afford to do it, even if you didn't allow for the expense account. But restaurants are separate spaces in our lives – and through lockdown that's an experience we missed. In Chewing The Fat, there's a piece I wrote about the enduring appeal of gastropubs in the UK. I spoke to one restaurateur who said: "We're not selling steaks and wine, we're selling atmosphere and a room you want to be in." And for the whole of lockdown, we couldn't be in the room and I think that was distressing for a lot of people, as we are social, herd animals, who want to be in the pack.
 
Chewing The Fat emerged out of the first lockdown. I was fighting to find a way to fill a restaurant column when I didn't have any restaurants to review. I started to look at the experience from all directions: the thing about restaurants is they are not – and never have been – just about food. I started rereading my enormous file of columns from Observer Food Monthly and thought, if you take out the newsy ones, there's a lot here that hangs together very successfully. The result was my lockdown project, putting these together in a way that brings the whole experience of the food in our lives to life – if that doesn't sound too pretentious!
 
When restaurants reopened in July 2020, I said I didn't think there was a place to be adversely negative in my reviews. But that wasn't about giving good reviews to bad places, it meant being even more clear on what I was writing about and not writing up the really bad places… until we got to The Polo Lounge a few weeks back – which went beyond bad into another category – and deserved to have the light shone on it. I've always said that if you're going to punch, then punch up. And when it comes to punching up, you can't get much higher than the ninth floor of The Dorchester. The slightly disturbing thing is just how much appetite there was for that. A solid restaurant review of mine gets 150,000 to 200,000 page views. This one, under a week later is already at 809,000. It's not the biggest – that was Le Cinq, which has well over 2.5m now. In the comments, I referenced that scene in Gladiator, when Russell Crowe stands before the crowd of the Coliseum having beheaded someone shouting: "Are you not entertained?" But part of that review is that I feel they absolutely deserved it and I was angry. Proper angry. The reality is that in normal times, the vast majority of my reviews are positive. You can't just go around hating everything and I don't. I love restaurants, and that's why I do the job.
I don't think any of us thought it would be this challenging for the industry for over a year. I certainly didn't, and I think it actually got even more complex with the third lockdown. That lockdown resulted in my very successful column series on cookbooks. It was one of those ideas that came to me over Christmas and New Year. I'm thinking, 'I cannot review any more meal boxes.' So I'm staring at my own bookshelf – which is quite sizable, but nowhere near as big as some – and that's where the idea came from. Filling that space was a function of the job – it's why I get paid. When you're in a frankly coveted job, you should never say, 'I don't know what to write.'
 
I've had some great guests on Out For Lunch. Ralph Spall was fantastic to talk to. The musician Guy Garvey was a delight. And feeding Kathy Burke fish and chips at Scott's was a joy. When restaurants closed and we transitioned to In For Lunch, we had long conversations about the tone rather than the tech. We didn't really know how it was going to work. The first one was with film director Edgar Wright. We sent him a takeaway from Hakkasan and it flew.
 
Lockdown then meant I could interview people who weren't in the UK. We've had Tim Minchin in Perth, spoken to Minnie Driver when she was in Malibu and featured Marcus Samuelsson, the great African-American chef, in New York. I recently interviewed Phil Rosenthal – who presents Somebody Feed Phil on Netflix – and he said, "I think we're in the golden age of takeout." And I think he's right, because restaurants that would never have thought about doing meal boxes or takeaways are now doing it. What Northcote and Lisa Goodwin-Allen did with their meal boxes was absolutely brilliant. They cost a bit, but the quality of what was in there and the thought that had gone into them was spectacular. At the other end of the scale, there was Cue Point, an inclusive Afghan BBQ place, who are as good at vegan dishes as they are at smoked brisket. They're brilliant in every way.
 
I also did loads of piano playing in lockdown. I think a lot of people with a practical creative interest may have rubbed their hands together with glee at the opportunity. I did emerge from the end of it a different piano player from the one that went in, but in subtle ways that wouldn't necessarily be clear to anyone who wasn't a jazz pianist. We've been back playing a lot recently – if we play two or three gigs a month that's quite a lot for us – but certainly I have sat down at the piano and felt that I am somewhere else.
 
I've been a print journalist my entire working life. I wanted to be a journalist at 14, and chose Leeds university, as that had the biggest student newspaper in the country. I became its editor, and so it seemed I would therefore become an editor, but instead I became a writer and I'm absolutely not unhappy about that decision. It was always going to be my thing.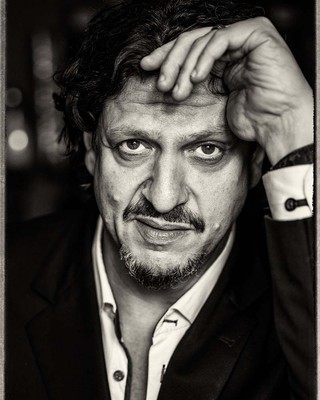 "I love restaurants because I'm greedy. But it's not just that. When restaurants work at their best, you close the door on the world outside."
I think my job is misunderstood. My job is not to eat, my job is to write. There are no worst bits – I'm not going to complain about the job – but I would say that the real challenge is: how do you write about the same thing – a table and a plate of food in a room – week in week out and maintain the reader's interest? That is what I get paid for, not because I'm brilliant at choosing a specific kind of restaurant or snuffling out great gems that nobody's heard of. Of course, the other challenge is being a man with a very slow metabolism, eating out and not really being in control of my own body. But I think I can live with that.
 
It's dangerous, but yes, I do read the comments. It drives certain people around me nuts that I engage so fully, but I do think in the modern age you have a responsibility to engage. 'Responsibility' is a rather grand word, but not engaging would be like saying you're not going to have anything to do with the weather. It's there, Twitter is there, Instagram is there, comments are there. So you can float above it if you like, but it does seem a little obtuse – and as journalists we're meant to be part of the modern world, not turning against it. So yes, I engage.
 
My latest pet peeve is the rising cost of the entry bottle of wine on a wine list. In my reviews, I always list the cheapest bottle of wine. If you're told the cheapest bottle of wine is £35, I think it tells you a lot about the place. If it's £19.95, that also tells you something. It baffles me when restaurateurs don't fight to have something in the £20-£25 mark, which makes the whole place more approachable.
 
I'm now in my 50s and I've moved on to wearing glasses. The restaurant business tends to be a young people's game, who don't necessarily think, 'Will this menu be readable by someone who's 54 without the torch on a f*cking iPhone?' or 'Will this music we're piping into this room make it easy to have a conversation?'
 
All these sound like old people's gripes. But I'd point out that if you really want to find the expendable income, it's the ones in their 50s who are no longer paying for their kids. To not create an environment that's welcoming to those of us with salt and pepper in our beards seems insane. Finally, stop taking my order without a notebook! That really pisses me off. It makes me feel insecure – the number of times it goes wrong!
I'm as much of a trend fiend as anybody. But the obvious one I'd like to never see again is food supplied on anything but a plate. I wish the company who makes those mini chip pan fryers and dustbins would go out of business. That stuff drives me nuts. Then again, I'm not sure that's a trend – they're still out there so maybe they're here to stay. People like me will have to continue banging on about it while others think they're cute.
 
Trying to guess the future is a fool's errand. I'll never get it right. But one thing to be hopeful about – the one good thing I think is going to come out of the pandemic – is the availability of space for young chefs to open their own small restaurants on relatively tight budgets. There's an awful lot of property going at the moment and the price has fallen, which means that for somebody in their 20s opening a restaurant, it can be less do or die than it was. They'll hopefully be able to take more risks, and that could be very interesting.
 
Here's how to be a better customer. Stop posting reviews on TripAdvisor, which is a nasty echo chamber for those with an axe to grind. Turn up on time and, for God's sake, if for any reason you cannot make it to the restaurant, phone them and tell them. Don't just 'no show'.
 
Chewing The Fat is a book you can put in the loo. I mean that in a good way. Sometimes people think reading has to be a marathon, but it doesn't. Sometimes it can be a sprint: a little espresso hit of ideas and gags and playing for the gallery, which I hope people find nourishing. Readers can expect tight arguments in 600 words. They make their point quickly and – I hope – entertainingly, and make you look at the world of food and eating and our relationship through food in a different way.
Cheap Restaurant?
I would probably just head into Chinatown. A plate of the roast duck at The Four Seasons on Gerrard Street will do me very nicely.
 
Expensive Restaurant?
Bentley's on Swallow Street. Brilliant seafood, great staff – it's just absolutely lovely. The way they do oysters is just terrific.
 
Bar?
When I can avoid thinking about the bill, I do love the American Bar in the Stafford Hotel, a hidden gem off St James's Street. It's stinkingly expensive, but does a properly made daiquiri, which I love.
 
Pub?
I'm not much of a pub-goer. I never have been. I've tried to be, but it doesn't work. I never got the manual.
Chewing The Fat: Tasting Notes From a Greedy Life is published today and available to buy here. You can buy tickets for the book launch, hosted by Jo Brand at the Apollo Theatre, on 6th September here. To see Jay doing his My Last Supper live one-man shows or as part of The Jay Rayner Quartet, head here.
 
Visit JayRayner.co.uk
DISCLAIMER: We endeavour to always credit the correct original source of every image we use. If you think a credit may be incorrect, please contact us at [email protected].