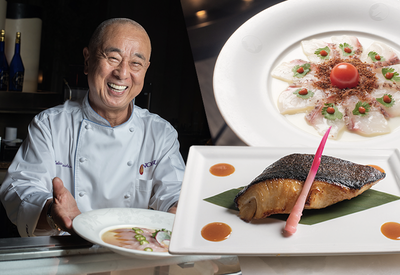 SLMan Meets… Nobu Matsuhisa

---
Nobuyuki 'Nobu' Matsuhisa is the man who gave black cod to the world. Since impressing Robert De Niro and the Beverly Hills crowd with his signature dish back in the 80s, Nobu has built a 50-strong global restaurant empire. As he celebrates the 25th birthday of his London outpost on Old Park Lane, he shared what he's learnt with SLMan – and gave us five dishes you can make at home.

When we first opened Nobu London things were very different. We were one of the first to bring our style of Japanese fusion food to London. When I mentioned to a customer in LA that I was opening a restaurant in London, they were shocked, because the London food scene was not that fashionable at the time. Now, a quarter of a century later, London is very diverse.
 
Restaurants fail all the time. I have always said the most important thing is service. You must provide great service to stay successful. At Nobu we have the best teams, and everyone from the chefs to waiters and managers are like family. Most of our team at Nobu London have been with me for over 20 years and this is something I am very proud of.
 
I treat the team like my sons and daughters. It has always been important to me that no matter what your position is, you are treated with respect by everyone. I have done all the jobs, from being a dishwasher to a busboy, and worked my way up, so I understand the challenges each role comes with. Whenever I am visiting one of the restaurants, I always make sure to say: "Thank you for your hard work and welcome to the Nobu family." It's very important for me that my team feel welcome and at home. I tell them always do your best and learn from your mistakes. Cook and work with passion. It's important to foster a feeling of family, inclusion and a strong sense of teamwork. When our teams are happy, our guests are happy.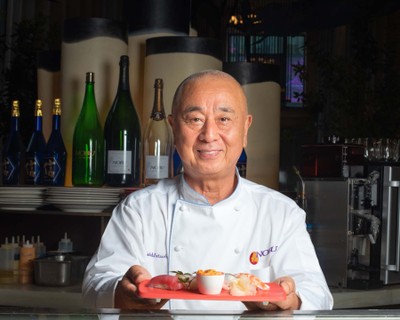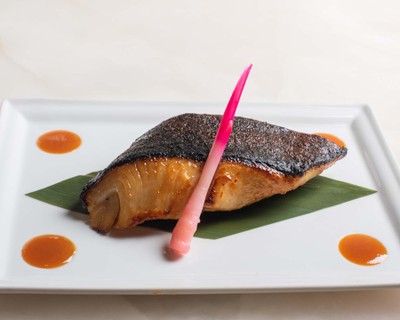 What's my secret to success? I have been very lucky, but I have also made lots of mistakes and had hard experiences that I learnt from. You must keep going and never give up. Customers will be able to feel the passion you have, and without passion there is no success.
 
Some of my dishes have been on the menu for decades. I think everybody knows my black cod miso, which is our most popular dish at every Nobu around the world. When I created the dish, I never imagined it would be so popular. People still come to Nobu to experience it in its original form. There are lots of other signature dishes that I've created, like new-style sashimi and yellowtail jalapeno. Whenever I visit the different Nobu restaurants, I spend as much time as possible in the kitchen. I make sure to taste the new dishes, but it is important to me to taste the signature dishes too. These are the dishes that made Nobu what it is today, and it is the consistency that keeps our guests coming back.
 
I'm excited for 2022. This year we mark our 25th anniversary at Nobu London and there are lots of things happening to celebrate. The restaurant will be taking guests on a trip down memory lane, serving a selection of our most iconic dishes over the past two-and-a-half decades for £25 at lunchtime. And I'll be launching a collaboration with Little Moons Mochi later in the year. Watch this space.
Inspired? Here Are Five Signature Nobu Recipes To Try At Home…
Squid Pasta With Light Garlic Sauce
This is an original Nobu dish. The 'pasta' in this dish refers to the way the tender squid curls into pasta-like shapes.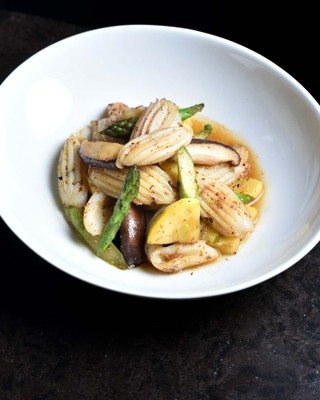 Ingredients
4

broccoli florets, cut into bite-sized pieces
120g

of cuttlefish or

120g

of squid tubes
1

clove of garlic, thinly sliced
4

shiitake mushrooms, stems removed
6

asparagus spears, cut into

2

-inch pieces
Freshly ground black pepper
Method
Step 1
Boil the broccoli for 90 seconds in a small pot of boiling water with a little sea salt. Plunge into iced water and drain.
Step 2
These should be fairly deep, but very close together. When the cuttlefish/squid cooks and curls, the incisions will give it a conchiglie-like appearance.
Step 3
Cut the cuttlefish/squid parallel to the incisions into half inch wide strips. Sprinkle with a little sea salt and black pepper.
Step 4
Heat a frying pan over medium heat. Add the butter and sauté the garlic slices. When the aroma of the garlic has been released, turn the heat up to high, add the shiitake mushrooms and fry lightly.
Step 5
Add the cuttlefish, asparagus and broccoli, in that order, and season with a little sea salt and black pepper.
Step 6
When the cuttlefish/squid is about 70% cooked (when the surface turns opaque), add the sake and soy sauce in a swirling motion just before turning off the heat.
Step 7
Mix the contents of the pan to distribute the sauce evenly.
Step 8
Place in a serving dish and top with shichimi togarashi, if you have it.
Top Tips: If you can't find fresh cuttlefish or squid, you can use frozen. Allow it to thaw completely, rinse and pat dry with a paper towel before slicing. You can also replace shiitake mushrooms with any mushrooms you have to hand.
Rock Shrimp Tempura With Creamy Spicy Sauce
This Nobu favourite is a universally loved dish. Our guests are always asking us for the recipe for the sauce, which is definitely worth mastering.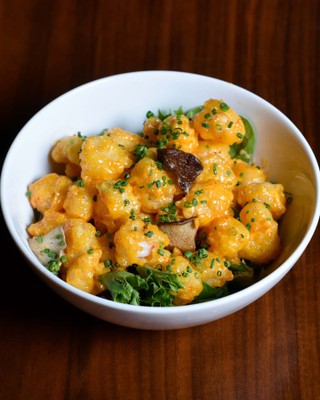 Ingredients
For The Creamy Spicy Sauce

100ml

of rapeseed oil, or other mildly flavoured oil
2

tsp

of chilli garlic sauce
For The Tempura Batter

650g

of rock shrimp, or peeled and deveined large shrimp cut into bite-sized pieces
Yuzu juice or lemon juice
Vegetable oil for deep frying
Method
Step 1
Start by making the sauce. Whisk together the egg yolk, salt, pepper and vinegar, then very gradually whisk in the rapeseed oil.
Step 2
Start with just a few drops to create an emulsion, then increase the amount of oil, whisking all the while. Once all the oil has been added and your sauce is nice and thick, stir through the chilli garlic sauce.
Step 3
Whisk all the batter ingredients together and combine well.
Step 4
Heat around 5 inches of vegetable oil in a pan suitable for deep frying until it reaches 180°C. Working in batches of 2-3 small handfuls, coat the shrimp in the tempura batter and gently drop into the hot oil, frying for a few minutes until golden.
Step 5
Remove the shrimp from the oil and place onto a paper towel-covered tray to drain. Repeat the process until all the shrimp is cooked.
Step 6
Transfer the fried shrimp to a large bowl, pour over the sauce and toss to coat. Finish with a splash of yuzu or lemon juice and garnish with chopped chives.
Top Tips: If shrimp is unavailable, you can try this sauce with any white fish tempura, or even vegetable tempura. If you don't have the right equipment for frying, this sauce is also delicious drizzled over any grilled fish or meat.
Cauliflower Jalapeno
This vibrant vegetarian dish has been on the menu at Nobu Old Park Lane for several decades.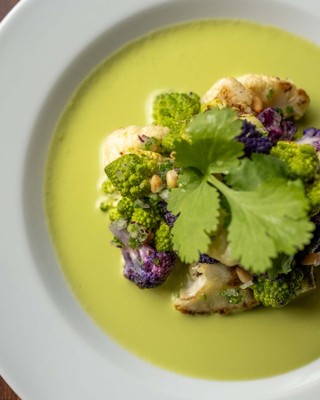 Ingredients
3

heads of cauliflower (a combination of white, purple and yellow if in season and available)
30g

of jalapeno, finely chopped
30g

of red onion, finely chopped
For The Jalapeno Dressing

50g

of fresh jalapeno, roughly chopped
100ml

of rice wine vinegar
Freshly ground black pepper
Method
Step 1
Pre-heat your oven to 190°C.
Step 2
First, make the dressing by adding the jalapeno, salt and vinegar to a food processor with a few cracks of black pepper. Combine until everything is mixed together and the jalapeno is finely chopped. Slowly add the rapeseed oil and blend until smooth.
Step 3
Cut the cauliflower and romanesco into around 0.5-inch wide pieces. Add a little oil to a frying pan over a medium heat and sear the cauliflower and romanesco until golden brown all over.
Step 4
Spread the vegetables out into an oven-proof dish, drizzle over a little honey and bake in the oven for around 3-5 minutes, or until just tender.
Step 5
Remove from the oven, sprinkle over the chopped jalapeno, red onion and pine nuts. Drizzle over a little of the jalapeno dressing and mix toss together
Step 6
Pour the remainder of the dressing onto a serving dish, being sure to completely cover the base.
Step 7
Place the cauliflower mix in the centre of the plate on top of the dressing, garnish with coriander and serve.
Baby Spinach Sala With Dry Miso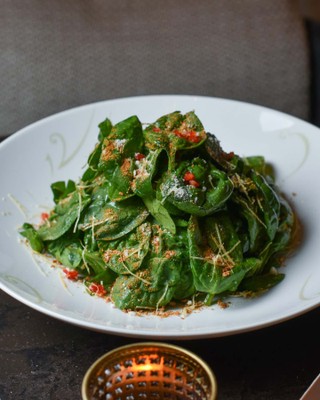 Ingredients
2

tbsp

of extra virgin olive oil
2

tbsp

of grated parmesan cheese
Freshly ground black pepper
For The Dried Miso

80g

of red, white or yellow miso
Method
Step 1
Make the dried miso ahead of time. Spread the miso as thinly as possible on a non-stick baking mat using a palette knife
Step 2
Place in a warm, dry area to dry out naturally for 2-3 days, or bake in a 110°C oven for 1-2 hours, checking to make sure the miso doesn't burn. Crumble and store in an airtight container.
Step 3
When you're ready to serve, deep fry the leeks until crisp.
Step 4
In a bowl, dress the spinach with the olive oil, truffle oil, yuzu juice, parmesan and pepper. Add the leeks and dried miso just at the end so they stay crispy.
Top Tips: If you don't have yuzu juice to hand, you can substitute with lemon or lime juice. In the restaurant, we also add in thin slices of yuba, or crispy tofu skin, for extra texture and crunch. You can serve this salad on its own, as a side, or topped with grilled prawns, seared scallops, chilled crab or even lobster.
Whisky Cappuccino
This dessert will impress friends and family, and is perfect for a small, sweet bite at the end of a dinner party.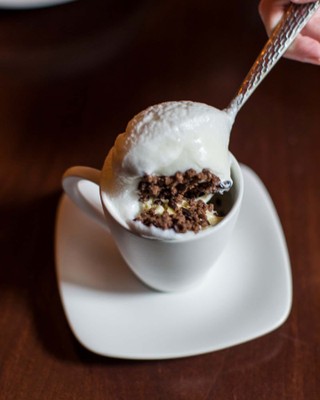 Ingredients
For The Whisky Foam:

2

/3 of gelatine leaf or

½

tsp

of powdered gelatine
For The Cocoa Crunch

10g

of coffee beans, crushed
Method
Step 1
Make the crunchy layer by beating together the sugar and butter until light and creamy. Fold in the almonds, followed by the remaining ingredients. Freeze the mixture.
Step 2
Preheat an oven to 180°C. Grate the frozen mix onto a non-stick baking sheet, spread out into an even layer and bake for 7-10 minutes until crisp. Allow to cool and crumble into chunks with your fingers.
Step 3
For the whisky foam, boil the milk, sugar and cream and remove from the heat. Soak the gelatine leaf in a little cold water, then whisk into the cream mixture.
Step 4
If using powder, add straight to the mix. Add the whisky and combine everything together while still warm. Whisk the mixture gently but continuously until light and firm.
Step 5
Finally, make the brûlée. Preheat the oven to 110°C. Whisk together the egg yolks and sugar in a bowl. Bring the milk, coffee and cream to a boil in a saucepan then pour slowly onto the egg yolks and sugar, whisking constantly.
Step 6
Strain the mixture through a sieve and pour into cappuccino cups, or small ramekins, filling around 1/3 of the way up.
Step 7
Place into a baking tray filled with hot water, cook for 25 minutes, then cool.
Step 8
To assemble, place some of the cocoa crunch on top of the brûlée. Top with a scoop of ice cream and top with the whisky foam to resemble a cappuccino.
You can follow Nobu's personal Instagram account at @TheRealNobu.
 
Nobu London, 19 Old Park Lane, Mayfair, W1K 1LB; the restaurant's 25th anniversary offer will run from 16th-20th February
 
Visit NobuRestaurants.com
DISCLAIMER: We endeavour to always credit the correct original source of every image we use. If you think a credit may be incorrect, please contact us at [email protected].