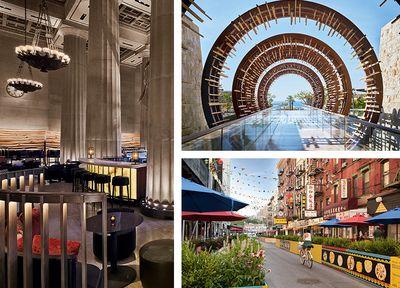 Success Story: David Rockwell

---
David Rockwell has helped define the look and feel of 21st-century New York. As founder and president of the 250-strong Rockwell group, he has designed game-changing contemporary icons like the first ever W hotel, the original Andaz on Wall Street, and the New York Edition. But he's not just a hotel architect. He's won a Tony award as a set designer on Broadway, collaborated with Oscar-winning director Steve McQueen and this year he transformed an LA train station into the set for the Oscars themselves. David told Tobias Gourlay how he made it, why good architecture and design matters, and what he's been doing to help out his home city during the pandemic…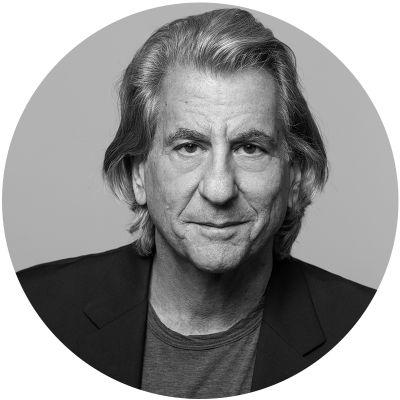 My desire to make things started at an early age. As a child dealing with a lot of transitions, like moving to different cities and countries, I gravitated towards building toys like Tinker Toys, Lincoln Logs and building blocks. Being able to create things allowed me to have control over something.
My mother was a dancer and choreographer. She ran a community theatre on the Jersey Shore and often cast me in productions. That might have been the first clue that the power of shared experiences in the public realm would be a passion of mine, but I didn't realise it was a career path. 
I might have been a concert pianist in another life. I played piano until the age of 18. I was talented, but I knew I just didn't have it in me to pursue music professionally so I went to architecture school. After graduating from Syracuse University and studying abroad for a year at the Architectural Association in London, I worked as an intern for the lighting designer Roger Morgan. Working for him helped me realise that I could pursue and combine my passions for architecture and theatre. 
Architecture has changed enormously since I started working. In just the last decade, everything from construction methods to building materials to the ways people use space has shifted. We've seen the rebirth of Ground Zero, the rise of Instagram and social media's influence on design, and the collapse of important historic architecture – from the fire at Notre Dame to the demolition of one of the largest surviving sections of the Berlin Wall. The list goes on. In our own corner of the world, I think we've seen a turn towards the personalisation of spaces: people want unique, memorable experiences rooted in their context and this has influenced how we think about all of our projects. There's also been a deeper commitment to architecture for social good – affordable housing, accessible public services, sustainable building practices, and so on.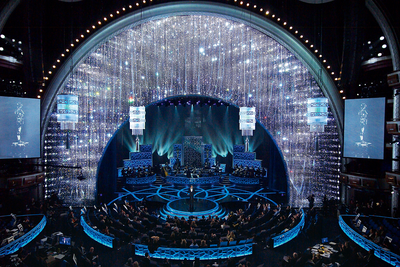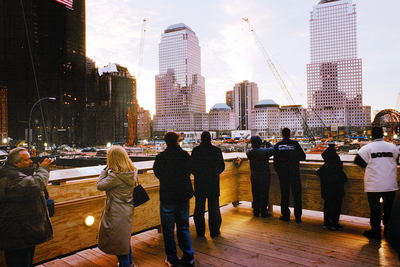 Covid-19 has made it possible to break some old rules and blur the boundary between public and private spaces. It's a moment for us to rethink the value of urban space and ensure it's used to benefit communities in need. For example, the ability to dine at overlooked and underutilised spaces has been a big a-ha! for New York. Our pro bono project DineOut has provided outdoor dining spaces to small, local restaurants and New York City neighbourhoods hit hard by the pandemic. It's embraced the civic responsibility of the private sector coming forward with innovative contributions to public life. 
Design can be a transformational tool. Good design can change our perception of the world around us for the better. The National September 11 Memorial in Lower Manhattan is a good example of this. Michael Arad of Handel Architects created a place for collective mourning, remembrance, healing, and hope out of a site that caused our city and country so much pain. 
I like a very collaborative design process. I love putting people of different disciplines together and merging their skills to solve problems in unexpected ways. Our staff has a diverse range of backgrounds, skills and interests. We have an open environment that sparks conversations between individual designers and among different studios. This more informal, more collaborative, and less hierarchical way of working has produced some of our most innovative design solutions.
"Covid-19 has made it possible to break some old rules and blur the boundary between public and private spaces."
I also love collaborating with clients – particularly when they bring us in at the very beginning of a project and give us a seat at the table long before a programme has been completely set. These collaborative relationships are the backbone of our business.  
We design each project like it's our first time. We don't have a signature style. Instead, we approach each project from a fresh conceptual perspective. We don't make assumptions. Whether it's a hotel, restaurant, theatre, university, exhibition or a Broadway show, each project has a unique story to tell, and all our design choices spring organically from that story. We are never telling the same story twice. 
It's difficult to choose just one project I am most proud of. Right now, I'm very excited about OpenStage which supports one of New York City's most notable industries – theatre – by providing a safe outdoor entertainment space for performers and audiences. We also just completed a new waiting room at Moynihan Train Hall in New York. There, we created walnut wood seating and custom light fixtures to add a sense of hospitality and empathy to the busiest transit facility in the western hemisphere.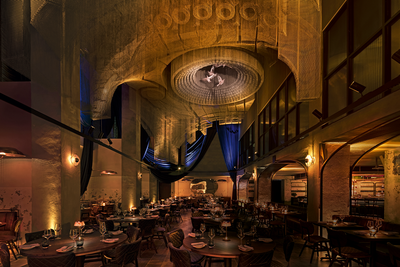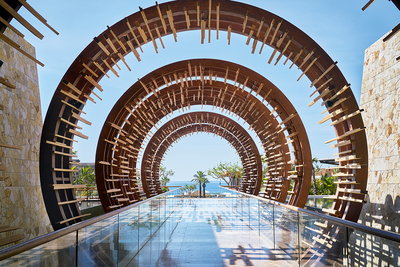 I would love to design a college dormitory, a set for the Metropolitan Opera, and a large urban park. Our goal is to always explore the new and unfamiliar – this is where challenges present great opportunities to be experimental and take creative risks. Being as multidisciplinary as possible helps us stay at our most inspired and most engaged.
New York has always been my creative home and a great source of inspiration. For an architect obsessed with facilitating instant communities out of groups of strangers occupying the same spaces, there is no better canvas in the world than the city. New York is constantly energising to me – from the theatre district to pocket parks.
Our relationship with the Academy of Motion Picture Arts & Sciences in LA started over 20 years ago. We designed the Dolby Theatre in Hollywood, the permanent home for the Oscars ceremony. We later designed the 2008 and 2009 Oscars productions. They asked us to design this year's award ceremony and, after an incredibly difficult year, it seemed more important than ever for us as designers to create ways to allow people to come together for shared, joyful experiences. We wanted to recapture a sense of intimacy and community. This meant completely reimagining Los Angeles Union Station, both aesthetically and logistically. We wanted to recall the intimacy and understated elegance of the Academy's very first ceremonies, which were seated formal dinners inside some of LA's most iconic hotel ballrooms.
Drama by David Rockwell with Bruce Mau, edited by Sam Lubell, is published by Phaidon, £39.95. Find out more here.
DISCLAIMER: We endeavour to always credit the correct original source of every image we use. If you think a credit may be incorrect, please contact us at [email protected].