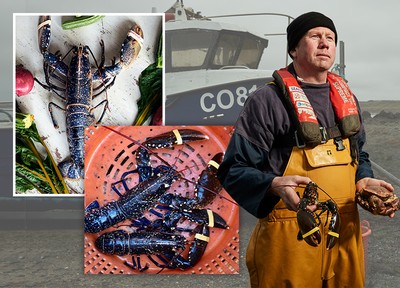 Success Story: Lockdown Lobsters

---
At a photoshoot in north Wales in March, a local fisherman and a London photographer hatched a plan to make the best of a bad situation. From drop-offs outside the giraffe enclosure of London Zoo to pop-ups in Portobello, photographer-turned-lobster deliveryman Jude Edginton gave SLMan the full story of Lockdown Lobsters…

I was in Wales at the end of March and coronavirus was closing in. Until then, 2020 had been a pretty good year. I'd done a load of commercial photography work as well as shoots for TV shows like Gogglebox and portrait pieces for the Saturday Times magazine. Now I was with my assistant in north Wales for a government-sponsored job around sustainable fishing and my phone kept going off – lockdown was about to be confirmed and every ping was another job being cancelled. I went to meet the fishermen thinking this was the last bit of work I was going to have for a while.
I met Sion in the natural cove where his family has fished for three generations. He arrived by boat and was in a worse state than I was, completely stressed out. Having spent the winter preparing for the new lobster season – he'd even bought a new engine for his boat – lockdown meant he'd completely lose his route to market. The beautiful location was hard to square with the sense of doom that was descending.
We shook on a price for Sion's lobsters. I said I'd speak to a few mates to see who would want some. I had three weeks to sell 250 of them. I set up a WhatsApp group; somehow Giles Coren got involved and the whole thing went way beyond my circle of friends. One of the FT's food writers was an early customer; they did a piece about us and we sold out about six weeks in advance. Suddenly the main problem I had was keeping track of the orders. People were paying into my bank account, but it would just say 'John' – and there were three Johns on my list. That's when I realised we needed a website.
We made our first delivery outside the giraffe enclosure at London Zoo. It was a Friday morning during full lockdown and we'd agreed to meet our first customers there. There was a queue of about 50 people – some of them with their kids, who really just wanted to see the giraffes – each with a lobster-ready bag and that's how it started. It was all so easy then because there was no traffic on the road.
We're selling about 250 lobsters a week. About half of them go to the restaurant trade. The others go to all four corners of central London. My wife, a friend and I do door-to-door deliveries now. We do end up dropping off at the odd penthouse suite but our customers are a varied bunch – I think because we're selling them at a reasonable price (£16 a lobster). The Chinese community in Cricklewood is taking quite a few of our lobsters. They make a lobster noodle dish using all the shell – it's deep-fried in a kind of spiced flour and it looks amazing, if quite difficult to eat.
 
My favourite thing to do with the lobster is what Stevie Parle's doing with it. He's got a temporary restaurant, Flora, at the Joy pop-up in Portobello, where he's cooking them with rosemary and lardo. I've been eating lobster up to three times a weekend recently and that's the best dish I've tried. There's also a Catalan lobster rice dish – a bit like a paella – that we're thinking about maybe doing at a pop-up of our own next month.
"I've learnt that Britain has got something special in the native lobster and we don't make the most of it."
It seems crazy that most of these lobsters would normally be exported to China or Spain. I've learnt that Britain has got something special in the native lobster and we don't make the most of it. Instead, we import a lot of lobsters from Canada, which isn't particularly sustainable. That more people are able to enjoy fresh native lobsters feels like a small positive story to come out of the lockdown.
We deliver our lobsters live. We can usually get them from the Irish sea to customers in London within 12 hours. They don't have to go to a fish market like Billingsgate and they don't go to a fishmonger; they come out of the sea, they go into the back of a van for the journey to London, then we're straight out onto deliveries. Where Sion catches them, you can see Snowdon – all of that water coming down the mountain makes the waters they're caught in very fresh.
What do you do with a live lobster? We've got instructions on our site, but most people who order know what they're up against. There have only been a few or two orders that have clearly been made as a sort of funny birthday present for someone who might not be expecting a live lobster to show up on their doorstep.
I've got a new connection to lobsters. They're not the cockroaches of the sea, as some people say. They're intelligent animals that live in complicated, hierarchical societies. Every lobster we catch is at least six or seven years old and it's had a chance to breed. Some of them can be up to 25 years old and you know they will have reproduced a lot. Younger, smaller lobsters are marked and they cannot be caught.
Driving around with boxes of lobster in your car isn't so different from when I was driving around with light boxes in the boot on my way to photography jobs. When I arrive somewhere at the moment, I'm just dropping off a lobster – I don't have to set up and do an entire photo shoot – so in some ways it's a bit easier.
The lobster season usually winds down in October but the bad weather at the moment is making it difficult. Sion has lobster pots along a 20-mile stretch of coast. If he can't take the boat out because the sea's rough, we can't get the lobsters to make a delivery. Maybe we could use seawater holding tanks to keep the supply line going, but that's for later.
We're not making a lot of money at the moment but we're turning a profit and I'm realising it'd be hard to walk away from an emerging business. When the season does wind down, there will be fewer lobsters and prices have to go up because it still costs the same to run the boat. As soon as there's any extra downtime I want to use my skills as a photographer to tell the story of native lobsters. It'd be great if eventually people started talking about our native lobsters the way Americans talk about Maine lobster.
To order a lobster to your own front door, visit LockdownLobsters.co.uk.
 
Check out Jude's photographs at JudeEdginton.co.uk.
DISCLAIMER: We endeavour to always credit the correct original source of every image we use. If you think a credit may be incorrect, please contact us at [email protected].