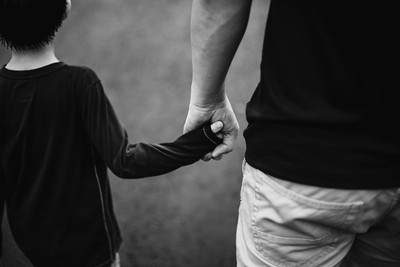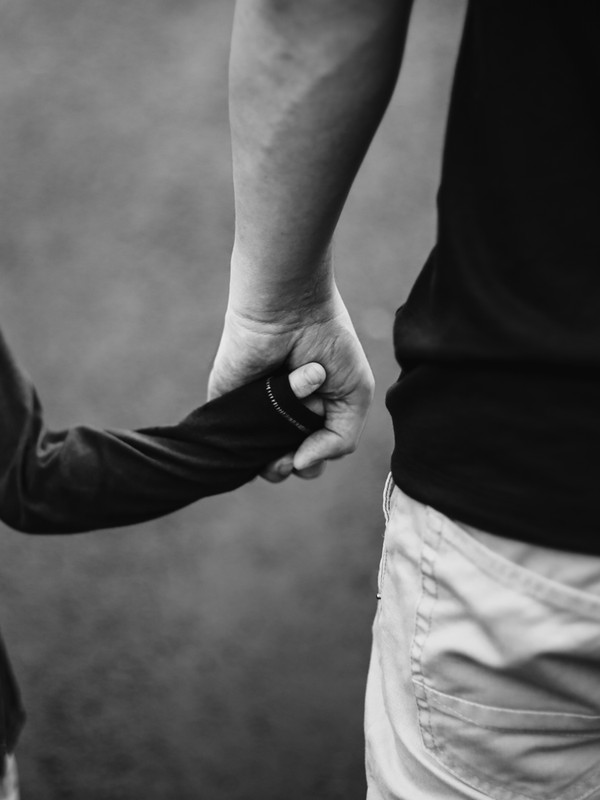 A Therapist's Advice For Raising Happy Kids

---
Parenting doesn't come with a set of instructions. That's why we sat down with Chance Marshall – psychotherapist, co-founder of Self Space and paternal mental health advocate – to discover his words of wisdom for being a good dad. From the importance of humour and teamwork to building emotional intelligence, here's what he wants you to know…

Photography
CHERYL ROSARIA/STOCKSY UNITED
Being a parent can be an incredible and terrifying time. Society tends to champion the 'perfect' parent, but the least we can do for ourselves is be honest about how ugly and messy it can be. As a dad, you'll come up against your own anger, frustration, sadness and limitations, and yourself as a child – the best and the broken parts. Your mental health might flounder at different points in your child's development, and that is to be expected. Some feelings will be connected to the huge amounts of growth you are both going through, and some will be connected to your own experiences as an infant, many of which you won't be conscious of. You'll sometimes find the experience of being a parent impossible, sometimes incredible, and sometimes you'll feel deep shame at the way you behave. Parenting is a time when so much care, compassion and nurturing is needed, not just for the child but for you too. Be gentle with yourself – it's okay to be disillusioned and overwhelmed, and it's okay not to always feel gushing love for being a parent. 
Mixed emotions are healthy. It's okay not to be happy all the time. Our culture pressures us into believing that if we aren't happy, then there must be something wrong. So many self-help books promote the benefits of positive attitudes, positive vibes, positive thinking and positive habits. Many of them label sadness, anger, boredom, loneliness and grief as problems or negative emotions that need to be kept at bay. But these are part of being a parent, too. When we make space for our emotions, we increase our capacity to support others, improve communication and better manage stress, which means we're more likely to implement positive parenting practices. 
"Be gentle with yourself – it's okay to be disillusioned and overwhelmed from time to time."
There's no such thing as a perfect parent. Instead, aim for 'good enough'. This concept of a 'good enough' parent was coined by Donald Winnicott, a British paediatrician and psychoanalyst. He observed thousands of babies and their mothers, and concluded that babies and children actually benefit when their parents fail them in manageable ways. Instead of trying to be the perfect parent all the time, make space for mistakes. Being a dad can be challenging and it's important to understand that loads of dads struggle with their own beliefs and expectations about father-child relationships, which are often shaped by their own experiences of being parented by their fathers. The best thing we can do is bring all this stuff to consciousness, be aware of it, and take an active position in the kind of role you want to take. And there's no one 'right' role when it comes to being a father.
It gets easier. When you become a father, it's not uncommon for old wounds to resurface – you may not feel good enough, and feel pressure to live up to your own positive childhood or not become your own parents. You may feel judged by those around you, and you may experience anxiety or find relationships with friends and family that were once strong are suddenly floundering. You may grieve for the old version of you, feel overwhelmed by the task at hand and sleep-deprived, all at the same time as being repeatedly told how lucky you are. Of course, you might also feel overwhelming love, contentment, purpose and an invigoration for life, or a mixture of it all at different times. Just remember that adjustment can, and will, come. 
Self-care is important. As a dad, the best gift you can give your children is your own wellbeing. This doesn't mean neglecting other responsibilities but seeing your own care as being an essential part of being a good dad. By taking care of your own wellbeing, you'll demonstrate to your children the importance of healthy coping strategies. Children are more likely to adopt positive mental health practices when they see their dad taking care of themselves. Don't be afraid to reach out for support – there aren't enough spaces for dads out there. Start groups via local Facebook community groups – you'll be surprised how many dads are desperate to connect. After the birth of my son, I found a real opportunity to connect with other dads in my local community and set up a regular meet-up for local dads – it was like a dad's version of NCT. We came together to talk about being a parent and how to navigate everything that comes with it.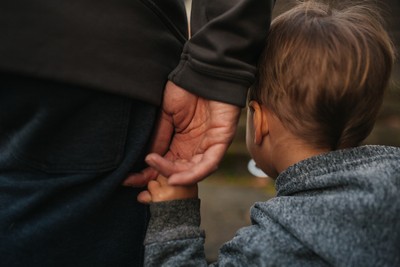 ROB AND JULIA CAMPBELL/STOCKSY UNITED
Know you're part of a team. Celebrate the ups and downs of being in it with your partner. Listen attentively, assign time to check in with each other at the end of the day and decompress together where you can. Acknowledge how hard it is and remember you're in it together. Share the load and take an active part in housework – it can help to write out lists of responsibilities at the start of the week and go from there. At the same time, make space for each other in the week when you can step away from being a parent, and do something that connects you to your life prior to having children. Balancing work, family and personal time can be demanding – after prioritising bath time and eating dry crusts from your kid's toast, it's important to give yourself time too. 
Keep a sense of humour. There will be times when you'll be desperately tired, sad or exhausted – or all three. Well-timed humour can go a long way. We need levity when parenting – remember you can be silly, and sometimes it's just what you need. 
Love conquers all. It may sound corny, but this should be at the centre of your dad operating philosophy – above all, show your children love. You can never give a child too much love or spoil them with too much affection. Susan Gerhardt's book, Why Love Matters, explores the critical role of love and affection in a child's development, especially in shaping their emotional wellbeing. A baby's brain is highly sensitive to the quality of caregiving they receive, and love and affection have a profound impact on shaping their neural connections and emotional regulation. When you show love and affection towards your child, their brain literally grows.
"When you show love and affection towards your child, their brain literally grows."
Don't be the absent dad. Make space for physical and emotional availability. Spend quality time together, engaging in activities your child enjoys – being attentive to their needs helps foster a strong bond. Put your phone away. Drop down to their level. Assign time for this, to be in their worlds in an unrestricted way.
Raising an emotionally intelligent child is simpler than you think. Help your child understand and express their emotions by naming their feelings. Teach them emotions are normal. Avoid criticising or dismissing their emotions or ideas, and offer understanding and support, even if they sound mad or you don't agree with them. Set aside dedicated time for conversations with your kid – it could be during family meals, bedtime routines, or regular one-on-one activities. Use these moments to engage in meaningful conversations and check in on how they're feeling. Remember to be patient – children take time to open up. When your child shares a challenge or problem, involve them in finding a solution. Encourage them to brainstorm ideas and explore different perspectives. This collaborative approach fosters open communication and empowers them to take an active role in resolving problems.
Just be there. There is no magic secret to raising happy, resilient children, but a good first step is to try your best to show up in a real way. Love them unconditionally and tell them you're proud of them and that you love them, not just when they're achieving, but when they're being a bit shit. Treat them with unconditional positive regard. That, and hug them, often. 
For more from Chance, head to TheSelfSpace.com
DISCLAIMER: We endeavour to always credit the correct original source of every image we use. If you think a credit may be incorrect, please contact us at [email protected].