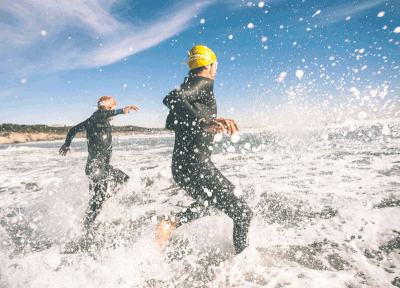 Thinking Of Signing Up To An Ironman?

---
An Ironman is surely the greatest test of endurance. If you reckon you might be up for the challenge, there are a few things you need to know before taking the plunge. Triathlon coaches Paul Jones and Richard Miller told us everything it takes to complete an Ironman – from the hours you need to put in to the best places to train. Here is your essential guide.

For anyone not familiar with the concept, what is an Ironman?
 Paul: An Ironman is an endurance triathlon involving a 3.86km swim, 180.25km cycle and a 42.2km run. There are about 40 official Ironman and 120 official Ironman 70.3 (half distance) events around the world. It is a huge test both in terms of physical stamina and mental resilience. While the professionals will take something in the region of eight hours to complete the course, some athletes are out there for up to 16 hours.
Richard: An Ironman is second to none. It is expensive (sign-up is £500) but the experience over a race weekend is awesome.
Which are the best ones to sign up for?
Paul: Ironman Austria is always a favourite and usually sells out in a few hours. The most famous is probably Ironman Hawaii as it is the world championship event. The holy grail. You can only enter this event by qualifying, which means finishing in the top two or three in your age group at another Ironman event.
 
Should you work up to an Ironman by doing another race first?
Richard: An Ironman is not for beginner athletes. You should definitely have experienced a triathlon, preferably a half Ironman 70.3, before committing to a full-distance one.
Talk to us about training – when should you start?
Paul: A fit person should allow at least six months of focused, structured and consistent training to get them fit enough. It's not just getting fit; it's about training the body to endure distances you've probably never experienced before. You are training for a swim that will take about an hour, a bike ride that will take five to nine hours, and then running a marathon.
"You are training for a swim that will take about an hour, a bike ride that will take five to nine hours, and then running a marathon."
What does a training programme look like?
Richard: You should put in approximately 10 to 13 hours of training weekly for 20 to 24 weeks. Training volume and intensity should gradually increase over the weeks, with built-in recovery periods. Approximately two weeks before your event, you'll begin to taper, allowing your body to recover, so that you are at your freshest and fittest on race day. It's better to be 10% undertrained than 1% overtrained. A typical training week could look like this:
Monday: day off
Tuesday: 1 hour swim, drills, technique 1 hour indoor bike, drills and build power
Wednesday: 1 hour run, intervals, intensive 5-7km
Thursday: 1 hour swim, intervals/endurance sets 1 hour indoor bike, drills and build power
Friday: 1 hour strength and conditioning
Saturday: 1.5 hours swim, open water with wetsuit, 1.5 hours, long endurance run, easy 10+km
Sunday: 3 to 4 hours bike, out on the road, with proposed race bike, TT or road, *brick run - 15mins
*brick sessions, are training sessions where you train one discipline into the next. For instance the hardest to adapt is from bike to run, where the transition from using one group of muscles to another, can be very debilitating if not trained properly.
"It's better to be 10% undertrained than 1% overtrained."
Where is best to train for swimming in London?
Richard: Kentish Town pool, Barnet Copthall pool, London Aquatics Centre, Parliament Hill lido, Hampstead ponds and West Reservoir Centre.
 
And for cycling?
Richard: The iconic Regent's Park outer and inner circle, Richmond Park and the leafy lanes in Hertfordshire and Essex.
Where is a good place to buy running stuff?
Richard: It is most important to find the right running shoes for you. Have your running gait looked at to determine your running style and buy accordingly. You can't cut corners when buying good running shoes.
RunnersNeed.com
ProFeet.co.uk
 
For swimming stuff?
Richard: The most expensive swim purchase will be your wetsuit. Ideally, you should try before you buy, as an ill-fitting wetsuit will make your swim training and race day a tough experience. Consider also purchasing swimming aids for pool training: hand paddles, a pull buoy and fins.
Zone3.com
HuubDesign.com
For cycling kit?
Richard: Giant bikes are regarded and reviewed as one of the world's best bike brands, they offer great after sales and value for money. I ride these two and can't recommend them highly enough:
Road - Giant TCR
TT - Giant Trinity
 
Any advice for race day?
Richard: Dealing with stress, fatigue and anxiety on race day takes strength and resolve. There will be times when you find yourself in moments of darkness. Think positive thoughts: like what it will be like getting over that finishing line; remember why you have signed up to compete in the first place; and that failure is not an option. I often write on my arms little messages or names and look at them when racing and need a kick up the backside.
Finally, what are your top tips for recovery post-event?
Richard: Have a beer, you've earned it!
 
Best Sites For Further Ironman Advice
Websites
220Triathlon.com
BritishTriathlon.org
Tri247.com
EnduranceWorks.com
HampsteadTriathlonClub.co.uk
Best Training apps
TrainingPeaks.com
Zwift.com
SufferFest.com
SwimSmooth.com
Strava.com
 
For more information, visit F4LCoaching.com and BuddyActive.co.uk
DISCLAIMER: We endeavour to always credit the correct original source of every image we use. If you think a credit may be incorrect, please contact us at [email protected].