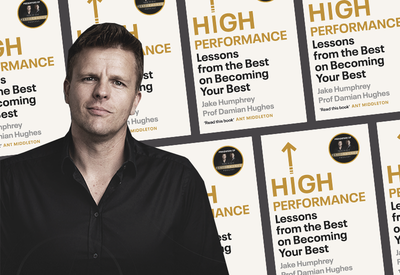 What It Takes To Be A High Performer

---
Jake Humphrey is the sports TV presenter you'll recognise from Formula 1 on the BBC back in the day and, more recently, BT Sport's football coverage. But he's also spent the last few years speaking to remarkable people from Gareth Southgate to Matthew McConaughey about their methods for success. Jake told Tobias Gourlay what he's learnt from these exceptional characters – and why those lessons have been so important in his own life.
All products on this page have been selected by our editorial team, however we may make commission on some products.
To start with, Jake, tell us how you got into the world of Formula 1…
I grew up in a small village in Norfolk. My parents were brilliant: my dad was a charity worker, my mum was a teacher and I would describe my upbringing as really normal. You know, mum and dad wanted us to go to school, do A-levels, hopefully get into uni, then get a job and that would be perfect. But I would look at high-achieving individuals who were living their dreams, doing amazing things, and think either there was a secret I didn't know about or that things had kind of been pre-determined – I would have my life and they would have theirs.
 
 
Then, through a series of failures, I ended up working in Formula 1. I failed my A-levels and had to do retakes. The first day I went back to school, there was a TV channel looking for people to go and talk about politics on a TV show. I went along and, having just been fired from my job at McDonald's, I asked them about work experience. That's how I got a job in TV. Working in Formula 1, I had a chance to speak to those high achievers I'd never spoken to before – drivers, billionaires, circuit promoters, CEOs – and ask them why they were where they were and I was where I was. Amazingly, they all had similar stories to me: normal upbringing, failures along the way, but they had resilience. Resilience, I learnt, is key to living a successful life, but the biggest revelation for me was that there was no secret. And I really wanted to share that insight.
 
 
Which is why you started the High Performance podcast?
Exactly. In my Formula 1 days I was learning a lot: the people I spoke to talked about being passionate, but they also spoke about how action leads to motivation. You don't just wake up in the morning and think, 'I'm really motivated to make a success of my life.' The action comes first and that leads to the motivation. Unfortunately, a lot of us spend too long waiting to feel motivated before we do something. I got the F1 job at 28, though, then I stepped across to BT Sport and was fully engaged trying to help make a success of a brand-new channel. To be honest, though, at that point I was too nervous and anxious to share the things I'd learnt about becoming a high performer. I think a lot of people don't quite have the confidence to be truly themselves in their 20s and 30s. But I'm 43 now, I really believe in this stuff – and I've learnt that there's never going to be a perfect moment for anything. So I didn't want to wait around any longer and started the podcast.
 
 
And now the podcast has become a book?
When I started, I had a fear that people would look at the podcast and go, 'Why the hell is this guy who used to present Bamzooki on children's TV trying to tell me about high performance?' So I invited Professor Damian Hughes to be part of it. He specialises in high-performing cultures and I knew he'd bring instant credibility. With him on board, the podcast just went off the scale – 300,000 downloads a week, more than a million a month, and messages from people saying it had changed their lives. The book is everything we've learnt doing the podcast so far and I genuinely believe it can get people closer to happiness – because we have the evidence of people telling us every day that they're happier than ever after listening to High Performance. And that means the world.
Let's get into high performance, then. What does it look and feel like?
For a lot of people, it's a state of flow. The right decisions come easily, you're happy and positive, it feels like everything you're doing is working out, and life is moving in the right direction. Real high performers reflect on this and understand what's happening in order to carry on. Matthew McConaughey spoke to us about looking for green lights in life. Too many people focus on the red lights – the hard times – because they think it's all about learning from your mistakes. He says look at the good times, when success felt easy. That wasn't just a fluke – you were doing specific things that made the success come easy. Work out what they were. Dan Carter, the All Black, told us he keeps a note of everything he feels and learns each day, so he can identify the things that help him to perform. The great thing here is that they're not talking about outlandish leaps of faith to get you closer to a so-called high-performance life. It's about doing what we call world-class basics. There are simple things you can do better each day to move you closer.
 
 
Give us an example of one of those things…
I'd say the single biggest thing you can do is to stop comparing. Comparison is the thief of joy. It takes away any sense of achievement. If we spend all our time looking on social media or talking to other people about what they've achieved, whatever we've done won't seem so great. For the high performers we've spoken to, comparison is not something they indulge in at all. Life is not about where other people are on their journey. It's about where we are.
Hector Bellerin, the Arsenal defender, was fascinating on not being impacted by outside influences. The only thing that really controls you is your own thought process and your own opinion of yourself – not anyone else's. You are who you are. And you're not less of a man if your job's not going well or you're not in the Arsenal first team.
 
 
You've had a lot of stars on the podcast now – which one has surprised you the most?
Probably Jonny Wilkinson. He came on and told us he thinks the book he wrote after winning the Rugby World Cup would now create a mental health spike in young men reading it. He was at a point in his life where he thought he had to struggle and sacrifice and find life difficult in order to be successful. Now he's realised that looking for challenges all the time just leads to more struggle, more sacrifice and more difficulty. Actually the true magic of life is in being totally present within it, and he can take as much pleasure out of doing the washing-up as winning the World Cup. Because, in both cases, all you're doing is using your body to achieve a goal.
A lot of people don't have the confidence to be truly themselves in their 20s and 30s. But I'm 43 now and I've learnt there's never going to be a perfect moment for anything.
If you had to pick one of your guests as representing the absolute pinnacle of high performance, who would you go for?
There are too many to choose, obviously. James Timpson, who runs the cobblers, was a brilliant reminder that you can be successful and kind – you don't have to be one or the other. Toto Wolff also springs to mind. He's the CEO of the Mercedes F1 team and I love his focus on marginal gains. On his first day at Mercedes, he walked through the doors and saw a dirty coffee cup and a two-day-old newspaper. Why does that matter to an F1 team? I mentioned world-class basics earlier – Toto completely understands how small details can have a big impact on our lives.
 
 
Who's still out there that you haven't interviewed but would love to sit down with?
I'd love to speak to Lewis Hamilton. I spent a lot of time talking to him when I was doing Formula 1, but it seems like he's a different guy now. At least, he feels he can really speak his mind now. I'm in awe of the way he's reached a point where he will share his convictions regardless of any criticism that comes his way. For me, he's a poster boy for the modern generation of young people who need to make their voice heard.
I'm also really interested in the people who have completed transformed the industrial world. I want to talk to Jeff Bezos about how he created Amazon and constantly comes up with new ideas. I want to speak to Elon Musk about spotting the opportunities around electric vehicles. And I want to ask Mark Zuckerberg about the future and whether the metaverse is really something we're going to be living with in just a few years' time.
Your conversation with Jonny Wilkinson touched on mental health. Do high performers ever slow down and take stock?
Steven Gerrard uses the phrase 'all in' to describe his relentlessness. Yes, high performers work incredibly hard, but what they have often managed to do is to make their work their passion. That's a powerful thing to do if you can, but yes we have to be really careful about saying you have to be 100% all of the time. There are burnout challenges around that. Actually, Alastair Campbell gave us an amazing interview on how to handle mental health struggles.
What I've learnt is that the best parts of anyone's days are the periods of reflection. The person you speak to the most in life is yourself. One of the key aspects of high performance is taking time to reflect on what's working for you and what isn't. A relentless, high-performance life isn't for everyone, but a lot of high performers also recognise the need to take care of themselves. That could mean starting the day with 10 minutes of meditation or, for me, it's taking 10 minutes at the end of the day to sit down and look at what went well, what wasn't so great and whether I'm protecting myself properly.
 
 
What effect have these conversations had on you? Have you made changes in your own life?
They have absolutely prompted me to make changes. A big one is recognising that what's not necessarily my fault is still my responsibility. The pandemic is a perfect example of something like this. It's not our fault, but it's our responsibility to deal with it. Taking responsibility for things that challenge us like this is part of finding the way through them. If you can find a mindset of being responsible for everything in this life – including other people's issues and faults and foibles – you can help them and yourself get closer to high performance.
But probably the biggest one of all is realising that successful people fail. And they often fail way more than other people, because they understand there's value in failing – although only if you fail forwards. Failure should be a comma, not a full stop. It's all part of the process. And, actually, if you can enjoy the process, it doesn't matter where you end up. The process is the rewarding part of a successful life because the outcome is probably never going to be as exciting as you think it is.
 
 
What one thing can we can go out and do now to start the process?
Remind yourself that life is never going to be swimmingly perfect in every aspect. If you can stop comparing yourself to others, and appreciate that you're going to falter and fail, then you're going to be in the best position to move forwards. If you can go out there expecting challenges, then they're not going to derail you when they do come along. You'll be equipping yourself with the resilience to deal with any challenge.
High Performance: Lessons from the Best on Becoming Your Best is published by Random House Business tomorrow (9th December). Order your copy here.
DISCLAIMER: We endeavour to always credit the correct original source of every image we use. If you think a credit may be incorrect, please contact us at [email protected].