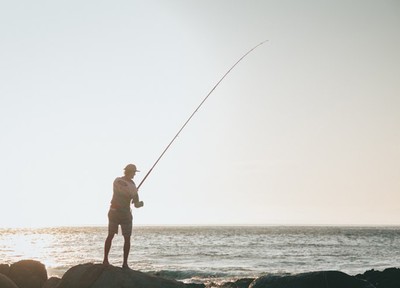 What's New In Fishing

---
Fishing season is in full swing. Whether you're an old hand or just getting to grips with the sport, if it interests you, it's worth keeping up to date with what's new in the angling world. We asked Dan Cartwright from Lee Green Angling Club for the best things to happen in fishing recently – and his favourite spots to cast a line, in and around London…

Photography
BENJAMIN LE ROUX/ UNSPLASH
Daiwa Whisker Spinning Rod, £165
This is an updated version of the classic Daiwa rod. Designed to cover a multitude of freshwater fishing styles, it's a great all-rounder. It cleverly lures bait and monofil into water while the tip makes for a powerful yet forgiving blank. One thing I love about this rod is that it allows for steady control, meaning you can catch big whoppers.
 
Available here
Shimano Catana EX Spinning Rod, £34.99
If you're on a budget or just starting out, this rod is a good choice. The blank is made from special XT40 and Geofibre, meaning it's extra sturdy – ideal for balancing on a boat or on land. It also includes a cork handle (my favourite type) so you can hold onto it for hours on end.
 
Available here
Shakespeare Sigma Supra Spin, £52.99
The Shakespeare Sigma does a bit of everything. Its range of rods covers the most popular lengths and casting weights for modern freshwater fish. You can expect to catch carp, pike and an eel or two if you're lucky. In terms of quality, it's a hard rod to beat.
 
Available here
Vengeance Stand Up 30/50lbs Trolling Rod, £54.99
If you want to start trolling (pulling fish on the rod behind a boat at speed), you can't beat this rod. One of the best new models to hit the market this year, it's seriously sturdy and the white design makes it hard to miss on a boat.
 
Available here
The Formula 15mm Shelf Life 2Kg, £17
Having tried lots of types of bait over the years, The Formula makes some of the best out there. This new type is made for freezing, so it stays fresh until it hits the water. Containing natural kelp extract and blended bird seeds, it's made to attract a wide variety of fish. Ideal if you're not keen on live worms.
 
Available here
Large Green Carryall, £24.95
Finding equipment that's both stylish and practical is hard. This bag is the best of both – classic and simple with all the pockets you need for a day on the water. The padded handles are comfortable and easy to hold, while the padded adjustable strap makes transporting your fishing gear to your peg easy. It's waterproof too – ideal for unpredictable British weather.
 
Available here
Imax ARX Thermo Bib & Brace, £53.99
Imax ARX is my go-to brand for angling clothes. I've just bought this lightweight suit which is great for wading through lakes or getting mucky on the boat. The thermal layer is a must year-round and the wide pockets are handy for storing all the essentials, including a handheld radio or pair of headphones. Paired with proper angling boots or wellies, you can't go wrong.
 
Available here
Rod Hutchinson – Geo 2 Man Bivvy With Capsule, £359.99
If you're heading on a fishing trip this tear, investing in a good tent is key. I tend to use old tents from past camping trips but recently stayed in this tent with a mate and was thoroughly impressed. The two-man tent has a rock-solid frame and the separate under-sheet prevents water (and creepy crawlies) coming through.
Available here
Ready to go? Here are Dan's favourite fishing spots near London…
Tooting Common Pond
This pond is a clean spot that rewards the patient angler. As one of Britain's biggest ponds, it's teeming with life that's ready to be caught. On previous trips, I've caught catfish, carp and a 15lb pike (one of my best to date). Avoid the pond during school holidays and be sure to park up for the day the fishing is free, and you only need a small bit of bait to catch a corker or two.
 
Colnbrook West
In West Drayton, there are around five acres of waters to explore. On a good day, you can find carp, tench, roach, bream, rudd and perch roaming the waters. You'll need a season ticket to get going but the fishery regularly has offers if you bring along a friend.
 
Fairlop Waters
You never know what you're going to come across in Fairlop Waters. Easily reached from Fairlop underground station, there's a 3.5-acre lake and a huge 38-acre lake in the main boating area, where you'll see fishermen reeling in 30lb carps and 20lb breams on a good day. You'll need a long-range rod and ample patience for success.
 
Shadwell Pool
If you're in south-west London, Shadwell Pool in Barnes is the place to go. One of my top spots during the summer months, the two-acre pond is full of perch, rudd, bream, roach and carp. Day tickets cost £10; if you're a local, a season ticket works out at around £90. Barnes has its own angling society too – ideal if you're new to the game or want to meet likeminded blokes.
 
Beaver Fishery
A little further out in Lingfield, Surrey, Beavery Fishery is another great spot. There are ten lakes to choose from – Snipe Lake is the oldest and one of the best commercial lakes in the country. It's 2.5 acres in size and carp only. If you want to try competitive match fishing, head to Maze Lake where carp reach up to 10lbs. You can also hire chalets on site for a very reasonable fee of £20 per night.
For more information, check out LeeGreenAnglingClub.org.uk
DISCLAIMER: We endeavour to always credit the correct original source of every image we use. If you think a credit may be incorrect, please contact us at [email protected].