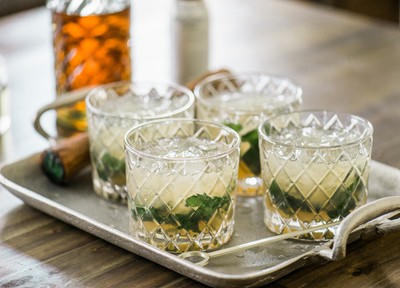 Why Rum Is The Spirit To Try Now

---
A new generation of high-quality producers has sparked a rum renaissance. The spirit that was once only seen with a kitsch umbrella in somewhere tacky is now being enjoyed neat – by grown-ups. SLMan tracked down an expert from each of rum's three main categories to find out where you should be going to try these revolutionary new spirits and what you should be ordering.

Jon Welch is brand director at Copalli Rum, an organic white rum from a single estate in Belize. He says big, multinational rum brands upping their game has forced smaller producers to do the same. Together, they have taken the drink that you remember mixing with Coke at teenage parties to a new level. "Bartenders and consumers are realising that white rum need not be a bland, characterless bassline in cocktails and mixed drinks."
Indeed, Welch reckons consumers are now spoilt for choice. "There's a huge number of new styles and origins, including some excellent new riffs on white rum: aged whites with the colour stripped out, pure cane juice styles, regional agricole rums, rare clairin rums."
The variety and quality might be improving but, for Welch, the aim remains the same: "I want to enjoy rum with good friends and good tunes – in a great bar where they are working their magic to get that balance of character, exoticism and fun that makes a great rum cocktail."
 
JON'S SERVING SUGGESTION, Belizean Daiquiri:
50ml Copalli White Rum
25ml Belizean mix (2 parts passion fruit, 1 part cinnamon syrup)
15ml lime juice
15ml sugar syrup
 
Shake everything with ice and strain into a coupe glass. Garnish with a twist of lime peel.
 
JON'S FAVOURITE LONDON RUM BARS
"Scarfes Bar in Holborn is wonderfully decadent. Black Parrot in the City is a must for Caribbean rums. But all the top bars in town now have great ranges of rum and plenty of choice on the menu. Be open – go for a suggestion from the bartender. You will rarely be disappointed."
"Consumers are starting to appreciate aged rum as a 'sipper', drinking it like they would a Scotch or brandy," says Ian Burrell, global ambassador for Equiano, which markets itself as the first Afro-Caribbean rum. "Rums are also being made better by the distillers and blenders as their techniques improve."
This quality is starting to shine through. "Traditionally, rum was a sophisticated drink but, over the years, cheap brands created the illusion that it could only be drunk with mixers in a sweet cocktail."
That said, because rum's reputation was in the doldrums for a long time, serious drinkers found that premium rums offered value for money compared to a sought-after Scotch or brandy. Less serious drinkers are now catching on.
Encapsulating the dark rum category's renewed commitment to quality, Equiano ages a rum from Mauritius in cognac barrels, then sends it to Barbados where it is married with a local rum aged in bourbon barrels and bottled – with no extra sugar or additives. "A good dark rum, drunk neat or on the rocks, will warm you up – even on a cold, drizzly London night," says Burrell.
 
IAN'S SERVING SUGGESTION, Dark Rum Cocktail:
50ml Equiano
15ml creme de cacao
5ml sugar syrup
3 dashes of orange bitters 

Stir all of the ingredients in a mixing glass with plenty of ice. Strain and pour into a rocks glass with one rock of ice or a large ice ball. Add a slice of fresh orange as a garnish within the drink. Serve with a piece of plain chocolate.
IAN'S FAVOURITE LONDON RUM BARS
"Check out Laki Kane, the Merchant House and Rum & Sugar. I like to test the bartenders with cocktails like a daiquiri or a rum manhattan. Rum old fashioneds are another favourite of mine – Jamaican rums work particularly well. I'll even have Equiano in a rum negroni."
Once upon a time, spiced rums were so sweet and full of flavourings they often failed to make the 37.5% ABV benchmark for being called a rum in the UK. "They should really have been classed as liqueurs," says George Frost, founder of The Duppy Share rum brand. Today, spiced rum is booming. "I think we can look to the craft gin boom as an influence on this. Drinkers have become so aware of the botanicals that they like in gin, and spiced rum can be thought of in a very similar way."
Frost has just launched The Duppy Share Spiced, which caters to this sophisticated new breed of rum drinker with all-natural flavours and a balance of spices and botanicals including pineapple and kola nut. "As with anything, you get out what you put in," says Frost. "We use a great base – a blend of aged rums from Jamaica and Barbados – then, as if we're making a gin, we worked with an expert, Robin Honhold, to get that balance exactly right."
As more spiced rums come onto the market for bartenders and at-home drinkers to experiment with, Frost believes anyone can find a rum they love. "It's such an incredibly varied category. There's a rum for you whether you're into vanilla, citrus, cinnamon-like gin, you've got to try a few and find what you like." As you begin your search, don't feel you have to be entirely serious about it. "We definitely encourage a tiki drink and even a cocktail umbrella, as long as the rum is good."
 
GEORGE'S SERVING SUGGESTION, Spiced Pineapple Daiquiri:
50ml The Duppy Share Spiced
25ml lime juice
25ml sugar syrup
 
Shake with ice and strain into a coupe glass.
 
GEORGE'S FAVOURITE LONDON RUM BARS
"Trailer Happiness 'gets' rum better than any bar I have ever visited in London. Order the Zombie. Gold in Notting Hill is a wonderfully different backdrop to enjoy a classic rum cocktail in. It does a killer daiquiri. Scout Hackney is my favourite bar at the moment – I recently had the best rum old fashioned I've ever had in my life. If you want some incredible Caribbean food with your rum, the jerk chicken at Turtle Bay is next level."
DISCLAIMER: We endeavour to always credit the correct original source of every image we use. If you think a credit may be incorrect, please contact us at [email protected].