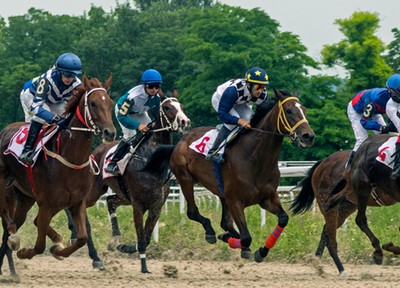 My Interesting Job: Racehorse Trainer

---
George Scott is a flat racing trainer who has learnt from the very best. From mucking out Paul Nicholls's stables to winning races with Frankie Dettori, he told Tobias Gourlay what it's taken to get to where he is today – and why he never misses this week's Cheltenham festival.

Photography
ISTOCK/MARLENKA
I grew up on a farm in Shropshire. There were always horses around and riding them quickly evolved into racing them. To begin with, I rode as an amateur in point-to-point races, then what we call 'under rules' in jump races. I moved into flat racing as I became more excited by the speed of the thoroughbreds and the way they were bred.
I like to say the weight got the better of me. The reality is possibly that I was never going to be good enough to be a professional jockey. But being a jockey was a means to learn about the industry. Although jockey and trainer are two very different lifestyles, riding gave me a foundation and understanding of racing.
There's no university degree for racehorse trainers. I scrambled through some A levels at school and was lucky that my parents were always very supportive about me being involved with horses. Even my teachers could see I had a passion and, if you've got that kind of passion, you will always follow it as a career path.
While my friends all went off on their gap years, I went straight to work for Paul Nicholls. He was – and probably still is – the most formidable jump racing trainer in the country. He's been champion trainer 11 times and I went to him in 2008 – the year he broke a lot of records and had the top three at the Cheltenham Gold Cup. My first job in racing was as his stable lad, mucking out the stables.
Newmarket is the capital of British racing. The town is dominated by racing and that's where I went to take the next step up the ladder. I was pupil assistant to Mark Tompkins, a formidably tough Yorkshire man – that was a pretty hard apprenticeship. Then, at 21, I was assistant to the Derby-winning trainer Michael Bell, who trains horses for the Queen.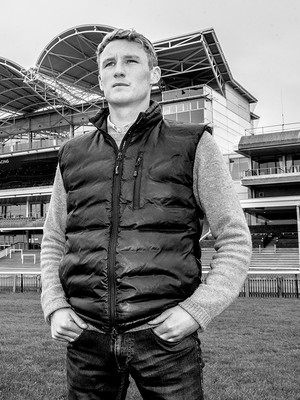 THOROUGHBRED SPORTS PHOTOGRAPHY
"While my friends all went off on their gap years, I went straight to Paul Nicholls. He was – and probably still is – the most formidable jump racing trainer in the country."
I met a lot of interesting people in his yard but I had a burning desire to go and work in America. Horse racing there might not be as prestigious as it is here, but it's a massive industry and they do things very differently. Most of the racing is on dirt tracks, so the demands on the horses are different and the veterinary care is very advanced.
Racing in America is a bit like a travelling circus. Over here, we send our horses to meetings around the country from a single stable. Over there, trainers have strings of horses that they send from meet to meet to meet. Big trainers can have five strings around the country, which was great for a young guy like me – you get a lot of responsibility. I started in Florida, moved to Kentucky, then went to Belmont on the outskirts of New York.
That's where I got my lucky break. Sir Henry Cecil was the greatest flat racing trainer of all time – a legend adored by everyone in the industry. I didn't have any connection to him, but I did have huge admiration for him. I'd chanced my arm on a couple of occasions when I'd bumped into him, telling him I'd love to work for him. One day in Belmont, I remember it was raining and raining like it does out there and my phone flashed up that Sir Henry had died. I was devastated, but thought nothing more about the news until a couple of weeks later. I got a phone call: Sir Henry's widow, Lady Cecil, was going to carry on training under his licence for at least a couple of years and she needed an assistant trainer.
It was an incredible two years. A lot of Henry's owners left the stable when he died, but two of his main patrons stayed loyal. We still had Frankel's full brother, Noble Mission, who won the Champion Stakes at Ascot – the race that Frankel was so famous for. It was a fairy-tale time and, to be so directly involved, was a great platform for me. I could use the exposure to start something of my own.
Racing can seem like a closed shop from the outside. In reality, yes, there are trainers from wealthy backgrounds who can finance themselves, but there are also trainers from completely different backgrounds and with completely different ways of life, who have worked their way up through being a jockey or a stable lad. If you work hard and you have a knack for training, there are opportunities for you, wherever you've come from.
If it's not a race day, I try to have an afternoon snooze. My alarm goes off at 5:20 and I'm in the office for 5:45. It's a nice time of day because I'm sharp in the morning and the plans have been laid the night before, so I know exactly what's going on. We have four lots of horses and the first lot of about 15 goes out for training around 6:15. Each lot can do different things: a gallop on the grass, a canter on the all-weather surface, or just a trot for the horses that are coming back from a race. At the same time, I'm talking to owners, jockeys, bloodstock agents, vets and everyone else – training is about teamwork and my staff are vital. By lunchtime, I'm ready to put my phone on silent for half an hour and try to sleep. Then I'm right as rain for an afternoon of checking the horses for injuries and race planning – working out who's going to run where, with which jockey and how we're going to get them there.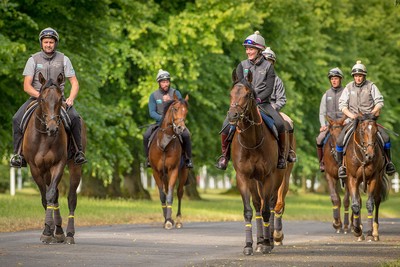 The most important attribute for a trainer is an understanding for horses. Imagine having to look after all of your mates' dogs at once; each one would have specialist needs and an individual personality. It's the same with horses, and you need to be a horseman to understand an individual horse and know what's best for them.
The second thing you have to be is an entertainer. Racing is an entertainment industry. Owners have horses because they love and enjoy the spectacle of racing. Because of the financial situation in racing here at the moment, you also need to be able to manage a business.
Racing is in a desperate financial state and this needs to be addressed. Compared to the money that is put into racing, the prize money is very little. When bookmaking was deregulated, bookies were able to capitalise massively on the product of racing, while putting very little back into it. The levy they pay is too small and it's going to be very hard now to get them to pay more. As a result, prize money comes from sponsorship, from the courses and a small amount from the levy – and there's not much of it. If there was more of it, you could attract a lot more owners into racing and the sport would be so much stronger. And it really should be stronger: we have the best product in the world, the best horses, the best courses and some of the best trainers. Racing is the second most popular sport in the country after football – it's in our blood.
Royal Ascot is still the pinnacle of flat racing. It's up there with the Breeders' Cup in America and the Melbourne Cup in Australia. It's a bit like our Olympics. For five days, there's an incredible carnival atmosphere with iconic events like the royal procession and some great racing.
The July Course at Newmarket is a great smaller meet. It's a beautiful, charming racecourse, with the pre-parade among the trees and you can just tell the horses are relaxed. It gets a good turnout, but it's not too overbearing, and there are lots of nice bars and restaurants. The racing itself is high quality and the event is a great day out for family and friends.
"Racing is in a desperate financial state and this needs to be addressed. Compared to the money that is put into racing, the prize money is very little."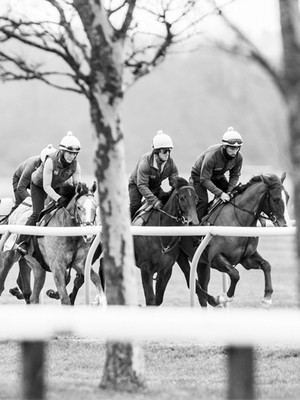 I was blessed to have a horse like James Garfield early in my career. He put me on the map when he won the Mill Reef Stakes at Newbury with Frankie Dettori riding him. Frankie's a great friend of mine and a great friend of the owner (my brother in law). He gave a salute as he crossed the line, which he wouldn't normally do in a Group 2 race because he's won so many of them. Then there was a flying dismount and he gave me a big hug that made the front page of the Racing Post. It meant a lot to him and it meant a lot to me.
A good horse like that will get you out of bed. I don't want to say I didn't appreciate James Garfield at the time – I did – but I haven't had a horse like him since. We took him to France and with Frankie on board he almost won a Group 1 race, which would have been very special for a novice trainer. But a filly came out of the pack and ran us down at the last.
There are lots of smaller things to savour too. Of course, the quest to find a good horse is a major factor in driving you on, but there are lots of personal wins that push you forward each day. We're a medium-sized yard and we've got about 60 horses here. None of them will probably be as good as James Garfield, but they still get the same level of attention and give the same level of enjoyment to you – and their owners – when they do well.
You never know what's around the corner. Training race horses is emotionally draining because it's up and down. You live your life very publicly – you're judged by your results and those results are there for everyone to see. Sometimes you're in competition with your best friends, which can be brutal. But I love what I do and can't imagine doing anything else.
I will absolutely be watching Cheltenham this week. In flat racing, we've got Royal Ascot; in jump racing, there's Cheltenham. I've ridden the Gold Cup course so I can picture what it will be like for those boys on the start line. It's a pinch-yourself moment because racing at the festival will be what they've always dreamed of. That last climb to the finish is so tiring, but I love the whole thing.
 
 
For more about George, visit GeorgeScottRacing.com
DISCLAIMER: We endeavour to always credit the correct original source of every image we use. If you think a credit may be incorrect, please contact us at [email protected].