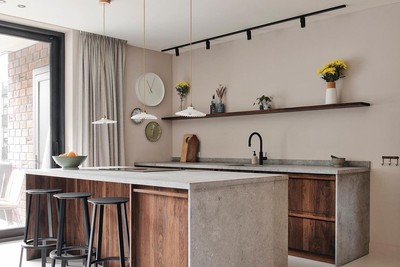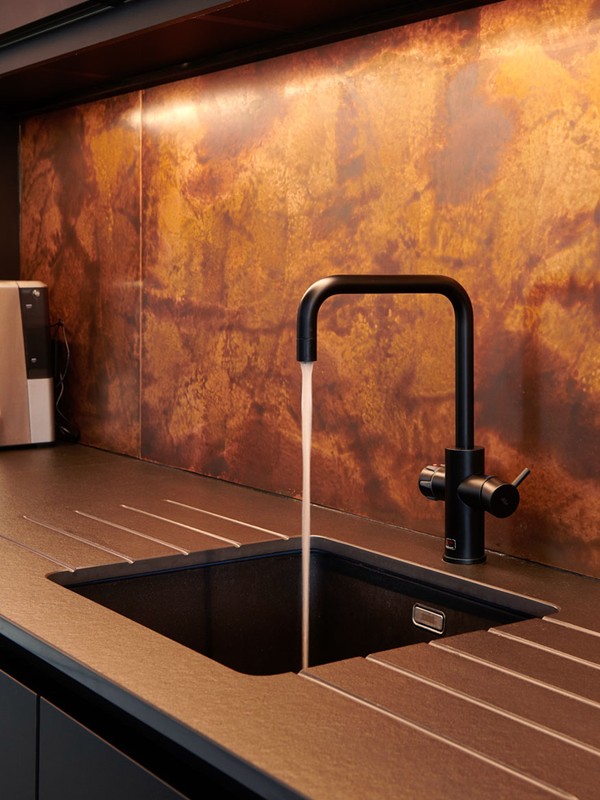 David Gandy's Interiors Brands To Know

---
Supermodel David Gandy knows good design. While recently undertaking a family home renovation in London, he discovered that finding the quality companies and products amid the bad can be tough. From kitchen designers to accessories, here are the household items and services he's learnt to cherish…

Photography
@BORACOOKINGSYSTEMS
I believe in setting trends, not following them. I'm not religious, but I love churches and their architecture. I hated being at university in Gloucester, but I loved being in the Cotswolds – I now realise it's because I loved the quaintness of the cottages and the Cotswolds stone. This sense of history and tradition is also why I love London and I love New York. I don't find modern architecture interests me in the same way.
My interior style is quite traditional. I have a lot of panelling as it adds scope and interest to the walls, then to keep a simplistic feel I've stuck to three main colours throughout the space (much like I've done with my car restorations which I keep to tan, black and silver). My last place was a lot more masculine. This time, I live with my children and my partner Steph, and our styles are quite different. She likes a clean (I jokingly say 'clinical') look and she's part Greek so loves gold. Some rooms are more her, some are more me. Some we had to work on together, like the kitchen. My old house was Victorian, so I wanted to go back to that – fireplaces and modern takes on coppertop baths. Our new place is more modern but with features like dutch gables, pillars and lots of arches. I've tried to marry the old and new – for example we've added in oval-shaped Crittall doors to keep them sympathetic to the original features.
To get our new home up to scratch, I did so much research. What I've recommended here is not just for style, it's for the best service and communication, which are so key. These are brands that have either surprised me in a great way or done exactly what I thought they would and confirmed their greatness.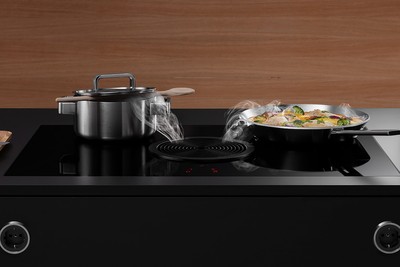 BORA COOKTOP EXTRACTOR SYSTEM
We didn't know whether to go for an induction hob, gas hob or Tepan stainless steel grill. Bora offers a mix of everything. I'm a big cook, so I've gone for gas, induction and Tepan and then there are two extractor fans in between. Usually, extractor fans take up so much space, but Bora's extractor system is built directly into the hob. They're hugely powerful and they automatically adjust their settings depending on how steamy it's getting. It's pretty cool watching it in action, as the extractor just appears from nowhere. I had friends over the other day and when I switched it on to cook and the fans rose up, they were like: "Sorry, what's going on? This is like something from Top Gun!" In the old house, if we cooked a curry or fish the whole house would smell for about three days. And because the motors are hidden, it isn't noisy either. 
Visit Bora.com
HOUSE OF HACKNEY WALLPAPER
Trying to choose wallpaper is impossible. You put in what you want and end up with more than 3,000 options and it's hard to know where to start. House of Hackney has nailed exactly what we wanted – it's eccentric, makes a statement when you walk in, and the design is leafy and reminiscent of Richmond Park, near where we live. We haven't got around to putting it up yet, but I fell in love when I called them up, put in an order and it was with us the next day. We need to wallpaper a few more rooms – the loft rooms in particular, which aren't panelled like the rest of the house, and I want to wallpaper them from floor to ceiling.
Visit HouseOfHackney.com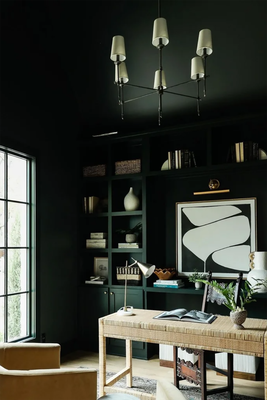 @roserock918/ sarahbakerphotos
I used Farrow & Ball paints in my previous projects. They're great to work with and I never tired of the colours. I used a lot of Railings – a dark grey – in my previous house. This time, we were lucky enough to have one of their colour consultants come around, which I would highly recommend if you're able to. I wanted to move on from Railings, but keep the same feel and look, so we settled on a dark green. We've only used three colours in the whole house: Studio Green, Dimpse and Green Smoke.
Visit Farrow-Ball.com
SUB ZERO & WOLF APPLIANCES
I remember being in the States and seeing my first Sub Zero fridge – it was huge and I thought, one day I'll have one of these! They're like the Bentleys of the refrigerator world. Ours keeps food really fresh – the other day, I wasn't paying much attention and realised I was making a salad with ingredients that said they were two weeks out of date – but they were still good. We've got an oven too, which is so impressive – it's got loads of touchscreens and it talks to you, telling you to close the oven door or turn up the heat. It all just makes your life that bit easier – there are different compartments in the fridge for different ingredients and the ovens are just that bit wider so you can put multiple pans side by side without them overlapping. 
Visit SubZero-Wolf.co.uk
When it came to work surfaces, we wanted something different that stood out. Despite Steph loving marble, we didn't want natural stone as we have children and love cooking. We knew that anything nice would be destroyed, so we opted for a marble-effect composite porcelain surface. This thing is indestructible and can withstand anything – wine, coffee, kids. They're actually trialling putting induction hobs underneath so you can't see the hob and you cook on the work surface. It doesn't crack or mark and it's all guaranteed. We've gone for unpolished stone and you'd never know it's not real. It's one of my favourite things in the house.
Visit Neolith.com
Quooker taps are one of those things you don't think you need until you have one. It comes into its own when mum and dad come to visit and require 20 cups of tea an hour. We've actually got two, because when you're a parent, sterilising stuff it's essential. But even for cooking, it saves loads of time when you need boiling water.
Visit Quooker.co.uk
I'm very choosey about the equipment I'll use. Technogym is an Italian brand that turns 40 this year. It was started by a man in his garage well before anyone was using gyms as we use them today. It's got an astonishing heritage and team behind it, and when it came to choosing a home gym – which I need as it's part of my life and I use it every day – it had to be this brand. Because it's an Italian brand, it looks good too.
Visit Technogym.com
I found Bakehouse to do our kitchen, and we actually ended up using them for the boot room and pantry too. With the boot room, I knew which paint I wanted, and I knew I wanted an individual locker for everyone's coats and shoes. But the kitchen was a clash – I knew Steph's style and I knew my own, and they're very different.  It can be very difficult to delegate design ideas, but I had to hand the kitchen over to founder Alan Ramm at Bakehouse. I left it with him and we went back and forth for weeks. For example, I didn't want a typical island with four seats – which is exactly what I've ended up with! – as everyone's just in a row and can't see each other. But he came back with a brilliant mitred stone design with fluted walnut in the middle, which looks amazing. The whole kitchen was properly bespoke. It was like getting a suit made – I knew what I wanted, but then the expert took over and told me what I needed and made it happen.
Visit BakehouseKitchens.co.uk
What I love about Pooky is the service – they can always get something for you the next day. I've chosen from lots of different lighting companies all over the house, but once installed the Pooky lights have been my favourite. I still need to get a couple of the rechargeable table lamps for the dining room, as I've always wanted to recreate that atmosphere you get in restaurants created by miniature lamps on the tables.
Visit Pooky.com
People like to bore on about the integrated sound system they've got and I think, "Yeah, the one that's going to be obsolete in a few years because everything moves on so fast." I've used Sonos for years and I've moved it from house to house – you can add more speakers as you need. Best of all, it's reliable – I've seen so many others cut off halfway through a song. I love making my own playlists and I play them through my phone. Easy.
Visit Sonos.com
Lusso's service is incredible – and they've won loads of awards to prove it. This sums up my love of wanting a traditional feel, but going for a modern take. It's the same shape as a Victorian bath, but in stone, which is hard to find. Then we've got the matching sink in marble. I think it weighed about 80kg and it took three guys to get it up the stairs. No one else does it like Lusso – they really wanted to help me find the best pieces. They also make beautiful brushed-gold taps, which we've used throughout the house. They're not garish like they sound, and the Greek part of Steph loves them.
Visit LussoStone.com
Nikki Tibbles, the owner of Wild At Heart flowers, often does my flowers for the house. I'm an ambassador for her foundation, which rescues dogs, and because we moved into the house just before Christmas, we had no decorations. She said "Leave it with me," and next thing I knew she'd sent her team round to do an incredible display around arched doorways, up the stairs, around picture frames – all while decorators were trying to paint the walls. I thought she was just going to do a couple of garlands!
Visit WildAtHeart.com
A young chef I know called Chris Baber introduced me to British pan brand Hexclad. They're the Rolls-Royce of pans. They're made of steel, have a 10-year warranty, are non-stick and can go on the hob or in the oven – that's every box ticked. I showed them to James Martin who agreed he had to get some too, and they're also used by Gordon Ramsay. It takes a little while to get used to how good they are as the heat is so evenly spread.
Visit Hexclad.co.uk
DISCLAIMER: We endeavour to always credit the correct original source of every image we use. If you think a credit may be incorrect, please contact us at [email protected].