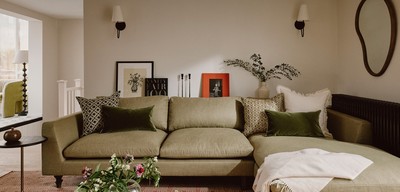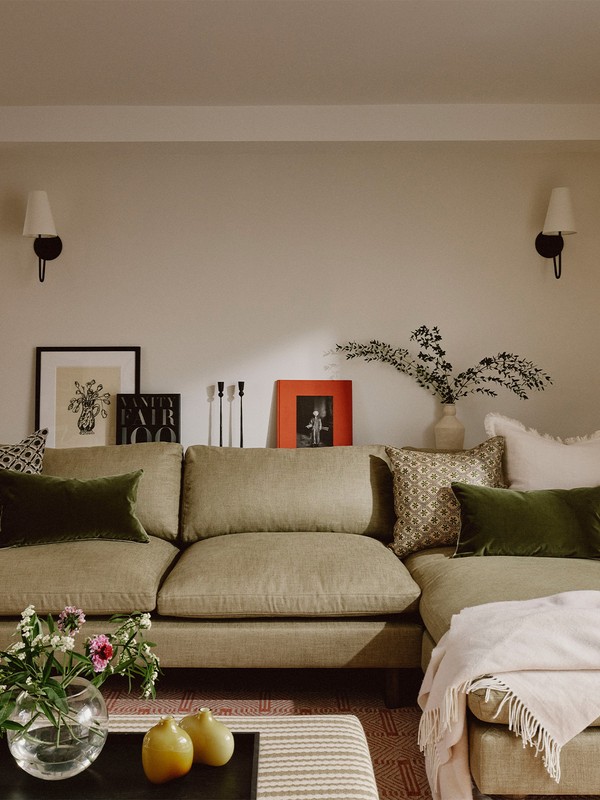 Take A Look Around This Renovated Family Home

---
When a jet-setting couple needed a London base, they asked Jenna Choate-James and Mariana Ugarte of Interior Fox to help them with a total renovation. Here, the duo take us on the tour and reveal where they found some key items…

This three-bedroom, two-storey flat is on a leafy street steps from the King's Road in Chelsea. Originally built during the Georgian period, it was home to an elderly woman who lived in and loved it until her 90s. When we toured the space, it was filled with bright vintage furniture and stacked wall-to-wall with art and books. The property needed a full renovation to bring it up to modern standards and for our clients to enjoy with their family. 
It's a second home as the clients live in Dubai but have London roots, so finding this gem of a property to renovate and call a 'home away from home' was the perfect score. The entire property including the communal stairs, hallways and carpets all needed to go, so the building was fully renovated (minus the grumpy neighbour's flat opposite!). We worked with our builders through a long list of work: replacing all the flooring with new carpet and wood flooring; gutting and remodelling both bathrooms; remodelling the master bedroom to create a better flow and more storage; and installing a new kitchen and fully renovated dining and living space.
The aim was to create an atmosphere that felt well-travelled and eclectic but with a nod to British and Dutch heritage. Our clients are both full of personality and it was important their backgrounds came through in the overall aesthetic of the space. It was a real balancing act to create a colourful and travelled space while keeping clean lines with a modern twist. We used a lot of saturated earth tones in the textiles and artworks as well choosing wood tones that felt warm and golden. There were many custom pieces of furniture that we worked with several suppliers to create, which gives us a real sense of satisfaction. We love to source fabrics and materials to create original combinations within residential commercial ranges and our clients were on board for the pairings – the wife is an artist and designer, so it was important the space felt equally cool and interesting!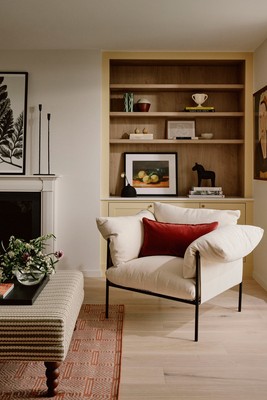 The starting point here was rich saturated artwork and warm earth tones that felt cosy enough to relax in yet interesting enough to be entertaining. Once we established the layout for the space and realised it needed a long L-shaped sofa, we started layering fabrics and rug combinations until we found the perfect pairing. The oversized footstool was an important piece to have made as it allowed more foot rest while watching a movie as well as being used as a coffee-table surface. We also created bespoke, built-in cabinets on either side of the fireplace to help balance the space and anchor the room. 
SOFA: Jasper, Love Your Home in Olive Green
RUG: Arra Rug, Arum Fellow in Rust
CUSTOM FOOTSTOOL WITH BOBBIN LEG: Origins Design in Scalloped Stripe fabric by Tori Murphy 
WALL LIGHTS: Scoop Light, Matt Alford Studio
ARMCHAIRS: Metal + Linen Lounge chair, Six The Residence (not listed online anymore)
PEBBLE MIRROR: Tikamoon
SIDEBOARD: Marcel Media Unit, Soho Home
THROW CUSHIONS: OKA and Soho Home
TABLE LAMP: Orta Table Lamp, lights&lamps (professionally sprayed in Heat Orange, Little Greene)
SIDE TABLE: Burford Side Table, Soho Home (not listed online anymore)
CANDLE HOLDER: ARKET
VINTAGE PORTRAIT PAINTINGS: Clients' collection 
ARTWORK: Lemons in Blue Bowl, Artfully Walls
LEATHER FIRE FENDERS: Oka
SHELVING/CABINET: Painted in Russet by Nordfarg paints (an eco-friendly paint company)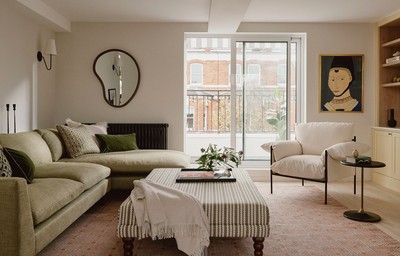 In a unique upstairs conservatory, the dining room was a real charm in this property, with so much natural light and extensive views across the neighbourhood. The client wanted to maintain the charm but add the comforts of a modern entertaining space. We started by replacing the flooring with a Victorian patterned green tile and cleaning up the windows, which were rotting and damaged in many places. We created a modern bar at one end using new cabinetry and dark green tiles while the rest of the dining space received new custom furniture. An oversized (long but thin) dining table to fit at least 10 people was crucial for our client.
CUSTOM DINING BENCH: Origins Design, upholstered in Penny Morrison 
SOLID WOOD DINING TABLE: The Carolina in smoked oak, Hardman Design
DINING CHAIRS: Haward Dining Chairs, Soho Home
CEILING PENDANTS: Ceiling Pendant, Sweetpea & Willow
BESPOKE TRIPOD ARMCHAIRS: Six The Residence using Tori Murphy Scallop Stripe fabric and Fermoie fabrics
SIDE TABLE: Antiqued Mirror Side Table, La Redoute
FLOOR LAMP: Fortuna Metal Lamp, Oka
WALLPAPER: Manila Botanic Range in Beige, Arte
BAR BACKLASH TILES: Emerald Brick Tile, Planet Tile
OVERSIZED VASE: Large Papavera Vase, Oka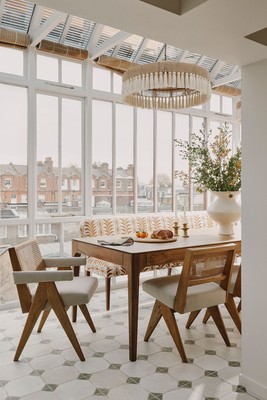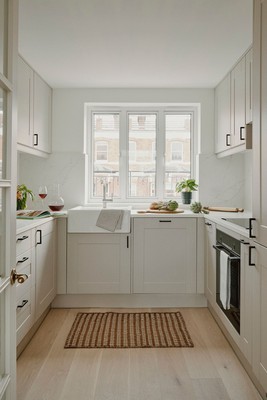 Our client wanted to maintain the kitchen structure and placement by keeping it small and tucked away from the rest of the open-plan new layout. There wasn't a lot of space to open up the kitchen and have a roomy living room, so we decided to just give the kitchen a full overhaul with simple and elegant materials. We used a soft 'greige' colour on the shaker style cabinets and a clean bright quartz worktop material for contrast. All the appliances and flooring were replaced and refreshed, giving this little kitchen a perfect quaint charm.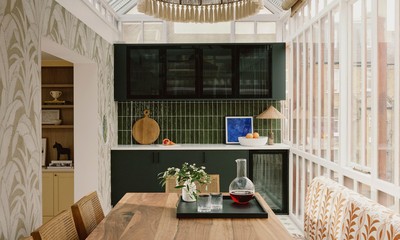 The brief for the master bedroom was 'British meets Havana type vibes' and we had to maintain warmth and practicality. First, we remodelled the room by knocking out the non-structural columns and awkward built-in wardrobes. We built a false wall behind the headboard to cover a tricky column, while also gaining symmetry and hidden storage. Wallpaper in a delicate block-print flower was chosen to pair with the bespoke striped headboard. Overall, this room has such warmth, and subtle details that you almost miss. 
WALLPAPER: Sunda Hand Blocked Print Wallpaper, Schumacher 
HEADBOARD/BED: Christobell Piped Bed, Love Your Home, in Hosome Linen Fabric by F&P Interiors
WALL LIGHTS: Raffia Scalloped Shades, Matilda Goad with Swan Neck Fitting, Pooky Lighting
CUSTOM CUSHIONS:Yellow Astrea, Fermoie 
ART WORK: Vintage Palm Illustrations, The Farthing
DESK: Forest Desk, Sweetpea & Willow
TABLE LAMP: Naushima Table Lamp, Oka
ACCENT CHAIR: Custom made by Origins Design in Blush Rubia Embroidery Fabric, Schumacher
MIRROR: Big Brass mirror, LOAF
BEDSIDE TABLE: Deco Marble, Atkin & Tyme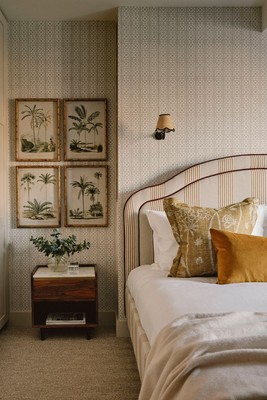 A lot of work and thought went into the master bathroom, trying to perfect the layout and provide as much storage as possible. We created a walk-in shower, double sink vanities, and a few niches for toiletries and skincare products. The overall design was meant to be minimal, natural and clean. We used an offcut of quartz for the worktop over the two vanities that we sandwiched together.
TAPS, SHOWERWARE, SANITARYWARE: Lusso Stone
MIRROR:Arched Wall mirror, Marks & Spencer
TILE: Country Wide Brick tile, Porcelain Superstore
VANITY: Tikamoon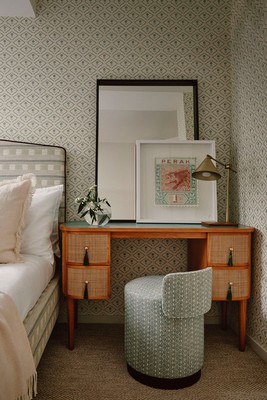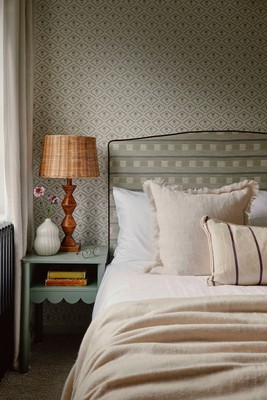 The guest bedroom was kept in mind for visiting families and mother-in-law types, so the clients wanted it to feel snug and quaint, leaning more into British charm. That's why we chose to layer soft blues and greens with subtle prints and patterns. It still very much has a travelled/eclectic finish as we made sure to incorporate rattan and natural-fibre finishes where we could. We also find it's important to give guests a place other than the bed to sit and be productive at, so the desk was a perfect addition. 
WALLPAPER: Leaf Flower Pale Blue, The Fabric Collective 
BESPOKE BED: Scarlett Studded Headboard, Love Your Home in Lost and Found fabric, Christopher Farr 
STRIPE CUSHION:Late Afternoon, Glassette
BEDSIDE TABLE: Hem Bedside Table, John Lewis 
BEDSIDE TABLE LAMP: Mizo Table Lamp, Kalinko Home
DESK: Kinship Rattan Desk, Oliver Bonas
STAMP ART: Framed Artwork, Guy Gee
CUSTOM STOOL/SEAT: Origins Design, in Quantoc 016 Blue, Fermoie
CERAMIC VASE: Soho Home (not online anymore)
All products on this page have been selected by our editorial team, however we may make commission on some products.
DISCLAIMER: We endeavour to always credit the correct original source of every image we use. If you think a credit may be incorrect, please contact us at [email protected].