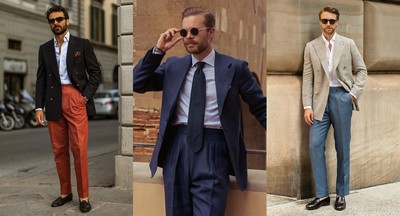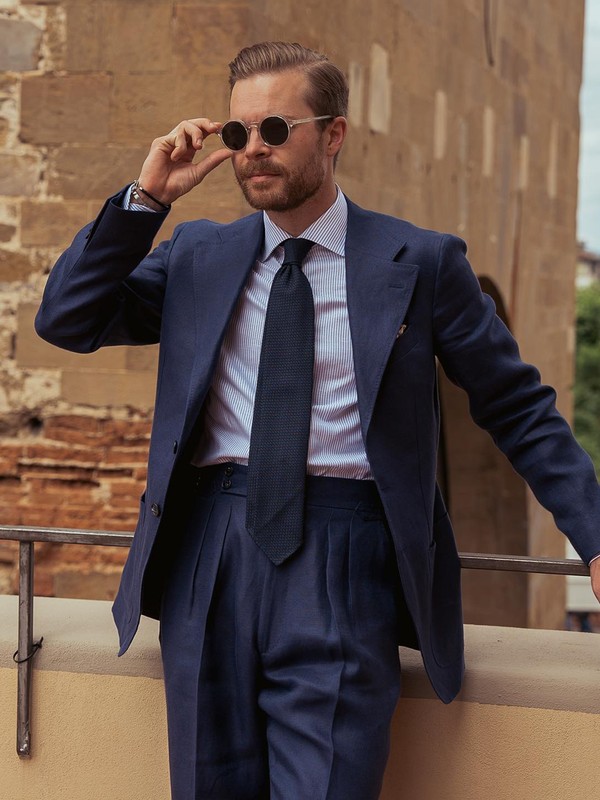 How To Find A Good Suit On The High Street

---
You've heard the stories about the shiny fabrics, the too trendy cuts and the trousers that split on the dance floor. But it doesn't have to be like this. High-street tailoring can give you gold for the price of silver – if you know where to look. We asked three pros how to find the good stuff.

Photography
@giorgiogiangiulio, @sartorial_finn, @benbrewster
"Find good shops staffed with knowledgeable and honest sales staff who can help you. This is a challenge nowadays, but far from impossible on the high street. Guys who try to do everything themselves often end up taking the longer, more expensive route to building a good wardrobe." – Derek Guy, menswear writer, @Die_Workwear
"Want something you can wear for years? Fit is everything. Avoid ultra-skinny or oversized fits (unless you're buying more than one suit). I like to have fun with tailoring, but you have to be prepared for it to feel dated very quickly if you try and do something too directional."  – Mitchell Belk, Stylist & Creative Director 
"Make sure you're buying the right fabric for the right season. There's close to no point buying linen if you want to wear the piece in the winter, when wool, cashmere and thicker cotton work best." – Greg Zimmerman, SLMan contributor
"For formal occasions, a three-season wool suit in a sober colour such as navy or grey is great. For a suit fit for dinners during the spring, summer and autumn, I would recommend a wool-mohair blend. If you'd rather invest in a suit for travel, opt for a high-twist fabric." – Derek 
"Avoid elastic materials including nylon. They're not breathable and don't fit well. Instead, go for wool, linen and cotton blends – anything that has been blended with silk gains a luxurious feel that will help with the 'drape' and fit of the garment." – Greg
"A wool mix is always going to be nicer to wear, and linen is great in the summer – you just have to embrace the creases. Any suit that is 100% polyester is probably going to make you sweat, so I would avoid any tailoring with no natural fabric inclusion." – Mitchell
"Ready-to-wear tailoring will often be made according to trends. Sometimes those trends look good on us; sometimes they don't. While style isn't always about flattering the body, it's important to be honest about whether you actually look good in the garment or whether you're just getting drawn into a trend being pushed by polished fashion images, editorials and influencers." – Derek 
"The high street is great for trend-led pieces – like an oversized suit with wide-leg trousers right now. But these pieces will most likely be out of style in a few seasons' time, so really weigh up if it's worth buying or not." – Greg
"Clothing should be built for movement. You should be able to hug people without feeling like the jacket's centre-back seam is about to split. You should be able to bend down without worrying if the trousers are going to rip. When you feel comfortable, you will be more stylish." – Derek 
"Nine times out of 10, oversized is cooler, but don't go too oversized with tailoring from the high street – you can run the risk of cheapening your look. Give yourself enough room to breathe – you want to be able to put a finger in between your buttoned jacket and your shirt." – Greg
"When trying on a jacket, see if the collar stays or hugs your neck – both when you're standing still and moving around. Also be sure that it hangs cleanly all around. A key point here is that the lapels should lay flat on your body. If they buckle away from you, the chest is likely too small. If the buttoning point is straining, the coat is too tight around the waist. Lastly, check for what tailors call 'balance'. Look at yourself from the side. The front of the coat should either hang evenly with the back or a little lower." – Derek
"You'd be amazed at the variations of a two-button slim-fit navy suit that exist out there. Take the time to find the one for you. Before you start, set a realistic budget. It might feel like a big investment at the time – even from the high street – but, chosen wisely, a suit will last a long time." – Mitchell 
"High-street tailoring uses lower-quality fabrics so bright, eye-catching colours are more likely to go wrong. The fabric can bunch and will probably not stand the test of time or give the impression of a quality piece." – Greg
"Massimo Dutti, COS, Arket and Reiss usually produce high-quality tailoring and their silhouettes rarely go out of style. Massimo and Reiss are more timeless while Arket and COS are great for something more trend led." – Greg
"Cut and fit is everything. Price tag is not. An affordable suit that fits to perfection will look far more elevated than an expensive suit that doesn't. In my opinion, Massimo Dutti is one of the best places to go for a good classic suit in a modern cut. COS is best for tailoring with a more fashion edge while Marks & Spencer is a must for value and choice." – Mitchell
"It's very rare that something ready to wear will fit like a glove without any alterations. Get the trousers taken up, the sleeves shortened and the waist taken in if needed. This will make your outfit look more expensive and you'll feel better wearing it." – Greg 
"Don't just accept the suit off the rack on the high street. A lot of shops offer a tailoring service. If they don't, go get things tailored. If your trousers need shortening, or the waist needs an alteration don't be afraid to ask or be too lazy to get it done – it makes all the difference." – Mitchell
---
And shop our edit of the best high-street tailoring…
All products on this page have been selected by our editorial team, however we may make commission on some products.
DISCLAIMER: We endeavour to always credit the correct original source of every image we use. If you think a credit may be incorrect, please contact us at [email protected].