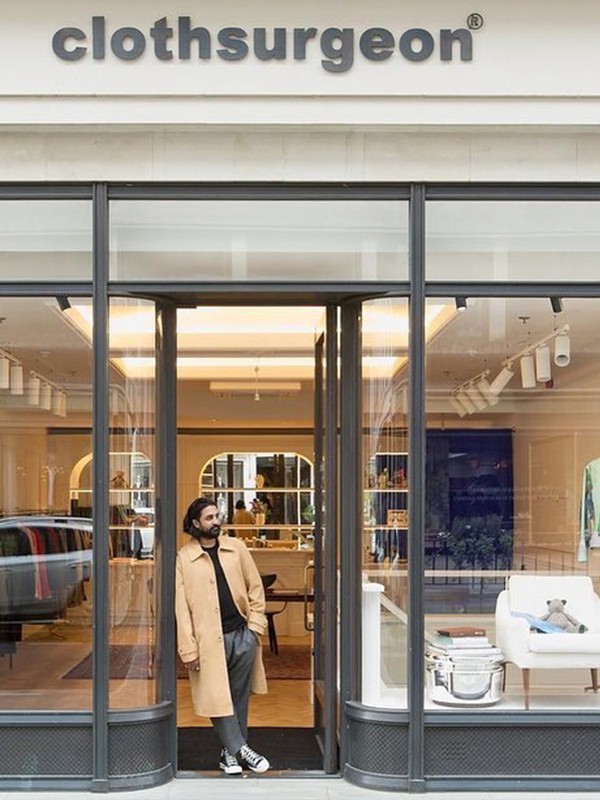 Meet Rav Matharu: Founder Of Savile Row's Only Streetwear Label

---
At 17, Rav Matharu turned pro with Leeds United. Then he fell out of love with football, discovered fashion and started a business from his flat. Today, his ground-breaking bespoke streetwear brand has a place on Savile Row and fans like Kendrick Lamar. Here's how the founder of Clothsurgeon made it – plus some of his expert style advice for men…

Football had always been the dream. I played from the age of 10 for Leeds United and went pro at 17, but ended up losing the love for the game when it started to feel more like a job. Faced with the pressures of needing to play for a contract, I was ready to try my hand at something new. I began exploring another passion of mine – drawing, design and product.
I felt lost for a long time. I think I was really struggling with coming to terms with the fact that the career I had always worked towards was no longer happening. Figuring out my path wasn't easy. After a tough time, I finished an art foundation degree at Loughborough University and gained a spot at London College of Fashion. 
Living in London lasted all of two weeks. Leaving Leeds was more of a shock than I expected money wise, so I moved home. I worked in retail for nearly three years at Size. Looking back, this was incredibly valuable as it widened the breadth of my knowledge on the industry. I then took a stab at education for a third time and did a BA honours. 
My first real plunge into the fashion world was when I finally moved back to London. I started working for a small company called House Of Billiam which predominantly made hoodies out of suit fabrics. I started seeing my designs go into places like Liberty and Dover Street, and it finally felt like things were starting to fall into place.
I learned a lot in those few years. Working within a small team meant I was incredibly hands on. From learning about patterns, cutting, sourcing and fabrications to picking up the business side of things too, I learned how to actually operate a small brand.
My life changed when I met A$AP Rocky. He came into the House Of Billiam studio one day and was taken with a rail of pieces I had created. He loved my leather sleeve sweater – his fans will know this became a staple in his UK tour wardrobe for a while. This support from him literally funded the business at the time.
I started seeing my designs go into places like Liberty and Dover Street, and it finally felt like things were starting to fall into place.
I've always lived by something Van Gogh said. 'What would life be if you never had the courage to attempt anything.' When I was let go from House Of Billiam due to its financial situation, I had a decision to make. Overcoming the fear of taking a leap was the most difficult part for me. 
There was no blueprint for the kind of business I wanted to start. Clothsurgeon is primarily a bespoke streetwear brand. We allow the customer to come in and create anything they wish – there's no limits. If you have an idea, we can bring it to life.
I was constantly learning things the hard way – whether it was practical things like making sure to double check before accidentally cutting a £400 a metre fabric, to dealing with production or fabrication issues. Rather than stressing out about things out of my control, I learnt to accept these things as part and parcel of the industry. I found solutions and got through them.
When I got to a stage where I was able to take risks, I made them calculated. Even huge steps like taking on my current store was calculated. I waited to do this ten years into having my business. I only made the leap when the time was right and the opportunity presented itself in a way that would truly work. Taking on the store gave us a chance to tell our brand story and be in the home of bespoke – it made perfect sense when it happened, and it happened when it was meant to. 
Being the first British South Asian on Savile Row means a lot to me. But I was more taken aback and surprised at how much it meant to others in our community. The response the news had was incredibly unexpected. I had countless people messaging, sharing and liking the posts revealing the news – it was quite overwhelming. A story and message that really stood out to me was from an incredible tailor. Her father used to be a tailor but was never able to get a job on Savile Row because he was South Asian. Even though he was highly skilled, it just wasn't a thing at the time. For her to see what I was doing and for her to share how proud her dad would've been meant a lot. 
We are also the first and only bespoke streetwear brand on Savile Row. We offer something that is completely different to the rest of the street – I always refer to it as being 'bespoke plus'. It's a lot to manage but it's also very exciting.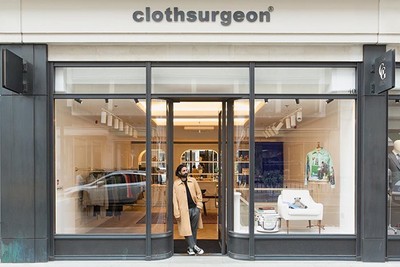 People often ask what I want to see change on Savile Row but honestly I like where things are at. We obviously add something really different, a new energy I suppose, but I still want to see the great houses doing more of what they're known for. I think it's such a big part of the history of the street, I wouldn't want to see that dwindle. That said, it could be interesting to see more contemporary brands. I'd also love to see a luxury and bespoke accessories brand. It would be great to be able to go somewhere and create a bag or a piece of jewellery that uses the craftsmanship found on Savile Row. 
There's no one demographic at Clothsurgeon – and I think that's the beauty of it. When I create collections, I make what I like and what I would wear, because then I genuinely am passionate about the pieces. But on the bespoke side, we have no demographic. I meet people from all walks of life and parts of the world. They all appreciate different aspects of the brand, be it the culture, the craft, the quality or the hype – and there are so many different elements we can apply to their garments to make them feel like their own. 
I consider what we do to be true luxury. You can go to a store and buy something very expensive and luxe – but really, it's been on a production line and 100,000 other people can buy the same thing. Having something made just for you that doesn't exist anywhere else in the world? There's something a bit more beautiful about that. 
From art to interiors, I'm always inspired by something. I feel like I've been studying product for 30 years, so constant external stimuli help to spark something new. I love fashion but I don't think I follow it or am dictated to by it when I create. I stay away from trends and things that are really 'hot' in the moment. Instead, I look ahead and ask what's next. I want to stay a step ahead.
Back in the day, I was in the mosh pit raving to N.E.R.D so Pharrell Williams someone I'd love to sit down and collaborate with.
We've started working with companies like Mr Porter and Harrods on capsules. For Mr Porter, we used a beautiful fabric designed by Raf Simons to create a small collection of pieces. The goal was to create something that worked for Mr Porter and its customer, but also felt true to us. We did something similar with Harrods, on a really luxury level and with a slight sportswear influence. We designed Loro Piana tracksuits and overcoats, and reconstructed Supreme bags into jackets. 
Pharrell Williams is at the top of my 'people I want to dress' list. Back in the day, I was in the mosh pit raving to N.E.R.D so he's someone I'd love to sit down and collaborate with. I'd also really love Kendrick Lamar to come back in. When we worked with him originally, he was just coming up in the music world. Since then, his style has really changed and become quite high fashion in comparison, so it would be really cool to create something with him. 
The future for Clothsurgeon is diverse. As well as working more with stores in a bespoke, experiential way, and doing more unique collaborations, another goal of mine is to create an accessible line so more people can buy into the brand – like an off-the-peg ready-to-wear range. The future hopefully also involves growth and having a store in all the major cities like Paris, Tokyo, New York and Milan. I'd also love to have my own creative agency where we can work across different areas of design and art. That's the dream.
RAV'S 3 STYLE TIPS FOR MEN
I don't like to tell people what to do or wear but I do notice a lot of people not considering the relationship between their shoes and trousers. I see a lot of guys wearing skinny jeans and Chelsea boots with the tab sticking out, for example. Getting it right really depends on what shoe and trouser you're wearing, but in terms of proportions, I typically go for a wide-leg pleated trouser and pair them with a trainer or penny loafer. For me, your trousers should hit right at the ankle bone. I prefer to style this type of look without socks, but if I do opt for socks I go for a pair from Missoni – I have a nice collection I pull from.
My key piece of style advice is to exude confidence, be comfortable and stay true to your own style. Clients always want me to restyle their entire wardrobes. Instead, though, I try to take what they already have and elevate it in some way through construction, fit and fabrication. I want them to feel true to themselves. My guide for creating these bespoke pieces comes from years of being obsessed with product and streetwear, and understanding different styles – from Ivy League to militia to formal and high fashion. I can adapt Clothsurgeon for each person who walks through the door. 
My daily uniform is a double-pleated wide-leg trouser, quite baggy, paired with a short blouson-style jacket and an overcoat. Shoe wise, I typically reach for trainers or a penny loafer. Today I'm wearing my Margiela Replicas, but I also love Air Force 1s for something clean and minimal. It helps dress down the formality of the look. I also love the Rick Owens Converse and the reissue of the 1970s Chuck Taylors. I try to stick to a 20-odd piece wardrobe, but also like to call on some archive pieces too. 
Follow @Matharu_Rav & @Clothsurgeon 
To see more of Rav's unique work, head into the store at 40 Savile Row. Or visit Clothsurgeon.com
---
SHOP OUR CLOTHSURGEON PICKS
DISCLAIMER: We endeavour to always credit the correct original source of every image we use. If you think a credit may be incorrect, please contact us at [email protected].