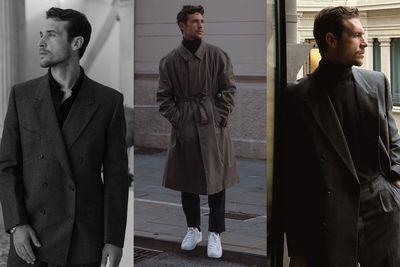 My Style Rules: Denis Cebulec

---
Denis Cebulec has done his time in the fashion industry – both in front and behind the camera. Along the way, the founder of The Crima jewellery brand has learnt some valuable sartorial lessons. Now he's ready to share those style rules with SLMan…
Photography @deniscubulec
All products on this page have been selected by our editorial team, however we may make commission on some products.
Don't know what to wear? Start from the bottom and work upwards. Smart yet cool, a good pair of pleated trousers is my go-to at this time of year. Next it's a blazer and some knitwear (or a basic turtleneck) layered underneath some heavy outerwear.
If you're in a style rut, declutter your wardrobe. Trust me, you'll be surprised how many pieces you haven't worn in a while. Let go of any sentimental feelings about shirts you bought years ago and embrace a refresh. I keep my wardrobe organised and simple, so I know exactly what I have. As you embark on that refresh, seek out as much inspiration as possible. Spend time discovering new styles and digging deeper into what attracts your attention.  
Use details and accessories to add a cooler edge to smarter looks. When it comes to workwear or eveningwear, the repetition of the same suits, tailored trousers and shirts can quickly become boring. To switch things up, I love to wear jewellery. On any occasion, it can add a little something extra – even a small decision between silver and gold can make a difference.
Take your time with staple outerwear. Most of my long coats and jackets are gems I've found while thrifting. I feel like a lot of men are still tentative with second-hand shopping, but I'm a big fan. My absolute favourite outerwear piece right now has to be a long cashmere and wool handmade coat I found in a flea market in Italy. A close second is my cream American Vintage coat, and third would be a grey wool oversized coat from Boss that I found in Rome at a flea market.
"Let go of any sentimental feelings about shirts you bought years ago and embrace a refresh."
Less is more when it comes to layering. Stick to similar tones and a handful of good-quality pieces. If it's really cold, a thermal undershirt is your best friend – make sure it's tight to keep the warmth. Thermal leggings make a difference too. Whenever I layer, a turtleneck is a no-brainer – I love to combine it with something a bit oversized like a blazer or an overshirt. To finish the look, I add a big coat to keep things feeling relaxed. 
Don't scrimp on knitwear. Stick to cashmere and wool, go for timeless designs and fabrics that last – and learn how to take care of them. Luca Faloni's knitwear is great right now, specifically the cashmere collection. I also love the comfiness and the fits of American Vintage – its pieces give strong off-duty vibes.  
Pay attention to fit and fabrics for tailoring. I'm especially drawn to that old Italian style of thicker, fine wool suits. I've found several while thrifting – it's crazy how many are in perfect condition (pockets still sewn shut) and worth four or even eight times what you pay for them. I simply take it to a tailor to get the fit exactly how I want it to be then get it dry-cleaned. My favourite suit brands are Brioni, an Italian luxury tailor, and Blugiallo, a Swedish custom tailoring brand. I always recommend getting suits for special occasions tailor-made, but a good alternative would be to buy a high-quality second-hand one and bring it to a tailor.
"Footwear choices should be seasonal. At the moment I'm loving chunky boots but a good pair of trainers go a long way too."
Always invest in your basics. The difference in quality will be apparent – especially if it's a piece you wear on repeat. I'm not really a fan of trend following and have invested some time developing my personal taste. The best way to do this is to figure out the fits and styles you love the most. That's not to say I don't sometimes opt for a trendy piece combined with staples, but I usually try to get them vintage. 
Footwear choices should be seasonal. At the moment I'm loving chunky boots but a good pair of trainers go a long way too. For trainers, the Inuikii High Tops are my current go-to. A pro tip is to buy some extra wool soles to keep your feet extra toasty in the colder months. In summer, I will rock loafers most days.
Second-hand shopping is the answer to looking good on a budget. Take some time to research materials and fabrics so you know what you're buying is of good quality. This is the trick to making sure second-hand pieces feel elevated too. I love finding that one special jacket or a blazer that someone had in their wardrobe for years before me – it's about giving those pieces a new lease of life. I recently found a Gucci suit in Milan from the 80s which was practically brand new. Everything from the fabrication to the stitching were one of a kind. 
Remember one style doesn't have to define you forever. People change. The best thing to do is dig deep to find what you really like and don't be afraid to adapt it as you go. Developing your own personal style takes time and effort, so don't rush it. 
DISCLAIMER: We endeavour to always credit the correct original source of every image we use. If you think a credit may be incorrect, please contact us at [email protected].