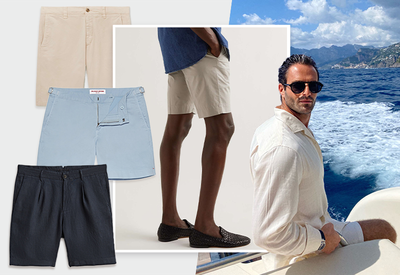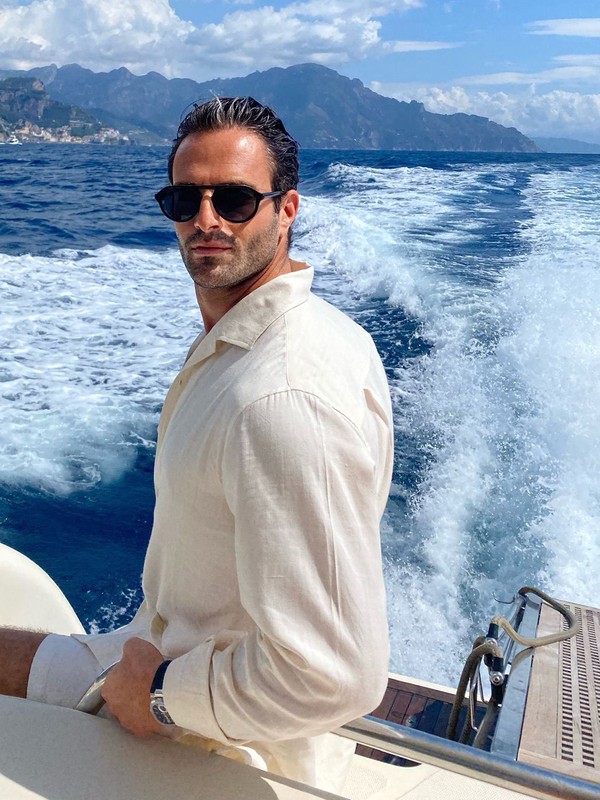 Shorts: Your Definitive Guide

---
Shorts are such a minefield, our style guru Greg Zimmerman has dedicated his entire column to them this month. Over to you Greg…

In a world of short shorts, long shorts and short longs, getting the bare-leg look right can be tricky. That's why I've dedicated this month's entire column to the seasonal staple. I'll start with what not to do, then show you how to choose a pair that look good, feel good and suit your body, so you can stride confidently into summer.
So, the many ways in which British men habitually get shorts wrong… First, there's no call for shorts when it's not hot – there are few sights more tragic than shivering, knocking knees in the drizzle. Our next national-level issue is not wearing proper shorts. By proper shorts I mean tailored or slim fit styles that finish above the knee. Jersey fabric shorts are only for wearing at home. Particularly if they're tight. Nobody wants to see that. Another one: bad pairings. Running shorts with a shirt is never okay.
But that's enough dwelling on the negative. Onto my three golden rules for getting shorts right…
You need to find that elusive spot between the knee and the waist which exposes the lower legs while preserving your modesty. Aim for four fingers above the knee. Anything below the knee and you're into capri pant territory which is eternally unstylish.
02
Choose A Style To Suit Your Legs
There's no one-size-fits-all approach to shorts. The first question anyone should ask when choosing a pair is: how well do they suit the proportions of my body? This means giving your legs an honest appraisal. Stand in front of a full-length mirror and take a look at them. How long are they? Are they tanned or pale? Do you have slender calves, strange knees, the thighs of a rugby player or the calves of a cyclist? If you've got muscular legs, slim-fit shorts are going to be uncomfortably tight, bunchy and sweaty, so go for a more generously proportioned pair. If you have shorter legs, shorts designed to finish just above the knee will end lower, so you want a pair with a shorter inseam or with hems that can be neatly cuffed or rolled. If you've got pale legs, avoid light-coloured shorts – go for a contrasting pair in navy, obsidian, charcoal or black. If you don't like your legs and have good reason not to, don't wear shorts. You have choices. 
03
Get Your Shoes & Socks Right
No high tops and certainly no flip flops. Even if you are a frat boy, I don't recommend looking like one. Think loafers, slip-ons, espadrilles, Birkenstocks or a lower-profile sneaker. And, unless you're playing golf at a particularly fussy club, never wear shorts with long socks. They will truncate your legs. Stick to ankle or secret socks, especially if you're trying to achieve a more distinguished and polished look. Oh, and if your shorts have belt loops, wear a belt and match it to the colour of your shoes. 
Now, I Can Hear You Asking, Here Should You Be Deploying Your Newfound Ability To Buy Great Shorts? There Are A Few Brands To Know…  
Add some Italian flair to your shorts game courtesy of this Neapolitan institution. Try the Gurkha shorts – they have a higher waist to accentuate your legs.
Visit MarianoRubinacci.com
Functional, versatile and stylish – a must-know for the aspirational outdoorsman. Liking hiking isn't a reason to look like you've been dragged backwards through a mountain equipment supply store. 
Visit Battenwear.com
Great basics, beautiful fits with drawstring and elasticated waistbands to prioritise comfort.
Visit lestrangelondon.com
It does great shorts as well as swimwear of renown – which also happens to work perfectly for the resort or riviera style I define below. 
Visit OrlebarBrown.com
High prices but great quality. Its shorts will last forever. 
Already got the perfect pair of shorts and want more of them? Take them to Erland at Taliare, an off-Savile Row tailor in Mayfair. He will replicate them for you in any material and pattern you fancy. Add a monogram on the waistband for a personal touch, and adjustable straps on the side to avoid belts. Taliare also has great ready-to-wear options for your perusal. 
Visit Taliare.com
Once You've Identified And Acquired Your Perfect Pair, The Only Thing Left To Do Is Style Them. My Tip Is To Think Thematically. I Think There Are Four Themes To Explore – Done Properly, All Four Will Stop You From Falling At The Final Hurdle…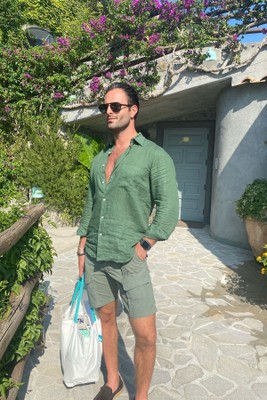 You don't have to be doing manual labour or trekking across the Himalayas to channel the utilitarian aesthetic. A pair of cargo shorts can put a playful spin on classic workwear. To achieve this look, think safari/explorer chic, not preppy. Extra pockets provide practicality and a point of difference, but make sure they're not too bulky as that can easily ruin a clean silhouette, and that would be a real shame.
A personal favourite of mine, the riviera look will turn heads. I love a pair of crisp white shorts cut just below the thigh – they will look eye-catching for all the right reasons and goes with everything. Wear with a patterned or plain, knitted or cotton, Cuban or camp collar shirt to evoke the laid-back luxury of the Mediterranean – and show off some ankle in a pair of smart but comfortable brown leather loafers, jesus sandals or espadrilles.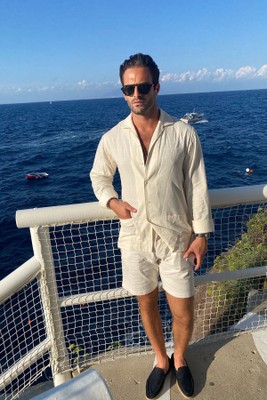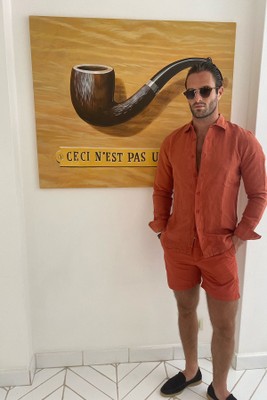 This is where the lines between swimming trunks and shorts can be conveniently blurred so you can effortlessly transition from ocean bathing to afternoon drinking by wrapping yourself in a towelling polo, minimally buttoned knitted shirt or linen tee. Think Jude Law in The Talented Mr Ripley. 
As menswear's Pitti peacocks have proven time after time, the combination of outwardly formal and seemingly casual works excellently in a way that harks back to the 60s. The skill here is to consider colour and pattern – Thom Browne has been doing this expertly for years. For example, a plain tie with matching shorts will cut a cleaner line through a patterned shirt. Use a neutral underlayer as a canvas for a patterned tie that complements your jacket. Contrasting textures like (plain) cotton shorts with silk ties look great against a distinctive backdrop of stripes or seersucker.
All products on this page have been selected by our editorial team, however we may make commission on some products.
DISCLAIMER: We endeavour to always credit the correct original source of every image we use. If you think a credit may be incorrect, please contact us at [email protected].