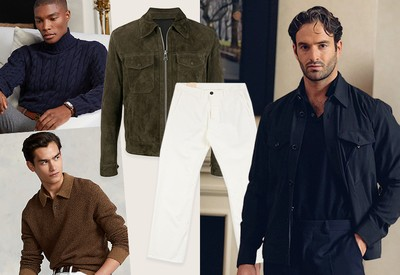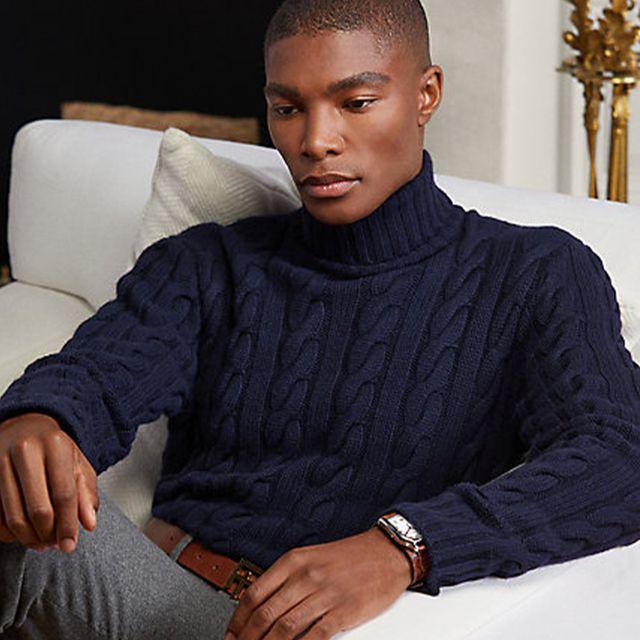 Your Style Questions, Answered

---
In his latest style clinic for SLMan, Greg Zimmerman solves three more of your sartorial dilemmas. This time, our impeccably turned out columnist is turning his mind to trouser trends, wedding rings and new ways to nail 'smart casual'…
Photography MOEEZ ALI
All products on this page have been selected by our editorial team, however we may make commission on some products.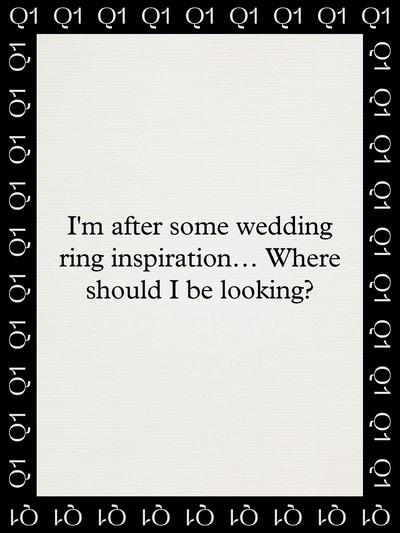 Throughout history, the wedding ring has been a personal emblem. Today, we're lucky there's so much room for interpreting that, and I firmly believe any ring should reflect the personality of the wearer. As you start your search for the perfect style, keep the following five fundamentals in mind…
Your skin tone is important when it comes to selecting the colour of your ring. Silver looks better with cooler skin tones; gold and rose gold work better with warmer undertones. Think about matching your metals – your regular watch and belt buckles, for example – to look as coordinated as possible.
02
Consider The A Quality & Material
You probably want something with enough quality to pass the test of time and be handed down to the next generation. With that in mind, traditionalists often opt for white gold or platinum. If you're particularly active, platinum is recommended as it stands up better to wear and tear. However, white gold is slightly lighter, more malleable and easier to engrave. 
The more avant garde might consider other modern materials. There's a lot to be said for resin: it's lightweight; it has a lot more variety in design and colour than precious metals; bespoke designs can be created for less; and it can be artistically combined with other materials to create something incomparable. 
For those who want to add a bit of flair to the classic wedding band, think about one encrusted with a jewel - a birthstone, gem or even a black diamond. Note the importance of the singular: jewel. You're not a rapper. If you are, you can get away with plural. 
Whether it's the date of your wedding, or your and your partner's initials, engraving adds a sentimental touch that ensures the band is unique. If that's not enough, give thought to a signet ring. They're not just for the pinky finger, and the engraving and monogramming options are endless.
04
Pay Attention To Size And Proportions
This applies particularly to the width of the band. If you have slim fingers, keep the band thin and compact. Broader rings look better on men with fuller fingers. The general rule is simple: smaller hands, smaller rings; larger hands, larger rings.
Whatever you choose, get a jeweller to fit your ring. You don't want it to cut off circulation to your finger, and you won't want it to slip off in the shower.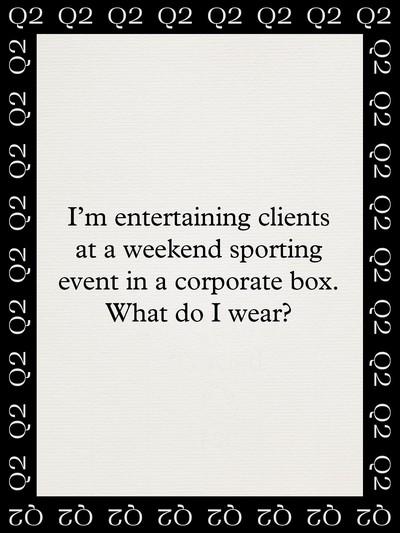 As a host, you'll want to appear like an insider in this setting, whilst also looking elegant and polished. This is the very definition of 'smart casual'. The problem is that's the broadest dress code there is. You can narrow it down a bit by remembering it's a weekend and a sporting event…
The classic option is a blazer. Settle on unstructured for a more casual fit and piqué cotton or corduroy to play to the sportiness of the occasion. Pair classic navy or chocolate brown with a crisp cotton or chambray shirt in light blues, lilacs and whites (absolutely no checks or polka dots) and darker denim or a chino, with dark brown Oxfords or a slightly sportier Chelsea boot. Tuck in your shirt and match the colour of your belt to your shoes. For a more European version, go double breasted – but only do up the top button, and be sure to unbutton the jacket when you're seated. 
If you're erring towards casual more than smart, the equally elegant alternative is to combine knitwear and a blouson or field jacket with a tailored trouser. A classic, clean pair of sneakers or a pair of boots could round off this outfit. To add sportiness but show you still mean business, also think about mock-turtle or turtlenecks, knitted polos, and tailored cargo trousers.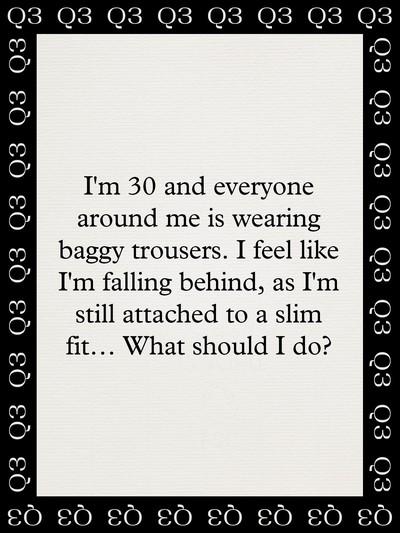 Don't panic. Baggy – by which I mean oversized baggy à la Bieber in Balenciaga – is just a trend. It's a fad that will be in for a few seasons then become uncool just as quickly as it became à la mode. The same can be said about flares. Regular fits and straight legs, however, are here to stay. 
So hold firm and stick to the enduring principles of style: choose timeless garments that prioritise your body type and personal brand. Don't fret about keeping up with the cool kids if that means swerving out of your lane. You can always keep the slim fits in the wardrobe until the fashion tide turns and silhouettes are pared back once more.
But that's not to say slimmer-fitting trousers are unfashionable right now. Recent Hermès, Paul Smith and Etro shows were graced by carrot fit and tapered tailored trousers. Just don't confuse 'slimmer fitting' or 'tapered' with skinny, which you must avoid at all costs. 
Back to your original question, you could always try a straight/regular fit or wider-leg trouser. They work better with a boot, a fuller silhouette is definitely in, and they can elevate the simplest of outfits with that air of chic consideration they carry. A well-fitting t-shirt tucked into a wide-leg trouser, for example, with an appropriately elegant boot-jacket combo wouldn't look out of place at a dinner party or a red-carpet event. 
DISCLAIMER: We endeavour to always credit the correct original source of every image we use. If you think a credit may be incorrect, please contact us at [email protected].