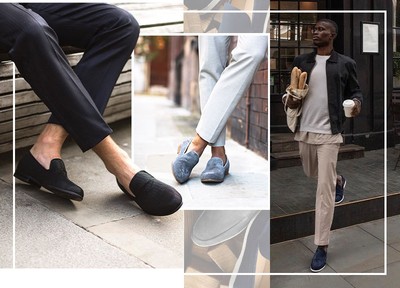 A British Brand To Know: Duke + Dexter

---
Archie Hewlett started Duke + Dexter with £5,000 and a love of vintage slippers. Now you'll see his luxury footwear on the feet of men from Eddie Redmayne to Snoop Dogg. Made in Britain from carefully sourced materials using a meticulous design process, these are investment shoes – a well-looked-after pair will last you a lifetime. Here, Archie tells us what it takes to run a luxury fashion brand and how to wear some of his bestselling styles.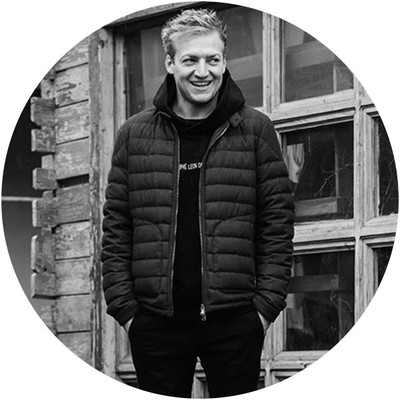 Where did the idea for Duke + Dexter come from? 
It was born from a very simple idea of wanting to create contemporary, well-priced loafers that could be worn any time, at any occasion.
How did you go from an idea to getting your first shoe on a shop shelf?
A huge amount of time and effort – and plenty of mistakes! I had zero experience in fashion, design or even business. I started with a very basic idea and spent a lot of time speaking with various factories to learn from them and develop the prototype. I was never going to release the first style until I was totally content with the design and quality. 
Tell us about the first pair of D+D shoes…
A clean, dark-grey suede loafer, with Italian leather lining and a matte-black rubber sole. Pretty simple. Our first stockist was Liberty London, back in 2015. It loved the Britishness of the brand and – fortunately – was so open to giving us a chance.
How does your design process work?
We start with an idea that evolves into a theme, created by various mood boards and references. The theme then determines what types of materials, colourways, key factors and points of detail make up the collection. We have two very simple rules:
Everyone in the office can be involved and will be heard in the design process.
If the design doesn't challenge the norm or go against the grain, then it's a no.
Where do you find inspiration?
Everywhere. From interior design, artwork and even handbags, to customer feedback and sketches. That's the beauty of not having a design background. I feel it's very important to watch and learn from other brands, as well as respect them and their achievements. I've become close with the founders and teams from brands such as Aimé Leon Dore, Axel Arigato, Comme des Garçons, Noah NYC and Red Bull. It's amazing how powerful sharing ideas and war stories can be.
What was the proudest moment you've had since starting the company?
Opening our first London store in Covent Garden back in 2016 – because it's so tangible and something I never thought I'd do. At the other end of the spectrum, there have been plenty of low moments. Personally calling over 120 of our customers to tell them they weren't going to get the pairs they'd ordered for Christmas 2016 in time was definitely up there.
"Quality and fearlessness are the core values of our brand."
What are your bestsellers?
We have a collection called Opus which is made up of our bestselling styles. Never in sale and available year round, they always do really well. It's hard to choose a favourite because it's constantly changing. At the moment, it's probably the new Hiker Low style launching on 20th January – it's something new, different and exciting.
Tell us about your newest collection...
The Drake Hiker Low is our first venture into sneakers, created as part of our new campaign, 'In Pursuit Of Adventure'. We're launching in collaboration with professional skier Jon Olsson and Formula One driver Jenson Button. This style has been designed with adventure and versatility in mind: we've extracted key hiking boot features such as the eyelets, hiker laces and webbing to give the shoe a distinct identity and travel feel. Each pair also comes with a carabiner which clips through the heel tabs of both shoes so that you can clip them onto your backpack. As with all our shoes, they are handmade in England. 
How would you wear a pair of your Chelsea boots?
Sometimes less is more: a clean and crisp white tee with some well-fitted black jeans. The beauty of Chelsea boots is they're so versatile and, I'd argue, can be worn any time, all year round.
What about a pair of your velvet loafers?
I think velvet loafers are ideal for dressing up and making a statement, so a nice tailored dinner suit always works well. For the most part, I'd say no socks if you're going for a more formal look; however, socks with loafers and jeans work well. 
Any tips on keeping suede looking fresh?
After each wear, give your shoes a brush down to remove any dirt. When you're not wearing them, keep them in a dry place and I'd also suggest using shoe trees to ensure they hold their shape. We're partnered with Liquiproof, which is brilliant when it comes to shoe-care kits. Good suede shoes really aren't as delicate as you may think.
What's next for D+D? 
One of our big current projects is opening our first US store in New York.
For more information, visit DukeAndDexter.com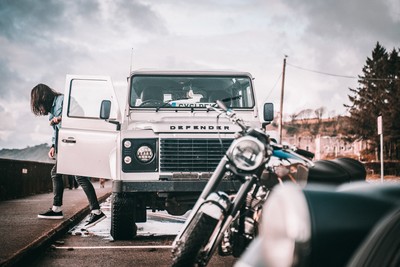 DISCLAIMER: We endeavour to always credit the correct original source of every image we use. If you think a credit may be incorrect, please contact us at [email protected].