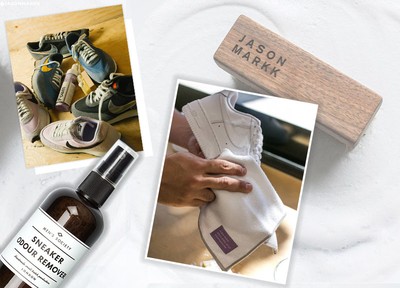 How To Clean Your Shoes Properly

---
Like DIY tasks and changing banks, proper shoe cleaning is one of those jobs you never quite got round to – until now. We asked the experts at Atlantic Folk how they do it. From the differences between leather and suede to the best products for stain removal, here's everything you need to know.

PREP, PREP, PREP
Before you start cleaning your shoes, it's important you prep first. Remove laces, then knock the soles of the shoes together to remove any excess dirt. Then make sure you have all the right equipment and product to hand – the items you need will vary according to the material you're about to clean.
 

SUEDE VS LEATHER
According to Atlantic Folk, "Suede often requires more specialist care due to its soft delicate fabric. Frustratingly, suede easily absorbs moisture and dirt, and can be scuffed and stained after just a few wears. If you need to spot-clean suede, cover the entire surface and do both pairs to avoid discolouration. Leather can be easier to clean but requires just as much attention, especially if your shoes are white."
 

AVOID THE WASHING MACHINE
Atlantic Folk doesn't recommend putting your leather or suede shoes in the washing machine or dryer. "Even inside a pillowcase, there is always a risk of damage to your shoes and the machine. We find that it's much more effective to clean by hand and air dry." If you really must use the machine, "Remove the laces, place the shoes in a mesh bag on a cool or warm wash with no spin. (Any hot temperatures could damage the glues used to bond your trainers.) Then allow them to air dry – not on the radiator. Wash your laces separately in a mesh bag and, again, avoid using a very hot cycle or harmful products containing bleach."
 

GET THE EQUIPMENT RIGHT
For leather, Atlantic Folk suggests a soft bristle brush, cleaning solution and protective spray. Suede needs something special: "If you have many pairs of suede shoes, invest in a suede brush. These are specifically designed to protect the soft texture. Teamed with a protective waterproof spray, these are the best tools for good-looking suede."
 

YOU DON'T HAVE TO SPLASH OUT
"Regular cleaning with homemade solutions should keep surface stains at bay," says Atlantic Folk. A mild detergent or washing-up liquid, such as Fairy Liquid, is fine – just avoid anything with chemical ingredients as it can damage material fibres. "But deep stains or scuffs may require a premium product or professional cleaning to get that fresh-out-the-box look. These contain ingredients specifically engineered to protect or clean your trainers." If you don't own a shoe brush, an old toothbrush will work in a similar way and can get to those hard-to-reach spots. You can also make your own cleaning solution at home with baking soda or white vinegar (unlike water, these will not stain). These ingredients will also help to brighten white leather trainers.
 

PROTECT AGAINST FUTURE STAINING
The Atlantic Folk team recommends Men's Society's Sneaker Stain Repel & Protect Spray to prevent future staining. "This can be used on all fabrics and helps to preserve colour and protect against water damage and surface stains. Spritz your shoes from 15cm away and make sure you don't soak them. Repeat if necessary and ensure the shoes are completely dry before wearing."
 

ACT FAST
To keep your kicks fresh for as long as possible, clean your shoes properly as soon as you notice they're dirty. This may include upkeep such as replacing insoles and getting new laces.
 

AND FINALLY...
Don't ever soak your shoes in water! This can seriously damage both leather and suede, so step away from the sink.
How To Clean Suede
Read the care label and remove laces.
Carefully brush off excess dirt with a soft-bristle brush – this should remove most surface stains.
If a deep clean is required, soak the brush in a solution of suede cleaner. Brush the soiled shoe and its pair in small, quick, circular motions all over. Allow to air dry for 24 hours.
Once completely dry, use a suede brush to buff and soften.
Take preventive measures by using a protective spray. A waterproof solution will help but, ideally, avoid wearing suede shoes in wet weather altogether.
How To Clean Leather
Read the care label and remove laces.
Carefully use a shoe brush to remove excess dirt.
Spritz cleaning solution on the outsole and midsole, then wipe with a cloth.
For stubborn stains, spot clean with a solution of warm water and baking soda (or a biodegradable wipe if you're on the go). Dab dry with a cloth and allow your shoes to air dry.
Prevent future stubborn stains and unpleasant smells with a protective spray and odour remover.
Shop our pick of the best shoe-cleaning products below...
DISCLAIMER: We endeavour to always credit the correct original source of every image we use. If you think a credit may be incorrect, please contact us at [email protected].