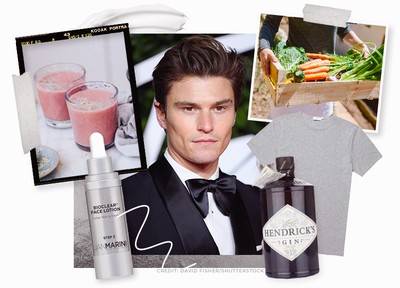 Isolation Diaries: Oliver Cheshire

---
Oliver Cheshire grew up wanting to be a fireman. At 15, he was scouted by the Select model agency. He quickly became the face of Calvin Klein and has graduated to running his own menswear brand, Ché. Right now, though, he's in lockdown like the rest of us. From Jailhouse workouts to meditation and online poker sessions, here's how he's getting through…

Photography
David Fisher/Shutterstock
Right now, it's a devastating time for everyone. We might be feeling helpless, but the most important thing we can do is stay at home and help the NHS. Generally, I'm quite a positive person, but even I have my moments when I stop and think about what's really happening.
I've tried to stick to a good morning routine. I wake up at 7:30, make a black coffee, have some breakfast, and then work out. Breakfast is usually a blueberry, banana and almond milk smoothie or a fry-up on the weekends. You have to treat yourself sometimes.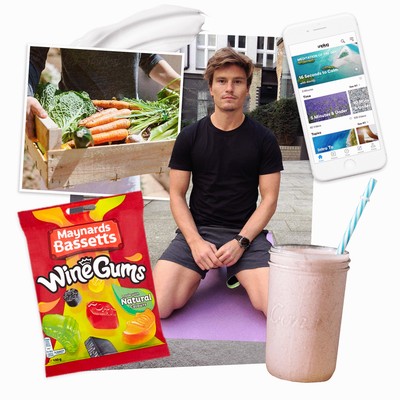 I have to admit, I'm not used to sitting around all that much. Too much time spent on the sofa looking down at my phone has already given me a really bad neck. So I've been doing different exercises to help and improve my posture. 
Now the gym is off the table, I'm cycling and jogging more. I don't really like running but it's nice to get out for some fresh air. With my job, I have to maintain a sample size, so I can't get any bigger or smaller. I've been doing the Jailhouse workout for years. You don't need any weights; it only requires your own bodyweight to do push-ups, sit-ups, chin-ups. It's high rep, high intensity and can be done anytime, anywhere, so there really are no excuses.
I've also been getting into meditation. Now I have more time on my hands I thought I'd give it a go. I've been using the Unplug app and it's really helping me switch off. It's a good way to just close your eyes and stop staring at your screen.
I try not to eat too much processed food and focus instead on fresh fruit and veg. We've been getting weekly delivery boxes which come with a lot of produce I don't normally cook with. I'm enjoying the challenge of coming up with new recipes to use these different ingredients.  
The best thing I've cooked so far was a leek and potato soup. It may not be soup weather now, but with 25 leeks in our veg box delivery, it was a good way to use them up.
My signature dish would be something Mediterranean-inspired. Keep it simple with lots of veg in a pan – pepper, tomato, chillies – then add some white fish and bake it in the oven. Super easy, but very nutritious.
My most used ingredient is chilli. I like to give my food a bit of a kick. As for guilty pleasures, I can't resist a bag of Wine Gums. For a go-to drink, it would have to be a G&T – Hendrick's and Fevertree. We haven't ordered many takeaways yet. I still feel a bit hesitant about food delivery and we're really enjoying cooking for ourselves.
I used to have really bad skin but now I rely on Jan Marini Bioclear and Nivea day cream with SPF. Between them, it's really helped to clear things up. In the evenings, I exfoliate and use a night cream. To be honest, it's been great to give my skin a break from all of the products used on shoots. At home, I like to keep it simple. 
I've travelled non-stop for the last 15 years but now the agency is shut, no one is shooting and everything has stopped. It's strange to suddenly have no plans at all and be at home in east London for such a long period of time.
I have my own clothing label which I'm running from home. We were meant to be launching the new collection, but everything is on hold for now. It's a resort-wear line, made from eco materials and recycled plastics. The designs are fun and retro-inspired for guys who want to look cool around the pool. I just hope there's still time for people to enjoy it once the lockdown is lifted.
For now, I'm living in M&S PJs and Sunspel t-shirts. Usually, at work, I'm dressed up in a tuxedo and tailoring, so I'm enjoying not worrying about clothes and being a bit more relaxed around the house.
Like everyone else, I'm watching Tiger King. It's a bit crazy, but really fun. Ozark is also amazing. If you haven't seen it, you should also watch Five Guys A Week on Channel 4. I can't imagine five random lads staying in a one-bedroom house with a stranger for a week, but it's a bit of silly light-hearted entertainment.
Now might be the time to watch Lord of the Rings again. And all of the Star Wars movies. I missed some of the new ones, so this feels like a good opportunity to catch up.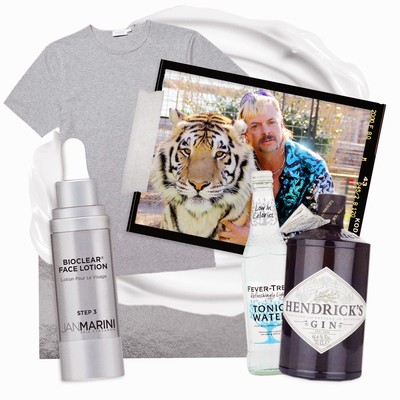 Pixie and I love music too. We're always listening to something when we have a glass of wine in the evenings. I love the old stuff like Oasis and The Strokes. Right now, Pixie is loving Dua Lipa's new album which she keeps blasting around the house. Stormzy is good to work out to as well. 
I'm staying in touch with my family via FaceTime and relying on Zoom for work meetings. I think it's really opened people's eyes and could change how we work in the future. I expect many more people will work from home on a semi-permanent basis going forward.
I did manage an online poker night with the boys. We all logged into the app, had a few beers and played with fake money. We're also planning to do a wine tasting with our friends using House Party.
The first thing I'll do after lockdown is go and see my mates. I can't wait to see people face to face, have a nice chat and cuddle, play some sports, go to the pub – normal things like that.
The lockdown has made me appreciate the freedom we once had. By that, I mean being able to do anything, any time. I don't think I'll take it for granted again. 
 
Follow @Oliver_Cheshire
DISCLAIMER: We endeavour to always credit the correct original source of every image we use. If you think a credit may be incorrect, please contact us at [email protected].