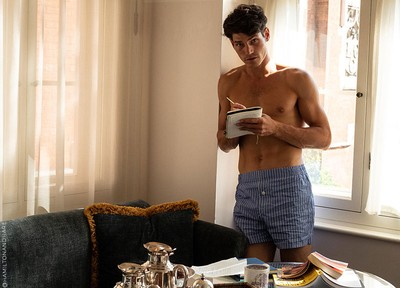 Is It Time To Refresh Your Underwear?

---
If you're guilty of owning boxers that are past their best, you're not alone. Ninety per cent of men are wearing substandard underwear that's old, falling apart or poorly fitted., We spoke to Sacha Rose of Derek Rose and Olivia Francis of Hamilton and Hare about why the average man should have 15 pairs in his rotation and be replacing them regularly…

So talk to us about pants…
Olivia: You should have at least 15 pairs in rotation and be replacing each pair every eight to 12 months. Pants are the items in your wardrobe that get the most intense wash and wear, so they need replacing more often than other pieces.
Sacha: If you're doing lots of sport in them, I'd even change them more often than that.
Take us through the different styles of underwear out there…
Sacha: The first major point of distinction is woven versus jersey underwear. Woven underwear is a fabric like a shirt that sits loosely on the body. Jersey is a knit fabric that normally sits much closer to the skin. Some say the woven approach allows a man's privates to operate as designed by nature. Others argue that the extra support offered by jersey underwear is better for exercise.
Olivia: At Hamilton and Hare, we have five key styles. The boxer short is a slimline cut that uses shirting-grade woven cotton for ultimate comfort. Roomier than a boxer brief and trunk, it's better under looser-fitting trousers. The boxer brief is stretch jersey for a supportive fit with a button fly. Slightly longer in the leg than a trunk, they're perfect under jeans. The tubular trunk is a seam-free, simple trunk design with a barely-there feel that will work under most trouser choices. The tubular slip is a seam-free modern take on the traditional Y-front – the closest thing to going commando and great under a tailored pair of trousers with no visible seams. The sports trunk is specifically for sport, best made from a four-way stretch fabric that is moisture wicking.
And how do you work out the right size to take?
Olivia: Fit is the most important thing in choosing underwear, it's not just a case of one style of underwear for all occasions either. You need a variety to work with different items in your wardrobe and different activities. Our boxer shorts are the most accurate as they're woven cotton and we equate our sizes to trouser waist measurements, so you can be sure to get the right fit.
Sacha: Agreed. First and foremost, products should be comfortable for the user. Classic-style boxer shorts have a larger and roomier fit, whereas a brief or hipster is better for a smaller build or for when you wish to wear tighter trousers.
So do certain styles suit certain body types?
Olivia: Because they're looser, boxer shorts work well for larger thighs. Slips are good for shorter, smaller guys as they elongate the legs and look better in small sizes. A boxer brief provides the most supportive fit and the tubular trunk will mould to any body shape due to its seam-free construction.
Does the length of your underwear really matter?
Olivia: Underwear that rolls up the leg is a big bugbear. The shape and size of your thigh will determine which style fits you best. Tubular trunks have the shortest leg; a boxer brief is cut a bit longer but it retains a slimline silhouette – not the baggy shape that you often see in other boxer shorts.
What is the best material to buy underwear in?
Olivia: Natural fibres are key. They are breathable, antibacterial and feel great on the skin – all essential for underwear. By avoiding synthetics such as polyesters, garments don't release any plastic microfibres into the water during washing, which is especially important given how many times they end up going through the machine.
Can you give us your thoughts on colour or patterned pants?
Olivia: Keep it simple. Less is more. Underwear should reflect the rest of your wardrobe and your aesthetic: if you're a navy-on-navy kind of guy, don't let yourself down with novelty shorts underneath.
Sacha: Indeed, if you're wearing white linen trousers, you probably don't want some crazy check to show through.
Is it ever okay to go commando?
Olivia: No! But if you like that breezy, carefree feeling, try a seam-free tubular style – the lightweight fit makes them the closest thing to going commando.
Any other underwear no-nos?
Olivia: Novelty underwear. It always seems odd to me that you would want to elicit humour from that area of your body.
Should you change your pants for the gym?
Olivia: You change your entire wardrobe to work out, so why would you not include your pants in that too? Sports trunks are designed specifically for exercise and they are the best start to any workout.
And should you change them for different times of year?
Olivia: Yes, just like the rest of your wardrobe, lighter-weight linens and silks are best for summer and heavier brushed cottons – even wools – are better suited for winter.
"Your underwear is the first thing on and the last thing off, it shouldn't be an afterthought and a good pair of pants has the potential to make your day." – Olivia
What's the best way to wash them?
Olivia: Wash at 30ºC. Don't tumble dry or use softeners. And if you iron your boxers with your shirts, they will feel amazing to pull on in the morning.
Finally, when do you know that it's time to chuck out a pair of old faithfuls?
Sacha: Good-quality pants should still look and feel great after three to six months. It's fine to wear them to death, but the second you see a hole or a loss of shape, it's time for a new pair.