Marcus Allen: Style Rules

---
Marcus Allen is the design brains behind Urban Outfitters and a stylist for the likes of Burberry and Ralph Lauren. From under-the-radar brands he loves to tips on tailoring, his style rules demand your consideration…

Photography
INSTAGRAM.COM/THEEMARCUSALLEN
I'd describe my style as 'hotel lobby hike'. I like outdoorsy staples paired with luxe, elegant pieces – think Patagonia meets Prada. Starting my career with Abercrombie & Fitch and Ralph Lauren likely has a fair bit to do with my appreciation for rugged refinement. 
My first rule for good style is: be comfortable. When you're comfortable with what you have on, it shows. When I work with models, I often show them what we need to shoot but give them a bit of freedom to choose certain pieces, so they feel most like themselves in front of the camera. 
My second rule is: invest in restrained, classic, quiet pieces. My advice when it comes to building your wardrobe is to spend the money on high-quality items that will stay relevant. Pieces that aren't trendy you'll be able to get wear out of year after year.
And my final rule… If you try on a piece that fits beautifully, just get it. Don't sleep on it! I've made this mistake too many times. Finding something I've wanted then going back to get it and it being gone – big mistake, huge.
The best style advice I've ever received is to go to a tailor. Items bought off the rack are rarely the perfect fit – you might wish a piece had a slightly longer sleeve, or slightly less volume in the leg. You can always make these edits with a tailor and this way the piece will be practically one of a kind and will fit perfectly.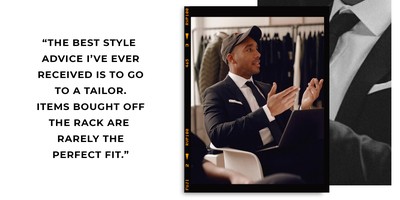 I couldn't live without a really good vintage white tee. Whether you layer them or wear them alone, they work for every season. I have a pretty solid collection of burnt-out, distressed crew-neck styles – some with fraying collars, rips, tears. The more distressed, the better. I also swear by a cashmere overshirt. I got the cashmere Robin shirt from The Row and it's easily one of my favourite pieces I own. It's black, not too thin or too thick, and I can wear it with gym clothes, running errands or to dinners and events. Money well spent!
I love utility pieces. Army-green cargo pants are a favourite – they break up a more polished outfit and make it feel less stuffy. I got a pair from Wallace & Barnes a couple of years ago, wore them every day and was able to get a second pair right before they sold out. Ralph Lauren, Loewe and Buck Mason make great ones too. I also like utilitarian footwear that's practical for the likes of chefs, medical workers and backpackers.
The only thing I'm buying on repeat at the moment is hoodies. I have about 20 on rotation. I like a cosy, luxe look. I'll use one as a scarf if it's freezing, layered under a cashmere overcoat with a technical pant and boots, or with board shorts during warmer seasons. It's never too cold or too hot for a hoodie.
Boots are one of my favourite luxury items. Prada and Bottega are currently on rotation but Frye, Blundstone and Merrell also have great silhouettes – I tend to go for a chunkier shape. When Hedi Slimane was at Saint Laurent I did get a couple of the jodhpur boots, but you can't wear narrow boots without skinny jeans and they're just not very cool right now. I'll save them for the next time I wear a slim suit.
A Cartier chain is my most recent purchase. I wanted a simple chain that I could wear everyday and wouldn't feel like too much of a statement. The only branding is the Cartier logo at the clasp – it's really discreet. I went for yellow gold, but it's also available in white and rose gold. I've also worn a vintage Saint Christopher for years. I don't wear much jewellery, but if I do, I want something I can't feel on me – something small and subtle like a thin chain with a small charm or two.
My favourite piece in my wardrobe is a white Ocean shirt from 45R. It's a boxy, shorter cut, cotton poplin shirt with a chest pocket that's smaller than normal but typical of 45R. I've never actually worn this shirt – I'm holding out for the right time.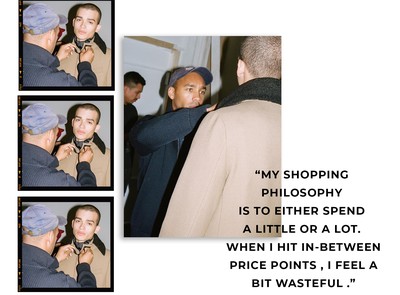 Years ago, it would have been really simple to say what I wouldn't bother investing in. I may have said a sweatshirt or sweatpants, or socks even, but none of this rings true any longer. Today it's just too nuanced. Thus, I plead the fifth.
My shopping philosophy is to spend either a little or a lot. When I hit the moderate, in-between price points, I feel a bit wasteful. I try to invest in pieces I'll keep forever as opposed to spending money on clothing I don't feel will last or don't find worth hanging onto for more than a season or two.
My father is my style icon. He loved clothes and getting dressed. I used to be embarrassed when he wore Muslim garb. Today I would be proud of the cool juxtaposition. Be it kufi with graphic tee, or jalabiya with Stacy Adams shoes, or turban with blazer and jeans. What a cool dude! I also have to say Brad Pitt because he always looks cosy and luxe. He's tried so many styles, always has fun with them and always keeps things quite traditionally masculine.
There's no single most stylish city in the world. New York is up there – people there care but also don't. Paris has a beautiful restraint and there's also Stockholm, where they're super chic at every age. From proportion play to interesting fabrications, everyone who walks by you is on point. 
I have so many favourite under-the-radar brands right now. There's Santa Monica-based Camp High for cosy fits. Sonjia Williams is a super talented designer with a unique point of view. Check out Gallery Dept for great denim, graphic tees and reworked or painted hoodies that are popular with celebs and Japanese streetwear enthusiasts alike. NM Athletics does cosy athletic pieces by model-actor Noah Mills. I bought a sweatshirt in an awesome sky blue and wear it nearly every day. The Society Archive is also one to know – that's a shameless plug as this is my company. I wanted to highlight suburban nostalgia and really lean into mall brands popular in the 90s and early 00s. Stylistically we're creating a juxtaposition of high-end European designers and true vintage – and what's more we are sustainable.
All products on this page have been selected by our editorial team, however we may make commission on some products.
DISCLAIMER: We endeavour to always credit the correct original source of every image we use. If you think a credit may be incorrect, please contact us at [email protected].