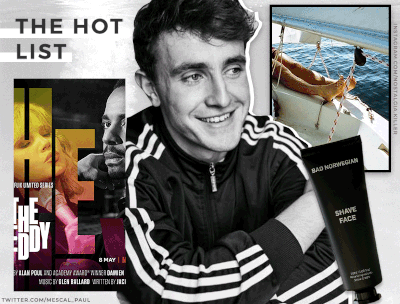 May's Hot List

---
It's shaping up to be another unusual month, but the SLMan Hot List still has all the inspiration, recommendations and ideas to see you through. From Apple's SE phone to a new series from an Oscar winner, here's our roundup of the things to see, read and check out in May…

INSTAGRAM: NOSTALGIA KILLER
LA-based stuntman Riley Harper has ridden motorbikes and taken hits for some of Hollywood's biggest stars. Now he's got a sideline in vintage photography. His @Nostalgia.Killer Instagram account is a showcase for some of the last century's most achingly cool imagery. At a time when none of us can go to the places we want to, think of this as a holiday with Steve McQueen and some Bond-level girls to the 60s French Riviera.
 
Follow @Nostalgia.Killer
PODCAST: JAMES ACASTER'S PERFECT SOUNDS
Comedian James Acaster won't take no for an answer. He had a bestseller last year with Perfect Sound Whatever, in which he made the case for 2016 being the best ever year for music. Now he's started a weekly podcast in an ambitious attempt to persuade more people that he's right. Early episodes have seen Acaster try to convince Romesh Ranganathan of the merits of Beyoncé's Lemonade, then show Phil Wang why 2016 was a golden period for Eurosceptic experimental hip-hop.
 
Visit BBC.co.uk
GROOMING: BAD NORWEGIAN SHAVE FACE
As a Nato soldier, Marius Kristiansen toured South Africa and struggled to find skincare products that could stand up to the sunlight, stress and lack of sleep. So he started Bad Norwegian. The idea is straightforward and effective: products built from vegan and cruelty-free natural ingredients are delivered in clean, functional packaging. The latest addition to the Bad Norwegian range is Shave Face (£20 for 50ml). Natural silicone helps the blade run smooth; malachite and allantoin protect the skin; betaine reduces irritation; menthol cools and energises. Simple.
 
Visit BadNorwegian.com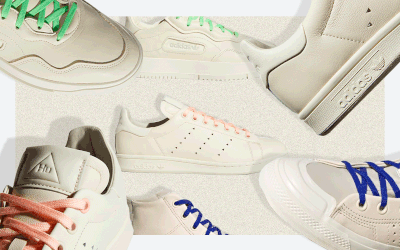 COLLABORATION: ADIDAS ORIGINALS = PHARRELL WILLIAMS
The latest drop from this well-established dream team is a ten-piece basketball collection. Since 2014, the pair have been working together to recognise and celebrate "different colours, spirituality and cultures". Six years on, that means shorts, hoodies and t-shirts with a recurring thumbprint motif and tie-dye palette, alongside some more understated footwear. Adidas's iconic Stan Smith and Campus shoes have both got a minimalist, pastel update, with smart leather uppers hiding some lively interior linings.
 
Visit Adidas.co.uk
SERIES: THE EDDY
Director Damien Chazelle has already made an exceptional film about music (Whiplash) and won an Oscar for a musical (La La Land). He returns this month with The Eddy, an eight-episode Netflix series set in a Paris jazz club. Its owner was once a celebrated jazz pianist, but the club is now struggling. After a tangle with some dangerous criminals, he faces a fight to save it. Six-time Grammy winner Glen Ballard wrote the songs for the house band which – this being Chazelle – features only real-life musicians.
 
Visit Netflix.com
FOOD: PIZZA IN THE POST
Those innovators at Pizza Pilgrims have come up with a novel way to get you your fix of cheesy, tomatoey goodness. The Frying Pan Pizza Kit is everything you need to make a couple of classic margheritas in your kitchen – and no requirement to build your own wood-fired oven. Full instructions are included; you just need to act fast because demand is naturally high right now.
 
Visit PizzaPilgrims.co.uk
ONE TO WATCH: Paul Mescal
Normal People is that most abnormal of things: a TV adaptation of a successful novel that's a match for its source material. Helping the Hulu/BBC series defy the odds is Paul Mescal, the 24-year-old Irishman who plays love interest Connell to Daisy Edgar-Jones's Marianne. A newcomer to TV, he thought he wanted to be a Gaelic footballer until he got involved in a school production of Phantom of the Opera. Now he's got himself an A-list agent and is already being whispered about as a future James Bond.
Follow @Paul.Mescal
ALBUM: GRAE BY MOSES SUMNEY
California-born electro-soulster Moses Sumney announced himself to the world in 2017. His debut album, Aromanticism, established a sound – and a voice – that was all his own. Drifting and woozy at times, it was also spare and emotional, as he cherry-picked his way through almost every genre you might care to name (there wasn't too much death metal in there, admittedly). Earlier this year, he dropped Grae: Part 1, the first half of a double album that confirms his ground-breaking talent as a singer, songwriter, guitarist and producer. Part 2 arrives on 15th May.
 
Visit MosesSumney.com
TECH: APPLE SE PHONE
For the last few years, it's felt like Apple's been on a trajectory of simply making more and more expensive phones. With its latest release, the Californian tech giant has taken a step back. From £419, the SE is all about no-frills high performance. It takes the computing power of the (much pricier) iPhone 11 and sticks it in the body of an iPhone 8. You lose a few geeky add-ons but the camera's excellent and, if you like your pocket tech small and discreet, the SE is easy to use with just one hand.
 
Visit Apple.com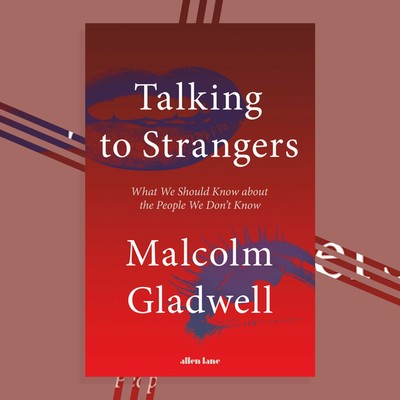 BOOK: TALKING TO STRANGERS BY MALCOLM GLADWELL
New releases by Malcolm Gladwell have become much more than books. They are cultural phenomena that shine new light on the way we live and interact. Twenty years ago, The Tipping Point showed us how ideas, products, messages and behaviours spread like, ahem, viruses do. Now the New Yorker writer is out to explain all why we have to trust strangers, even though our trust is so often abused. Talking To Strangers, which has just come out in paperback, is a page-turner that calls on all of Bernie Madoff, Amanda Knox and Friends to make its point.
 
Visit Waterstones.com
DISCLAIMER: We endeavour to always credit the correct original source of every image we use. If you think a credit may be incorrect, please contact us at [email protected].