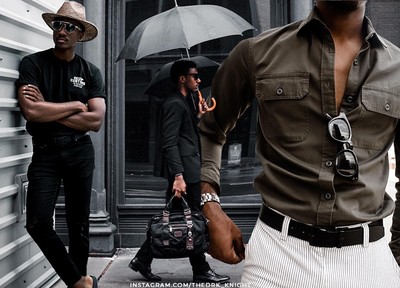 My Style Rules: Derrick Brownie

---
Slick and polished but seriously cool, Derrick Brownie is the US-based #influencer we're following for great style right now. He shares his style rules here…

My style is classically minimal. I love the cleanliness and simplicity of minimal style, and the never-fades classic look of Ralph Lauren.
My top three rules for great style? Number one – fit is king. When your clothes look like they were made to fit, they look that much more expensive than whatever you label is on them. So, find a good tailor. Number two – use colour strategically. As someone that doesn't wear a lot of colour, I only wear it when I want to draw your eye to a certain piece. And finally, only wear clothes that give you confidence. If your outfit doesn't make you feel like just won an Oscar for best lead actor, don't wear it. People can tell when you're not feeling 100%.
The best fashion advice I've ever received is that trends are the best way to blend in. Everyone shops at the same four places – especially if, like me, you live somewhere like the Midwest where all we have are malls. This means you're bound to run into someone wearing the exact same outfit as you. If you want to be unique with your styling, try online shopping or boutiques in other cities. They carry a unique, always rotating collection.
The five things I can't live without are a great coat, sunglasses, anything black, a smart duffel bag and my DSLR – what else would I use to capture my #ootd?
A wool-blend tweed topcoat from Ralph Lauren's Purple Label is top of my winter wish list. It's beautifully made-by-hand with peak lapels, plaid wool, crafted in Italy, and a double-breasted silhouette. It's a pure dream coat. But my most recent purchase was a pair of sunglasses from J Crew.
My everyday outfit formula is a top tucked into a pair of jeans or khakis with loafers. As something with no real waistline, I tuck in everything I wear to give the appearance that I'm taller. Right now, a green field jacket from J Crew is getting a lot of airtime. This is probably my longest lasting piece. It goes with everything, perfect for fall, and it's my favourite shade of green. The only thing I would never wear is yellow. Anything that remotely resembles the shade has been banned indefinitely from my life and future children's lives.
"When your clothes look like they were made to fit, they look that much more expensive than whatever label is on them."
"Shop with a purpose is my shopping philosophy."
I'm not big into shoes. I mainly stick to loafers and boots, and sandals in summer. I do have a few sneakers but they're mostly like the Nike Killshots – low-top classics. There are some interesting shoe designs that catch my eye that I know would not look good on me, but it's nice to watch from afar.
My thoughts on men's jewellery? Do not go overboard. No more than two pieces per look.
My Ralph Lauren Rugby collection is really starting to add up. I'm only able to find pieces second hand since the sub-brand ceased production in 2013. The tweed Rugby loafers have been the rarest, and most expensive, find, so I would say that's my biggest investment piece.
'Shop with a purpose' is my shopping philosophy. If you just stop in to browse, this is the easiest way to buy something you don't need and suddenly you have a closet full of useless pieces. Go in with your look in mind. This will also give the floor clerk something to do when they ask the obligatory question, 'Need help finding anything?'
Some cool, under-the-radar brands to check out are The Brooklyn Circus, The Rake, The Armoury NYC and The Rowing Blazers.
 
I have lots of style icons. Blake Scott embodies what I consider modern classic. We also have the same taste in cars. His wardrobe consists of modern tailored suits, classic polos, trousers that fit so well they look like they were made just for him, and his shoe collection looks eclectic but polished. It's everything I strive for my closet to be. I know he technically doesn't dress himself, but Tom Holland's stylist does a great job at making sure his looks are cohesive and on point with his overall image. Michael B. Jordan also doesn't dress himself, but always looks great whenever you see him. Nelson Yong has great classic style and lots of travel inspo.
If you hadn't already guessed, Ralph Lauren is the brand I'd pick if I could only wear one again. Everything about the brand captures what I love: a classic, timeless look that I can wear 50 years from now and still be in style.
DISCLAIMER: We endeavour to always credit the correct original source of every image we use. If you think a credit may be incorrect, please contact us at [email protected].