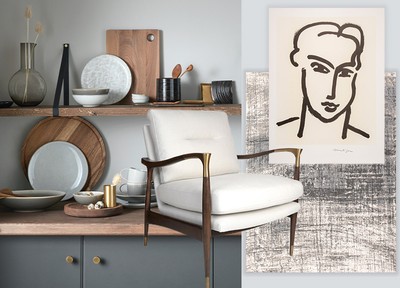 Pro Tips For Elevating Your Interiors

---
It only takes a few simple home improvements to elevate a living space. To help you take your pad to the next level, SLMan asked four interiors experts for their tips and tricks…

THE BEDROOM
"You want to avoid the catalogue bachelor-pad look where everything blends together to look like a showroom. It's okay for your home to be practical, but it also needs personality. Avoid bedroom sets where the bedframe, side tables and dressers all match. If you want a streamlined look, it can be easily created with bedroom furniture bought from different places, but in the same wood finish. Then, try to balance heavy and light furniture. For instance, if you have a platform bed that sits on the ground, balance it out with side tables that have slender legs.
"When deciding on a wall colour, classic neutral palettes such as black and white work well in any masculine space – a dark panelled wall is an easy way to create a members-club feel in your bedroom. Farrow & Ball's Railings paint is a fantastic deep blue-black hue that's ideal to pair with matte metallic accessories, like brass or gold. Masculine design is all about clean lines and sharp edges, as opposed to the curves and colours of more feminine styles. Geometric patterns on textiles and accessories allow you to weave that aesthetic throughout your bedroom; in particular, print cushions and throws will add interest to a minimalist space. 
"Leather furniture and accessories will add an element of luxury. If you have the space, large pieces like a Chesterfield sofa or side chairs are good anchor pieces for a masculine bedroom and will bring a timeless, classic feel that can be built on with various textures, accessories and art." – Sophie Lewis, interior designer, Husoe Home
 
Visit HusoeHome.com
 
THE LIVING AREA
"To  elevate a living area, add impactful artwork and feature lighting with masculine finishes like gunmetal, polished chrome or bronze. This will give it that elegant but informal clubby feel. Adding photos, books, candles and plants will immediately make a space feel homely and inviting. Leather picture frames are cool, while luxury throws and cushions will add tactile warmth – lambswool and cashmere are always smart options.
"You can also achieve a chic urban look by using a strong and consistent colour palette. It's one of the easiest ways to add depth and create a well-designed space. An inky blue colour on the walls will work well for a masculine space as it will never go out of fashion and looks great with colours like charcoal, bronze and white. When you're choosing accessories, pick ones that mean something to you, or reflect an element of your personality: if you travel extensively, consider an elegant globe or framed maps. Antique barware and beautiful crystal decanters for a home bar will also elevate any living room." ­– Katharine Pooley, interior designer
 
Visit KatharinePooley.com
"You can achieve a chic urban look by using a strong and consistent colour palette. It's one of the easiest ways to add depth and create a well-designed space."
"Lighting is a great way to revamp an interior space with minimal effort. A few lamps here and there can create the illusion of space and you can create real points of interest around your other interior features. Choose a lamp that's both visually striking and adaptable to your room. If you're looking to add layers of light but want a masculine touch, task lighting is a great option. Set the lamp at an angle or shine it up against a wall to create peripheral light and atmosphere that'll give the illusion of a bigger space. 
 
"Right now, our homes are having to satisfy so many different needs – work, leisure, relaxation – so a mix of different light sources is a great way to create balance and even distinguish different areas of your home for different uses. A floor lamp with a small footprint can easily be moved to focus on different spaces too – light up a sofa or a reading nook, or maybe a favourite piece of art on the wall. Scandi-style plug-in wall lights don't require specialist electrical installation and are a good way to layer lighting – great if you're in a rented property." – Simon Terry, MD, Anglepoise
 
Visit Anglepoise.com
THE KITCHEN & DINING ROOM
"The kitchen is a great place in a man's home to show some real style. If you're in a rented property, or you're unable to fully renovate the space, a few simple additions will instantly refresh it. Firstly, upgrade the kitchen with a 'shelfie' that's both functional and stylish. Don't fall into the habit of displaying just the essentials; instead, decant tea, coffee, olive oil and dried goods into glass bottles, vintage jars and ceramic containers to create a curated shelf. Stack coloured tones with neutral ones and don't be afraid to mix textures – for example, coloured glass against woven baskets.
 
"If you have an open-plan space that leads into a living area, make the centrepiece a standout dining table. Adorn it with treasured items, mementos and handcrafted ceramics to help refresh the space. Create a display with an authentic aesthetic by picking objects carefully ­– avoid tall or bulky products that obstruct the view or get in the way of the table's function. Mix and match items, and pick multifunctional pieces, but don't over clutter it. As many of us are working from home, it's a good idea to set up your workspace in your dining room or kitchen too, as these rooms tend to get the best natural light. Add some colourful art to elevate the backdrop and introduce green plants, which are known to increase productivity. Try displaying them in mugs, which are also a great way to store stationery and keep workspaces clear of clutter." – Hayley Baddiley, head of brand, Denby
 
Visit DenbyPottery.com
"Stack coloured tones with neutral ones and don't be afraid to mix textures – for example, coloured glass against woven baskets."
THE BATHROOM
"Bathrooms often get overlooked, but consider yours another place to add some stylish touches. Incorporate savvy storage options such as wooden crates, cool containers or a shelf where you can store towels and grooming products. A bit of DIY will also go a long way, and now is the perfect time for home improvements. If you don't have enough storage, create your own shelves using offcuts of wood; varnish them to match the tiles in your bathroom, or the shade of the walls. If your bathroom is a little tired, add liveliness with plants that are low maintenance, such as ferns which thrive on shower heat, and are ideal for small rooms with little natural light. You can't go wrong with a fiddle leaf fig tree, a yucca or some subtle succulents, or choose the faux versions which can look just as good." – Nadia McCowan Hill, style advisor, Wayfair
 
Visit Wayfair.co.uk
Feeling inspired? Shop the look below…
DISCLAIMER: We endeavour to always credit the correct original source of every image we use. If you think a credit may be incorrect, please contact us at [email protected].