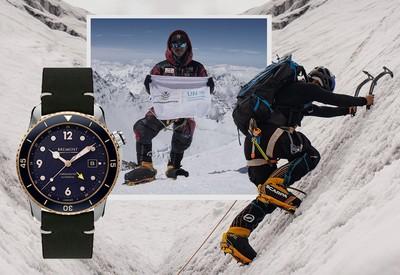 SLMan Meets… A Record-Breaking Mountaineer

---
When Gurkhas and special forces veteran Nirmal Purja MBE climbed the world's 14 highest peaks in the space of just seven months, he relied on the best possible team – and equipment – to help him do it. Here, he shares his biggest challenges, best advice for future mountaineers, and why Bremont was his partner brand of choice…
CREATED IN PARTNERSHIP WITH BREMONT
I served six years with the Gurkhas and another ten in the Special Boat Service. As a child, I had only one aim – and that was to join the Gurkhas. I didn't want to be a doctor, pilot or anything else. Once I had joined the Gurkhas, I found out about the tier one unit within the British military  – more commonly known as the special forces or SBS. 
My mindset when going for the United Kingdom's Special Forces selection was either you pass it, or you get out of the military. When you create that kind of environment for yourself, you will always give 100% – because that's the only option you have. What's made me successful so far is my discipline, determination, and a positive outlook. If you have a combination of all these things, you can overcome most problems.
In the special forces, you get put into very stressful situations. You're tested to extreme levels and pushed to your limit. Even so, you must overcome all these barriers and perform at the standard that's required. I credit most of my calmness in difficult situations to my training and experiences from my unit.
The main reason I started climbing was because I felt like I could do something bigger and better in the world. The timing was right for me and I was in the right shape, both physically and mentally. That's why I decided to do Bremont Project Possible 14/7, during which I climbed the world's 14 highest peaks in 7 months. The record before that was eight years. 
I came to climbing relatively late. My first climb was a trek to Everest base camp in 2012. These days, people seem to take short cuts. One should climb at least one 6,000m peak, see how your body reacts, then attempt a 7,000m. At every altitude, your body reacts differently, and you need to have the experience if you want to climb Everest, which is nearly 9,000m. If you follow these simple steps, you will have so much confidence, not to mention the skills required to be able to react to different problems.
Aside from Everest, Kanchenjuna, Annapurna and Makalu, I also climbed Dhaulagiri and Lhotse, all in less than a month. Out of those six mountain peaks, combined with the rest of the world's fourteen 8,000m peaks over a seven-month period, I couldn't pick the hardest. I led the fixing team on Annapurna; we opened the routes without sleeping for almost three days, working non-stop day and night. That was a challenge.
Finishing Dhaulagiri, we hadn't slept for four nights. We rocked up in Kanchenjunga around 11am and at 1pm we went for the summit directly from the basecamp. As a normal standard procedure, climbers usually climb up to Camp 2 sleep there, then go up to Camp 3, Camp 4 and then summit. During our descent from the summit, my team and I were involved in a rescue mission at 8,450m, where the climber and his guide had both ran out of oxygen. We gave them our spare oxygen and started the rescue mission. A further 150m down, we found another climber, who was left behind by his guide and his team. I gave him my own oxygen and continued with the rescue mission. After descending a few more metres, our guide then had to give his oxygen away too. So, by that time, all my team had given away their own oxygen – right in the death zone. You can imagine how hard it is to operate a rescue mission at 8,450m without oxygen. Every 15-20 minutes, I was on the radio asking for help, but none came. This whole experience was not only physically demanding but also emotionally draining. I felt helpless. 
It brought on flashbacks of the solo rescue I'd carried out of a climber from Everest at 8,400m in 2016. Since then, I had promised myself that I will always climb 8,000m mountains with oxygen, and even dropped my future goal to climb Everest without oxygen. It became clear to me that climbing big mountains can't be about ego – if I can help someone and save someone's life, that's a greater achievement for me.  
Annapurna was my favourite climb. I really enjoyed the planning, decision-making and changing route. We climbed through the Dutch rib, which hasn't been climbed since 1970. The snow was deep and people were questioning whether I could summit or not. It was 22nd April 2019, towards the end of the spring climbing season on Annapurna and the stress was building. We managed to get it done. Our fellow climbers said at the time, "If you were not here Nims, we wouldn't have summited". It was a great experience, overall. 
In the death zone, many climbers get phased out. Their survival instinct kicks in and they can only think about themselves, and how to survive. I'm lucky to have a unique physiology which allows to me to perform well at high altitude, which is also backed up by my experience in the special forces. The combination of the two helps me to stay calm and I'm able to think ahead. I don't get phased by problems, even in the death zone. It's this attribute – my decision-making ability – which is one of the main reasons for my success. 
It's an honour to represent the 'best of British' by teaming up with a prestigious British watch brand like Bremont. They were the lead sponsor of Project Possible - without them, it couldn't have happened. I so respect their mission to reinvigorate the British watch industry. With its extensive history of testing watches in the harshest environments on earth, I always look forward to being able to test the Supermarine S300 White where no man or woman has taken it before.
I teamed up with the brand to create the S300 White, which I took with me on Bremont Project Possible 14/7. It was a time sensitive mission and having precise and reliable equipment on an expedition like this was hugely important. The brand's watches are tested beyond endurance – it turned out to be a record-breaking mission, which makes my S300 White a record-breaking watch.  
Shop the Bremont S300, as tested by Nims on the world's highest peaks, as well as the Limited Edition Bremont Project Possible, a commemorative timepiece to celebrate this ground-breaking mountaineering feat, at Bremont.com. Watch the 14 Peaks documentary on Netflix now.
DISCLAIMER: We endeavour to always credit the correct original source of every image we use. If you think a credit may be incorrect, please contact us at [email protected].