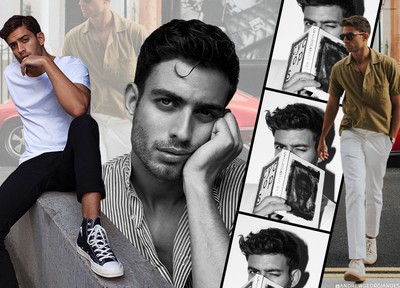 Style Rules For Modern Living

---
An established face on the catwalk, Andrew Georgiades has learnt a lot along the way. We caught up with him between photoshoots to find out his tips for stylish dressing, including the places to buy luxury items at bargain prices.

You've just woken up. How do you decide what to wear in the morning?
Being British, I usually check the weather first thing. I always start from the bottom, deciding on boots or trainers first and build my outfit from there.  My most recent purchase was a pair of boots from the Swedish brand Our Legacy, which I'll wear with jeans. My trainers are Converse or, if I need to be dressier, I'll opt for a smarter sneaker like Common Projects. Good trousers are key. My go-to brands are AMI and Acne as they always have a clean and simple silhouette in quality materials and cool textures.
Anything you wouldn't be caught wearing?
Brogues with skinny jeans, or the big chunky trainers kicking around at the moment. Tailoring which is too tight is also never a good look.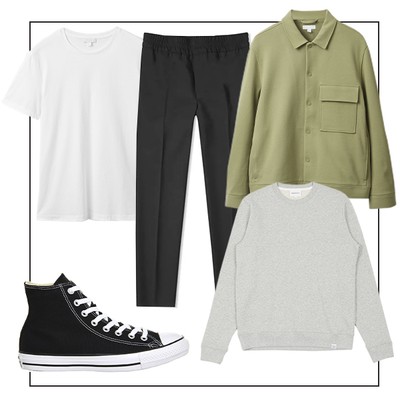 So what items do you wear the most?
I can't get through a week without a white t-shirt, my Chuck Taylor black 70s Converse and a pair of tailored trousers. Cos is a great high-street brand for cool, good-quality bottoms, so I'll go for these if my Acne ones are in the laundry. In the summer, I'll wear a lot of neutral colours – khaki, white and ecru – and in winter I stick to black. It's timeless, classic, cool and sophisticated, and it goes with almost everything.
"Tailoring which is too tight is also never a good look."
How does your holiday style differ?
Last summer I spent a lot of time in loose oversized shirts from Our Legacy or Cuban-collared shirts from brands like Cmmn Swdn. I buy my swim shorts, linen shirts and trousers from Orlebar Brown and Frescobol Carioca, and will spend most days in a pair of classic Havaiana flip flops.
What was the first luxury fashion purchase you made?
I only buy something expensive if I think it's a good investment. A great pair of shoes can make your whole outfit look much more expensive. My first big spend was on a pair of black leather Saint Laurent Wyatt Chelsea boots, quickly followed by a pair of black Gucci loafers, both from Mr Porter. I used to browse the website when I was younger, making wish lists, not thinking I would ever be able to afford anything, so it felt cool when I made that first purchase. I travel a lot, so I buy most of my clothes online from either Matches or Mr Porter, but I won't give up the opportunity to visit an Acne, Goodhood, AMI or Our Legacy store if I'm passing one.
So you think it's worth spending a bit extra on designer stuff?
I find the big e-comm retailers like Harvey Nichols, Mr Porter and Selfridges do great sales. If you can wait for them to hit, that's a great way to buy luxury items without the hefty price tag. I always wait for my moment and go a bit wild when the sales start. Outerwear is worth spending money on. A good coat should last forever. If you can stretch to it, luxury knitwear can age well if looked after properly. But sometimes you can't go wrong with the high street: Uniqlo is great for basics and Sandro does some really cool leather and suede jackets that look much more expensive than they are.
"I can't get through a week without a white t-shirt, my Chuck Taylor black 70s Converse and a pair of tailored trousers."
Any rules on tailoring?
It should be relaxed but refined. I think the most important thing is to look comfortable but not swallowed up. If you only own one suit, you can't beat a well-cut single-breasted jacket, but I think a double-breasted style looks great – especially worn with a polo or simple tee under it. If I was attending a smart event, I'd wear tailored trousers with Chelsea boots, with a nice knit and a double-breasted jacket. For all-out glamour, you can't beat a Tom Ford black tuxedo.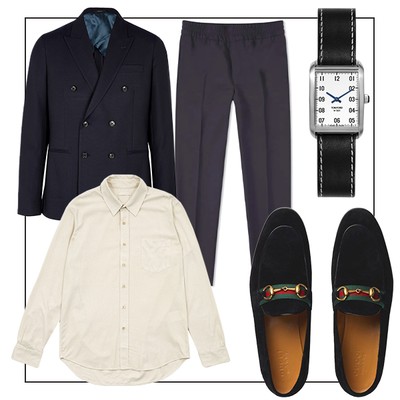 Where do you shop for denim?
I've just bought my first pair of light-wash jeans from Our Legacy, and have bought denim from AMI in the past. I really dislike skinny jeans, especially when they're in a mid or light-wash denim. Right now, I'm wearing my jeans quite relaxed – straight and classic cut, similar to the traditional Levi's 501. If you're going for a slimmer fit, I'd opt for a black jean.
What is your shoe collection like?
You can't go wrong with Converse. I own multiple pairs – high tops and low tops – in different colours. They do cool collaborations with other designers which are worth looking out for – I've got a pair of DSM x Converse which I really love. For something a bit more trendy, I'll wear Margiela Replicas, which I also have in a few different colourways, but my go-tos are the classic white and grey ones with gum soles. For more formal events, I'll wear Gucci loafers or Saint Laurent Chelsea boots. I'm thinking about extending my shoe collection and buying a pair of classic Derbys from Prada, but I've not justified it yet.
"My dad has a vintage Gucci watch that my mum gave him on their wedding day which I hope to inherit one day."
And what's your stance on jewellery?
I wear a signet ring and a simple French watch with a small face. I think subtlety is best when wearing jewellery. I love watches and currently have three on my wishlist: a Rolex, a Cartier Tank and a Tom Ford 001. My dad has a vintage Gucci watch that my mum gave him on their wedding day which I hope to inherit one day.
 
Finally, whose style do you admire?
The old-school guys: Steve McQueen and Frank Sinatra. There was such a nonchalance in the way they dressed which looked effortless but also totally deliberate. Tom Ford is a more modern icon of mine. He once said: "Never, ever, ever wear anything you are uncomfortable in. Because that is what you'll project." Comfort is key for me, so this advice has always stuck with me. I've been told I look like a young Jeff Goldblum, which I am immensely flattered by because I also admire his style a lot.