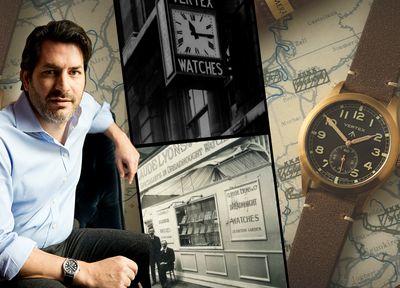 A British Brand To Know: Vertex Watches

---
A century after his great-grandfather established Vertex Watches, Don Cochrane breathed new life into an old name. He spoke to SLMan about Vertex's remarkable history, its handsome new launch and exactly why military watches have such an enduring appeal…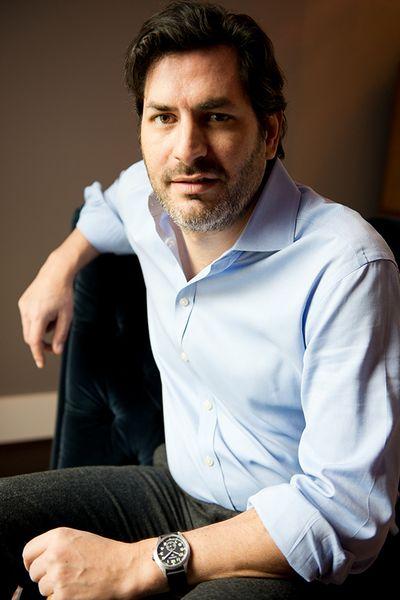 Let's go back to the beginning of Vertex, Don. It all started with your great-grandfather, didn't it?
My great-grandfather Claude Lyons was an engineer with a particular fascination for mechanical movements. In 1902, he set up the Dreadnought Watch Company. In 1915 he moved production of movements to Switzerland and named the new company Vertex.
Then the company was involved in the war effort. Tell us more…
World War 1 was really the first time watches were available in a number that allowed them to be used in planning of operations. Vertex and Dreadnaught supplied many office pocket watches and we're lucky to have a few examples of those pieces still with us today. In World War 2 things stepped up a pace. Vertex supplied many watches in many different forms and even supplied the clocks for the Hurricane fighter plane.
 
And who were the Dirty Dozen?
In 1943 the War Office decided to standardise military wristwatches. The standard became known as the WWW ('waterproof wristlet watch'). The tender was put out and 12 companies answered the call: Buren, Cyma, Eterna, Grana, Jaeger-LeCoultre, Lemania, Longines, IWC, Omega, Record, Timor and Vertex. I'm proud to say Vertex was the only British member of this 'Dirty Dozen'.
 
But Vertex closed in the 70s?
It was mainly thanks to a Japanese invention: the quartz watch. The quartz movements eviscerated a large part of the watch industry in a very short period of time. To give you some idea: in 1969 there were more than 1,500 watchmakers in Switzerland; by 1974 there were just 600. The lease for Vertex's building in Hatton Garden had also come up and the family felt the struggle was too big to try and maintain, so Vertex closed its doors. 
Jump to 2015 and you restart the company. What had changed?
That year, my grandmother died. She was 99 and was one of those amazing people who never got tired, had time for everyone and was always an inspiration. I found myself sitting at work – I was in sales for a jet company – feeling terrible about her loss. Then I had a thought: wouldn't it be great if I could honour her by bringing back the name of her father's watch company? So Vertex really re-started as a cathartic exercise, but it was not long into my research that I really fell in love with those war stories and realised we had a real opportunity to create something fantastic with an authentic story.
"The fact that our watches were on the wrists of soldiers is the centre of everything we do."
What is it about military watches?
We tend to call it 'purity of purpose', but really it's the functionality of military equipment. They are designed to do a job, under very harsh conditions and with unerring accuracy. That's the DNA that is so sought after today. The fact that our watches were on the wrists of soldiers who fought their way up the beaches in Normandy, then went on to liberate Europe and Asia, is the centre of everything we do. For many of those soldiers, it would've been the first time they had a watch, and those watches went on to inform decisions that not only affected their lives but also those of the people around them. That's an immense amount of pressure to put on a small timepiece, but it gives them a depth of meaning that endures to this day.
Introduce us to the Vertex range…
We have two main lines at the moment. The M-series is a faithful homage to our 1944 WWW piece. The MP-series is based on a mono-pusher chronograph commissioned in 1945. I've always had a particular fascination with mono-pushers – the ones that have one button to start, stop and reset the chronograph.
What do you think makes Vertex stand out today?
I hope the main thing that stands out is the community that comes with owning one of our timepieces. They're only available directly from us in London, so we know almost every single one of our owners, even though there's more than 1,000 now. The other important point is the quality level: we work with a manufacturing partner in Switzerland that's famous for creating some of the most well-known watches in the world to the very highest standards.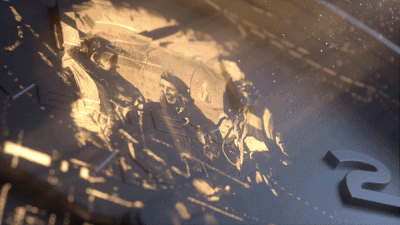 What makes a Vertex watch special?
Apart from the war history and that level of quality, I think one of the things that has become synonymous with us is our moulded Super-LumiNova dial. Each numeral is made from a solid block of Super-LumiNova. This not only gives the watch a unique aesthetic but, if you need to read your watch in low light or darkness, you will not find a more luminous partner.
And is it right that you can't just buy some of them?
The M100 is only available to serving military and military veterans. We wanted to give those soldiers, sailors and aircrew ownership of the M100 because it's based on the WWW that was made for them originally. This has helped the watch build an incredible following globally and there's nothing we enjoy more than seeing a picture of it in a fairly extreme situation.
Talk to us about what's inside a Vertex watch…
You often hear it said that, 'It's what's inside that matters'. With mechanical watches, that really is true. We use Swiss movements for all our Vertex watches. The M-series uses an ETA 7001, which has been heavily customised to allow for a large sub-second. It's also highly finished, which seems a bit ludicrous considering you can't see the movement itself, but I really wanted owners to know that this watch is the very best it can be. I think it's a pretty good statement about Vertex's intent that we do this even if we don't show it.
The MP45 uses a Sellita movement. As Sellita did not have the correct movement at the time, we were very lucky to have it make a movement for us. Having a company like Sellita go through the design process of a movement with you is one the most exciting things we've done so far.
"There are many stories we still haven't told and I hope we still have lots of time to tell them."
What's your favourite piece?
My daily wearer is a steel MP45 with a vintage brown leather strap. What makes the MP45 special – apart from being a mono-pusher – is its asymmetric case. Basically, the side of the case with the crown and the pusher is 1.5mm larger than the other side. I've always loved asymmetric cases and it just wears very well on the wrist.
And you've just launched a new model?
Yes, I'm very excited to announce the launch of the Vertex Bronze 75, marking 75 years since the end of WW2. I can't think of a more fitting tribute from us and I feel it's a very real privilege to have the opportunity to do this. There aren't many times I get a chance to step back and look at what we've achieved, but when we started boxing the first bronze watches this week we all took a moment to feel rather proud.
What's down the line for Vertex?
There's many stories we still haven't told and I hope we still have lots of time to tell them. Before lockdown, we were very close to having our own physical premises in Mayfair, which would have given our owners a chance to come and meet us, and given us a place we could hold events. This is something we still want to achieve as soon as possible. As for the next watch, I think it might be something designed to go seriously on the water.
 
Finally, Don, what do you look for in a watch?
I think you only really need to look at the watches we produce. I like things that are rugged and functional. I'm also romantic, so I do like a good story.
DISCLAIMER: We endeavour to always credit the correct original source of every image we use. If you think a credit may be incorrect, please contact us at [email protected].