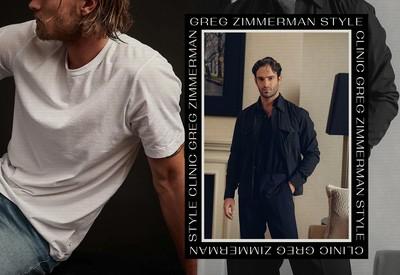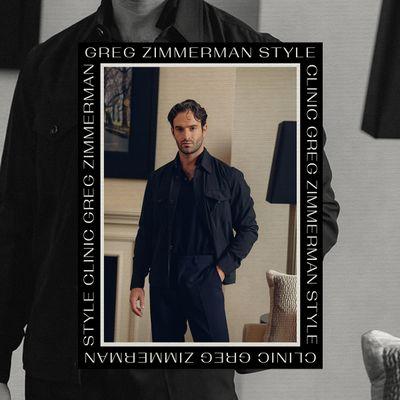 Your Style Questions Answered

---
From where to find the coolest pieces to what to wear for big events, Greg Zimmerman is an impeccably well-dressed guy with all the answers. In the first of his style clinics for SLMan, he decodes some of your wardrobe dilemmas.

All products on this page have been selected by our editorial team, however we may make commission on some products.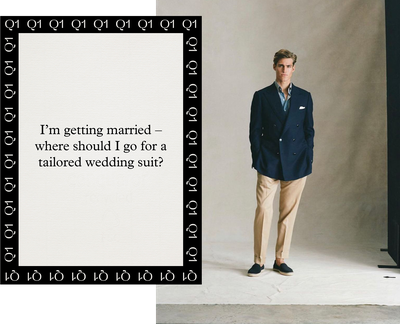 I'd like to answer this question with a question: why does it have to be a suit for the groom? Tailoring is the pinnacle of smart dressing for men yet the suit, as style writer Josh Sims has said, can "leave one feeling a little corporate". You can look just as distinguished – and arguably more modern – in a jacket and trouser combination.
There is a not-so-well-known Italian style philosophy called 'spezzato', which is all about splitting up suits to combine trousers and jackets of different materials and colours. Ignore bad mismatches like check and houndstooth; instead consider complementary shades like navy with cream, grey or khaki. Fabrics should also be well matched, like linens and cottons, or wools and flannels/moleskins. Get this right and you will avoid the uniformity and conformity of a suit on your special day.
The right fit is essential for any kind of dressing, and it's important to know the distinction between 'made to measure' and 'bespoke'.
Consider a dinner suit or tuxedo. But whatever you go for, tailoring is key. The right fit is essential for any kind of dressing, and it's important to know the distinction between 'made to measure' and 'bespoke'. The former takes a ready-to-wear garment and alters it specifically to fit you, whereas the latter is born solely out of your individual medley of measurements and a flurry of tailor's chalk on fabric. As well as having a much longer lead time from initial consultation to finished product (you'll have to go for multiple fittings), bespoke is much more expensive. My recommendation would be to go with made-to-measure unless you have a very good reason (or budget) not to. 
Savile Row is the obvious choice for anyone wanting something 'proper'. Take a walk down it and you'll find a range of styles, from structural (like Huntsman) and downright architectural (Edward Sexton) to the more drapey and casual (Anderson & Sheppard). Then there are the more modern, international and avant-garde options like Cifonelli and Ozwald Boateng. The Row is always a good place to start.
But there's also something to be said for Italian tailoring (a personal favourite). Signature characteristics include a high and generous lapel, minimal to no lining, and a barchetta (boat-shaped) chest pocket. All of this is in contrast to the heavily padded, rigid suiting made by Britain's more martial tailors. The only downside to this softer approach is that it leaves zero margin for error and can make hiding physical imperfections a lot tougher. If you're prepared to risk it, I'd look to Neapolitan tailoring in particular – especially Rubinacci, Kiton, Isaia and Canali. 
After something more budget-friendly? Look no further than Suit Supply, just off Savile Row. All of its collections are very well thought through and work within a unified colour palette so accessorising and customising are easy. The service is fantastic, the staff are knowledgeable and skilled, and it offers a great turnaround time, working with brilliant mills and fabric houses from around the world. If this doesn't excite you, you could check out one of the enterprising Savile Row-trained tailors who have launched their own smaller boutiques. Just as talented, but without the grandeur (and associated price tag) of the Row, establishments like Montagu Ede are well worth checking out. Wherever you end up, make sure you pick a tailor whose tastes match your own. Each one has their own style – there's no point bothering with one whose aesthetic isn't for you.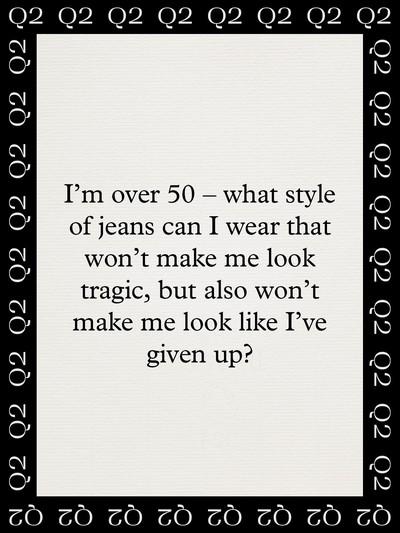 First things first, avoid skinny jeans at all costs. Not only are they unstylish, they are about as functional as a bucket with a hole. Steer clear of bootcut too. Depending on your body type, go for a slim or straight leg.
Secondly, remember not all jeans have to be blue. Faded blues and lighter colours should generally be avoided as they can often be less flattering. Turn to darker shades such as grey, navy or indigo. They're more slimming and provide a contrast against which other wardrobe items tend to match more easily.
Finally, go for selvedge denim. It's higher quality means it's extremely long lasting and will evolve as you wear and wash it. The Japanese are specialists in this fabric, so check out brands stocked at Clutch Cafe in Fitzrovia, or head to one of the Blackhorse Lane Ateliers.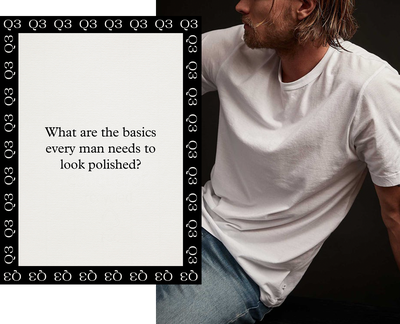 The power of a seemingly simple wardrobe staple should never be underestimated. There are many essential basics that every man should own, from a white t-shirt, a leather jacket, a crew neck sweater, to a great pair of denims, chinos and a navy blazer – but it's the quality of these basics that make the difference. 
Top-quality basics provide the foundations from which all good wardrobes can be built. Not only do they help you look more polished; they make you feel better. They are more sustainable because, simply, they're not as easily disposable. There's a higher price that comes with higher quality, but these pieces will last longer and look better – a t-shirt will lose its shape less easily and won't become discoloured after the first wash. It's the quality of the garment, rather than the staple itself that will make you look and feel more polished. And as dressing becomes increasingly casual, now's the time to invest in that quality – so buy pieces you like, just make sure they're considered, well made and hard-working. Here are some of my favourites…
Shop The Best Basics Below
DISCLAIMER: We endeavour to always credit the correct original source of every image we use. If you think a credit may be incorrect, please contact us at [email protected].