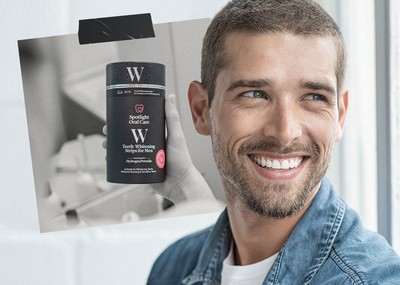 The Teeth Whitening Products That Really Work

---
Studies show a third of us want whiter teeth. In fact, four in ten men under 45 have already tried some form of whitening treatment. But when it comes to whitening, not all brands are created equal. Spotlight Oral Care is the market leader and if you ask us, rightly so. Here's why its Teeth Whitening Pen and Whitening Strips are the ones to use. Plus, get an exclusive 20% off the strips for a limited time only...

CREATED IN PARTNERSHIP WITH SPOTLIGHT ORAL CARE
Looking After Your Teeth Is A No Brainer
A lot of men admit they don't take the best care of their teeth and the reality is, you'll never have a great smile with poor dental hygiene. Let's recap: your teeth are made up of an inner dentin layer and a hard outer enamel layer, which protects the teeth. When you eat and drink, a film gradually forms on the top of your teeth. Brushing gets rid of some of this film – and your dentist can clean it away completely – but stains in this film eventually get into the enamel and at that point the only thing that can help is an oxidation reaction to break them up. Cue hydrogen peroxide. It comes fully loaded in Spotlight Oral Care's Whitening Pen and Whitening Strips, making dissolving even the toughest of stains easy.
Spotlight Oral Care Is A Name We Trust
The teeth-whitening market is saturated with brands promising to deliver a whiter smile, but many of them sell online products that contain dangerous levels of chemicals and aren't actually safe to use at home. Spotlight Oral Care however is a brand we trust. Founded in 2016 by dentist sisters Dr Lisa and Dr Vanessa Creaven, it has quickly become one of the hottest oral hygiene brands, and the results speak for themselves.
 
It Makes Dental Hygiene A Breeze
The brand really does deliver with its science-backed products guaranteeing a healthier, whiter smile in as little as 14 days. You might have seen some its products on social media already – think the bestselling Sonic Toothbrush and Water Flosser. But it's the Teeth Whitening Pen and Whitening Strips that we rate most highly. Applauded by industry insiders, they are the most foolproof tools to tackle stains
The Whitening Pen Does What It Says On The Tin
Forget fiddly trays and tooth sensitivity. Spotlight Oral Care's Whitening Pen removes the hassle and takes at-home whitening to the next level. A targeted treatment to minimise staining, there's nothing else like it. With whitening hydrogen peroxide to brighten residual stains from tea, coffee and red wine, as opposed to covering them up like many other whitening products, the clever pen ensures you're using exactly the right amount. 
 
Expect Noticeable Results After One Hour
If you've used whitening strips in the past, you'll know they can be tricky to use and sometimes deliver disappointing results. Spotlight Oral Care's Whitening Strips easily adhere to teeth, so after just one hour you'll notice a difference – and after 14 days, you will achieve a whiter, brighter smile. And the ingredients strips stains fast. Just like the Whitening Pen, the strips contain hydrogen peroxide to break them down lighten enamel without causing sensitivity. 
It's Quick And Easy
If you're prone to a Friday curry, bottle of red, or drink a fair amount of tea and coffee, keeping your teeth white will be more of a challenge. Spotlight Oral Care's products have you covered without the need for clunky trays or gels. Both products are incredibly easy to use and can be factored into your daily routine, whether using them at home, in the office or on the go.
The Brand Goes The Extra Mile
Given the mouth is 50 times more absorbent than our skin, Spotlight Oral Care has gone above and beyond to ensure its formulas are clean, meaning no chemicals will be actively absorbed into the bloodstream. All Spotlight Oral Care products are cruelty free, vegan friendly and only contain clean, active ingredients to support your smile's health. 
Keen to give it a go? SLMan readers can get an exclusive 20% OFF the Whitening Pen, Whitening Strips and the entire Spotlight Oral Care range by entering SHEERLUXE at checkout.
DISCLAIMER: We endeavour to always credit the correct original source of every image we use. If you think a credit may be incorrect, please contact us at [email protected].