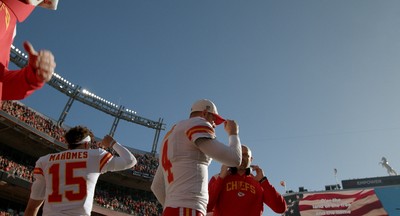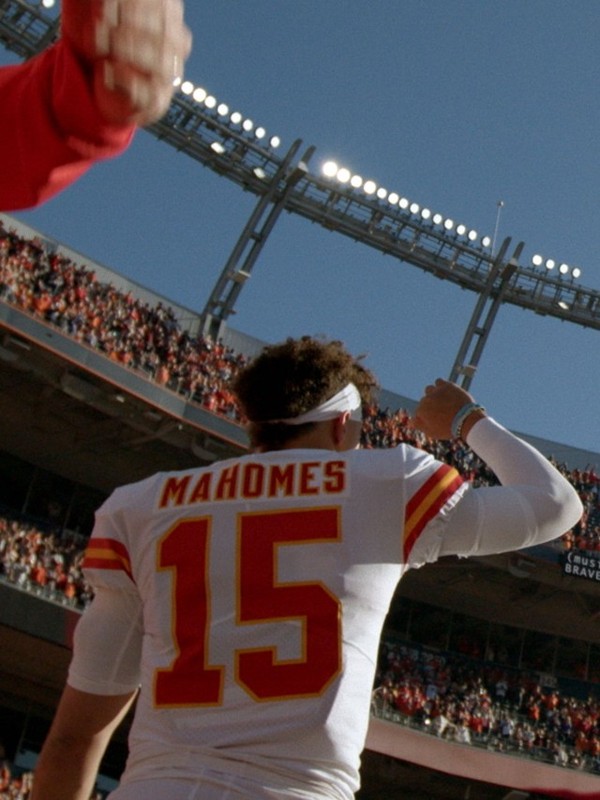 How To Get Into American Football

---
Quarterback, Johnny Football, Swamp Kings – Netflix has just completed a great run of American football documentaries… And now the 2023 NFL season is about to start. It's almost like they planned it. For anyone wanting to dive into the live action for the first time, Tobias Gourlay's put together the SLMan guide to watching 'America's game' from the UK – from choosing your team to the reason you need RedZone…

Photography
Quarterback, Netflix
The 2023 season starts this Thursday when the Detroit Lions visit the Kansas City Chiefs – the defending Super Bowl champs. Over the next 18 weeks until early January, all 32 teams in the NFL will play 17 regular-season games.
Those 32 teams are divided into two 16-team conferences: the AFC and NFC. The two conferences are each divided into four divisions: North, East, South and West. The winners of each division will go forward to the playoffs, along with the three other teams from each conference with the best win-loss records.
So that's 14 teams in total going forward to the post-season. Then it's knockout matches all the way until there are two teams left standing: the AFC champions and the NFC champions. They go head to head in the Super Bowl, which this season is set for Vegas on Sunday 11th February 2024.
As for the rules of the games themselves, this official guide can be handy – but, really, to watch is to learn. Don't be afraid to jump straight in.
Unlike the other big American sports, NFL scheduling is pretty kind on UK fans. Each week, most games kick-off around 6pm or 9.25pm on a Sunday. NOW/Sky Sports shows one game live from each slot – and what else would you be doing on a Sunday night in November?
If you've tried watching the NFL in the past and struggled with its stop-start format and the relentless advertising, you need RedZone – which is on NOW/Sky Sports and Game Pass (see below). From the start of the 6pm games to the end of the final 9.25pm game, this all-action option brings you every touchdown from every game – and not a single ad break. For around seven straight hours, NFL broadcasting savant Scott Hanson will guide you around the grounds, deploying split screens, quad boxes and occasionally a brain-frying 'octo box' to ensure you don't miss anything. It's addictive stuff.
Seven hours of sport not enough? Night owls can settle in for a third game on a Sunday – it's usually a big one, but it also usually doesn't kick-off until gone 1am UK time – as well as standalone single games on most Thursdays and Mondays throughout the regular season. Those also don't get underway until after midnight GMT. The Thursday and Sunday late games are live on NOW/Sky each week. Channel 5 shows the Monday night games live; it also has the NFL End Zone show on Sunday mornings.
Want to watch a live game that's not on Sky? You need Game Pass. For £151 a season, it gives you live access to all non-Sky games, plus a host of extras including Hard Knocks – a behind-the scenes docu-series following a struggling team hoping to get better during the off-season. This year, the New York Jets and their legendary quarterback Aaron Rodgers have opened the practice field to the cameras.
Over on ITV, Laura Woods, Jason Bell and SLMan's mate Osi Umenyiora lead a smart and funny highlights show that airs weekly throughout the season on Friday nights.
How To Watch It In London
Short of crossing the Atlantic to catch a game, you've got three chances to see some NFL IRL this year:
Sunday 1st October, Wembley Stadium: Atlanta Falcons @ Jacksonville Jaguars
Sunday 8th October, Tottenham Hotspur Stadium: Jacksonville Jaguars @ Buffalo Bills
Sunday 15th October, Tottenham Hotspur Stadium: Baltimore Ravens @ Tennessee Titans
All three London games kick off at 14.30. You might have to get creative to find tickets at this point, but our pick would be the middle one. The Jags and the Bills are AFC rivals who both have top-tier quarterbacks, and both made the playoffs last season. It could be a barn burner.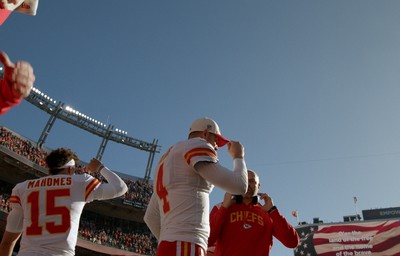 Maybe you've got second cousins in Minnesota. Maybe you really liked Houston when you went there once on a work trip. Or maybe your dad chose the Broncos during the last great UK NFL boom of the late 80s and you feel obliged to follow him.
If not, you've got free rein to get behind any of the NFL's 32 teams. How to decide? Read our top-line takes on them all and do what feels right…
And remember: a league-wide salary cap and a draft system designed to send the best young players to the worst teams means the playing field gets levelled every year. This year's champs can be next year's chumps – and vice versa. Never despair. (Chargers fans might disagree with that last statement.)
CHAMPS
KANSAS CITY CHIEFS
You saw the documentary, right? Quarterback's the most important position in the game. The Chiefs have got the best quarterback. For as long as Patrick Mahomes is suiting up on Sunday afternoons, they're going to be there or thereabouts. If you started supporting Man U in the 90s or Man City since they got rich, these are your boys.
CONTENDERS
PHILADELPHIA EAGLES
Philly is a town on the up with a team on the rise. The Eagles got all the way to the Super Bowl in February before they ran into Mahomes. Led by QB Jalen Hurts, they've got talent all over the field and – after some clever drafting in April – are favourites to be the best team in the NFC once more.
CINCINNATI BENGALS
By any measure, the Bengals were one of the worst teams in the league for decades. They rarely made the playoffs and, when they did, they lost at the first possible opportunity. Then Joe Burrow rode into town and, in an instant, the Cincinnati Bungles era was over. With ice in his veins, the Macaulay Culkin lookalike is the man most likely to displace Mahomes as the NFL MVP. 
BUFFALO BILLS
The Bills are another AFC team with a history of sustained failure. In the early 90s they lost four Super Bowls in a row. No one else has done anything like that before or since. But now they too have a game-changing QB. He's called Josh Allen, he's massive and he's got a rocket launcher for an arm. The Bills have also got Damar Hamlin on the comeback trail. And, if you like watching sport in the snow, there's no better place to do that than Buffalo.
SAN FRANCISCO 49ERS
The Niners came close to making an all-American dream a reality last season. With their first and second-choice quarterbacks out injured, they turned to Brock Purdy – the man they picked with the 262nd and last pick of last year's draft. They never expected 'Mr Irrelevant' to actually have to play, but when he did, he took them to within a game of the Super Bowl. Then he got injured as well. If they look after their QBs better this season, the Niners will go far. 
BALTIMORE RAVENS
One of the newer teams in the league – they were created in 1996 – the Ravens always play hard and they've been rewarded with Super Bowl wins in 2000 and 2012. After settling a long-running contract dispute with a $260m pay offer, they've nailed down Lamar Jackson – the one who's built like Donald Trump – as their QB and signed Odell Beckham Jr to catch balls for him. Should be fun.
DALLAS COWBOYS
The Cowboys are one of the most famous franchises in all of sport. They've won five Super Bowls – only two teams have more – but none since 1995. Long-time owner Jerry Jones is a bit of a liability and quarterback Dak Prescott might be too. Or Dak might finally come good and, with a bit of help from defensive superstar Micah Parsons, the Boys could finally end almost three decades of hurt.
CHALLENGERS
NEW YORK JETS
The Jets are a long-time laughing stock that the rest of the NFL might – might – have to start taking seriously. New for this season, they've got ayahuasca-taking, Super Bowl-winning veteran QB Aaron Rodgers. Maybe the two-time NFL MVP is past it or maybe he's the missing piece in a puzzle the Jets have been trying to solve all century.
DETROIT LIONS
If you tend to be the likable, non-threatening guy in the room, you've just found your spirit animal. After last year's Hard Knocks, everyone loves the Lions. Just bear in mind, even though there's a chance they're good this season, they've won one playoff game since 1957 and usually turn out to be terrible. 
MIAMI DOLPHINS
The last time the Fins were serious challengers, Miami Vice was still on television. But rolled-up sleeves and pastel-coloured suits are now back – and so are the Fins. Maybe. If they can find a way to protect their exciting lefty QB Tua Tagovailoa.
JACKSONVILLE JAGUARS
Not so long ago there was talk of the Jags making London their permanent home. But that was when they were rubbish. Now that they've got a potentially great quarterback – and possible nepo baby – in Trevor Lawrence, Jacksonville doesn't want to let them go. The Jags still tend to come to London a couple of times a year though, so they're as close to your hometown team as you can get.
LOS ANGELES CHARGERS
Surfer dude looks, incredible arm strength, $50m a season – Chargers QB Justin Herbert has a lot going for him. But don't be seduced by this Californian charmer. He plays for a team that some think is cursed… and the evidence is piling up. In January, the Chargers were winning a playoff game 27-0 against the Jaguars. They lost 31-30. 
SEATTLE SEAHAWKS
Like an underdog story? You'll love Geno Smith. Written off by everyone, the 32-year-old journeyman finally became a star for the Seahawks last year. You'll also love the Seahawks fans. They get so loud, they sometimes show up on seismographs.
PITTSBURGH STEELERS
The Steelers are the NFL's tough guys. They've won six Super Bowls – joint most – and since Mike Tomlin took over as head coach in 2007, they've never had a losing season. The jury's out on their young quarterback Kenny Pickett, but they're all about the defence anyway. TJ Watt is their current game wrecker and, while he and Tomlin are around, the Men of Steel will always have a puncher's chance. 
MINNESOTA VIKINGS
Vikings quarterback Kirk Cousins seduced Quarterback viewers with his nerdy dad ways. But, despite his absolute commitment to doing his homework, he's not the Vikings' biggest asset. That's Justin Jefferson – the NFL's best wide receiver, with a celebration to match. The Vikings were historically lucky to finish 13-4 last season and cruise into the playoffs. They flamed out in the first round of the postseason and will need a bit more luck to get back there again.
GREEN BAY PACKERS
The Packers are a proud small-town team with a rich history – they've played at Lambeau Field since 1957 and, if you can ever get a ticket, a Packers home game is always worth the trip to Wisconsin. Right now, the Packers have just parted ways with QB Aaron Rodgers after 18 seasons, but they're hopeful new guy Jordan Love is ready to step up. All sounds good – but pick these guys and you will have to wear a wedge of cheese on your head.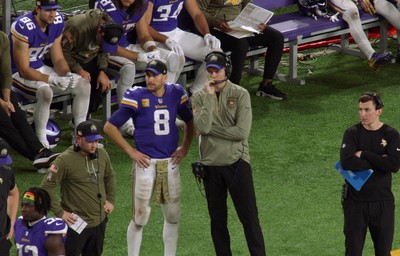 CHANCERS
LOS ANGELES RAMS
A few years back, the Los Angeles Rams went into 'win now' mode. They cashed in all their chips and it worked for them: in 2022 they won the Super Bowl in their own stadium (no one had done that before) with Dr. Dre and Snoop Dogg playing the half-time show. But the flip side of 'win now' is 'lose later'. And that's what the Rams did last season, losing 12/17 games and missing the playoffs by miles. Get behind them now and you might feel like you were a bit late to the party.
NEW ENGLAND PATRIOTS
Since the turn of the millennium, the Patriots have won six Super Bowls. No one else has won more than two. Unfortunately for the Pats, Tom Brady was the quarterback for all those wins, and the GOAT is long gone. In his place they have a regular guy called Mac Jones, and their chances of winning a seventh crown just aren't what they were.
NEW YORK GIANTS
If you're an NYC regular, it might make sense to get behind the G-Men. Like city rivals the Jets, they can go through long periods of underachievement. Unlike the Jets, they occasionally pull something special out of the bag – like unexpectedly winning two Super Bowls against Tom Brady. Saquon Barkley is a mega-talent at running back and they're due again soon…
NEW ORLEANS SAINTS
The best thing about the Saints right now is that they play in the NFC South. They share it with the Falcons, the Panthers and the Buccaneers, making it the weakest of all eight divisions in the NFL. One of these four teams might only need eight or nine wins from their 17 games to grab top spot and head on into the playoffs. Why not the Saints?
CLEVELAND BROWNS
The Browns have been bad for a long time. So much so their own fans have called their stadium a 'factory of sadness'. And that's before you get to Deshaun Watson, who has faced multiple accusations of sexual assault yet the Browns still guaranteed to pay him $230m to be their quarterback. That decision cost them a lot of supporters. We'd look elsewhere too.
ATLANTA FALCONS
When the NFL zigs, the Atlanta Falcons zag. Everyone else is obsessed with quarterbacks right now. Not these guys. They've tooled up at every other skill position but, having axed Quarterback's Marcus Mariota last season, they're happy to run with another mid-level talent in Desmond Ridder. Think of them as an avant-garde option that could blow up in your face.
DENVER BRONCOS
Broncos quarterback Russell Wilson is a strange guy. When he was good, it didn't really matter, but then last season he was terrible – despite taking his workouts to new heights. Ahead of this season, the Broncos have got themselves a competent new head coach and spent big on other players, but is that enough to get Russ back on track?
LAS VEGAS RAIDERS
Black-and-silver Raiders merch has been essential streetwear ever since NWA burst out of Compton in the 80s. It still looks good today. It's just a shame about the team. The Raiders moved to Vegas from Oakland a couple of years ago and, despite possessing a generational talent in wide receiver Davante Adams, they're a lot less likely to shake up the status quo than Ice Cube and pals were. 
INDIANAPOLIS COLTS
Jump onboard with the Colts and you're in for a wild ride. After a tyre-fire 2022 they picked Anthony Richardson to be their new quarterback in April's draft. A freak physical specimen who hasn't actually played that much American football, Richardson is a high-risk, high-reward choice – a future Hall of Famer or a massive waste of a draft pick. This is the season where you find out whether he's got the talent to use his tools.
CHICAGO BEARS
The Bears have exactly two things going for them right now. One, their young QB Justin Fields might still turn out to be the real deal. Two, they've got the NFL's best uniform. Barely changed since the 1940s, that iconic orange 'C' on a navy background is a timeless piece of design. Whatever they do on the field, you're guaranteed to look good off it.
CAROLINA PANTHERS
If you like rooting for the little guy, try the Panthers on for size. In dire need of a quarterback, they traded up in this year's draft to take the very first pick. They used that pick on Bryce Young – an outstanding prospect with just one question mark against him. He's 5'10 and barely 200 pounds. No one's chosen a QB that small for decades.
TENNESSEE TITANS
Titans running back Derrick Henry doesn't just make Bryce Young look small. He makes big men look small. In an era when teams pass the ball more than ever, the Titans continue to play old-school smashmouth football, relentlessly sending 250-pounder Henry up the gut of opposing defences. Got a background in rugby league? Get behind the boys from Nashville.
CHARITY CASES
HOUSTON TEXANS
The Texans were terrible last year, winning just 3/17 games. They've found a new head coach and a new quarterback over the summer, and both have potential, but there are still some serious talent shortages elsewhere on the team. We tried to warn you.
ARIZONA CARDINALS
The Cards lost their last seven games of last season. Since then they've sacked their head coach, traded away their star wide receiver, and star QB Kyler Murray remains injured. Everything's in place for them to fail this season and launch a proper rebuild in 2024. Hold your fire.
TAMPA BAY BUCCANEERS
It was only 2020 that the Bucs signed Tom Brady and he led them to their second ever Super Bowl win. But future Birmingham City owners don't come cheap and the Bucs are still paying the price for that success. With little money to play with, they've replaced Brady with Baker Mayfield, a one-time college football superstar who's never quite cut it in the NFL. They – and you – deserve better than that.
WASHINGTON COMMANDERS
Dan Snyder is gone, but it might take the Commanders a while to get over 24 years of the NFL's worst owner. DC's finest need a culture change, a new stadium and a lot of new players. If they have a bad time of it this season – not deliberately, of course – they will at least be in position A to load up on young talent and go again next year. Can you afford to wait that long?
DISCLAIMER: We endeavour to always credit the correct original source of every image we use. If you think a credit may be incorrect, please contact us at [email protected].