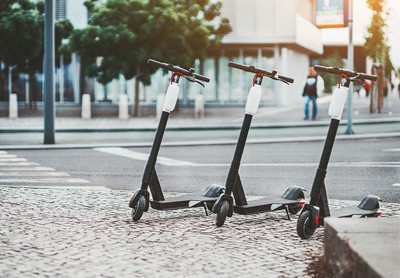 Everything You Need To Know About E-Scooters

---
The government has just announced rental e-scooters will be legal for road use from this weekend. Green, easy and helping to keep people off public transport, they look set to become the ride of choice for the new normal. To give you an idea of what life with an e-scooter would be like, Tom McPhail of specialist retailer Pure Electric chatted SLMan through the basics...

To start with, can you explain what an e-scooter is and how it works?
An e-scooter (where 'e' stands for electric) looks much like a traditional push scooter with two wheels and a deck to stand upon. The difference is that an e-scooter is fitted with, and powered by, an electric motor (or two) inside the wheel. These motors range in size, with 250W-500W the most common. 
 
What's interest been like recently? 
Interest levels and sales of e-scooters have gone up phenomenally since Covid-19 became widespread in the UK. This is partly driven by a decreased level of available public transport, but more importantly by the desire to find a hygienic mode of transport that maintains our new-found clean air quality and doesn't cost as much as an e-bike or electric car. Travelling by e-scooter offers no shared touch points (if it's privately owned) and no shared enclosed air space – it's ideal for a short urban commute. Plus, most e-scooters can be folded up and easily carried, which is ideal for riders who want to cut time spent on trains or tubes. 
 
Are you allowed to use one on the road and pavement?
Privately owned e-scooters are currently illegal to use on UK roads, cycle paths and pavements. They must be used on private land with the owner's consent. However, since the beginning of this year the government has made a number of announcements regarding the introduction of e-scooter trials, saying they would be fast-tracked as part of the fight against Covid-19. In its latest announcement this week, the government has said rental e-scooters from companies such as Voi and Spin are legal for road use from this weekend. 
 
How safe are they?
When ridden on the roads and cycle paths, e-scooters are just as safe as bikes. They are not designed to be ridden on pavements. We encourage riders to wear high-visibility clothing and helmets, plus use daytime running lights to be extra safe. 
 
Do they need to be charged? If so, how regularly? 
Yes they do. The motor is powered by a hidden lithium ion battery which allows the scooter to travel long distances on electric power alone. It's charged via your home wall socket, just like a phone. We recommend that your first charge should be for eight hours in order to fully 'prime' the battery cells. Although your e-scooter doesn't need to be charged after every use, consider putting it on charge at the end of each day, even if your battery is only partly discharged. Doing so will help make sure the battery retains as much of its capacity as possible through its lifetime, reducing the likelihood of needing to replace it in the future.
 
What type of brakes do they use? 
Braking on an e-scooter can be via a disk brake or drum brake, like those found on a bicycle. Some models have a rear foot brake like a traditional scooter. Many e-scooters even use an electric brake, which slows the scooter using the same electric motor that powers it.
 
Are there different types of tyres for different models of e-scooters?
Like push scooters, e-scooters can come fitted with air-filled tyres or solid rubber tyres. The former makes for a significantly more comfortable ride, but the latter ensures your e-scooter is puncture free. Air tyres need to be pumped to the required amount regularly (we suggest weekly) to keep your scooter performing as it should.
 
What speed can they reach?
The best-selling e-scooters can reach approximately 15mph, as that's where most European countries set their speed limits for these kinds of devices. There are models that go up to 40mph but, just because it can go that fast, doesn't mean you should drive it at maximum speed everywhere. 
 
How lightweight are they?
The smallest e-scooters can be as light as 10kg, then as motor size, speed and build quality increase they can go up to 32kg. Typically, the best-sellers that achieve reasonable reliability, speed and range will be approximately 12.5-15kg. The weight you opt for will depend on your build plus what you'll be using it for. 
 
What's the maintenance like?
Looking after an e-scooter is much like looking after a car – you can leave it until something goes wrong or you can have it regularly looked at. The latter will generally mean you get more life out of your e-scooter. We recommend a six-monthly service for those who use their e-scooter regularly. These are available via our service centres in our 12 nationwide stores. 
Interested in investing in an e-scooter? Tom says...
DON'T skip a warranty. The best warranties are supplier-held but backed by the manufacturer, so were your retailer to not be around in the future, your e-scooter would remain protected. Look for a two-year warranty if possible.
DO take your height into account. If you are particularly tall, consider an e-scooter with adjustable handlebars.
DO consider wheel size. The bigger the wheel, the easier it is to safely navigate through a pothole. We recommend an 8-10in wheel size.
DO check your weight against the load capacity and take it into account when choosing what motor size you opt for. Some smaller, cheaper e-scooters will have a lower weight limit and small motor, which can result in a heavier or taller rider struggling to reach maximum speed. If you are larger or taller than average, consider a motor greater than 250W in size. Also, most e-scooters have a maximum load capacity – stick to it otherwise your ability to climb hills will be compromised. Warranties can also be voided if you are over the maximum weight.
DO consider how you will use it. If you think you might need to carry it up flights of stairs, for example, instead of parking it in a hallway or garage, choose a lightweight model you know you can lift comfortably. Test how easily you can fold the model you're considering. This is especially important for those taking it on part of their commute.
DON'T forget about range. If your e-scooter is for a specific, regular journeys, consider the distance and whether many hills are involved, and check the range specification in relation to this. The further you go and the hillier your journey, the greater the range you will require.
DO buy official UK stock – that is, an e-scooter made to be sold here in the UK. Your warranty needs to be UK-based and your charger needs to be designed for use here. Shop with an electric mobility specialist that stocks a large range of e-scooters. If the retailer has the required expertise, they can comfortably guide you through your decision process.

 
Check out our roundup of the best e-scooters on the market right now below...
THE SOLID ALL-ROUNDER: XIAOMI M365, £439.99 
The M365 from Xiaomi is a worldwide best seller for good reason. Boasting a 30km battery range, 250W motor and a comfortable 16 mph maximum speed, it's one of the most loved models out there. At 12kg, it's sturdy and reliable, but not too heavy to take on public transport if you want to use it as part of your commute. Coming in at under £450, it sits firmly in the mid-price bracket. 
 
Visit PureElectric.com
THE COMMUTER FAVOURITE: MICRO MERLIN, £798.99 
Speedy and lightweight, this foldable scooter from Micro is a strong contender for those looking for something portable. It features a powerful 300W motor, both a front and back brake for optimum safety, as well as a three-hour charge time and 15-mile range. With a top speed of 15 mph, and four speed settings to suit every type of journey, this is the model to opt for if you're after a more enjoyable commute. 
 
Visit PureElectric.com
THE WALLET-FRIENDLY OPTION: MTRICSCOTO, £198
At under £200, this is one of the least expensive models on the market. It offers three height options thanks to adjustable handlebars, and can be easily folded down and carried when necessary. It also comes with a dual brake system – both handbrake and foot brake – for extra security, and a standard 250W motor. This is a solid option for those who aren't ready to commit to a pricier model just yet. Just bear in mind the 12km range will mean you need to charge it more frequently. 
 
Visit Amazon.co.uk
THE STYLISH MODEL: REID E4, £499.99
Reid's sleek, all-black design is the one to go for if you want both style and substance. The stainless steel E4 is sturdy, reliable and – at 13kg – still reasonably lightweight. It takes four hours to fully charge, comes with puncture-proof tyres, and reaches 15 mph with its 250W motor, ensuring a steady, smooth ride. The E4 also connects to Reid's app, which tracks your speed and distance, and also controls its LED lights and motor lock. 
 
Visit PureElectric.com
DISCLAIMER: We endeavour to always credit the correct original source of every image we use. If you think a credit may be incorrect, please contact us at [email protected].