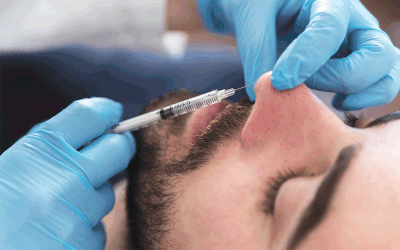 All About Liquid Nose Jobs

---
Non-surgical nose jobs are becoming big business, increasing in popularity by 29% year on year. To find out more about this new treatment, we spoke to three leading aesthetic doctors to find out more about this procedure…

How Does The Treatment Work?
"These types of treatments are alternatives to the traditional nose job," explains Dr. Wassim J. Taktouk. "The main difference being that they are non-permanent, predictable and reversible. With a clear understanding of the nose vascular supply, you can inject small amounts of thick hyaluronic acid into key points to recreate some of the surgical outcomes. You can straighten bumps, lift tips and make noses appear smaller – it's quite clever." In addition to this, Botox is often used, as Dr. Richard Sibthorpe, leading medical practitioner, confirms: "Each treatment is personalised and tailored to address patients' specific concerns. A plan and best dermal filler are chosen to correct deformities and Botox is also used to adjust the tip of the nose, if needed – you'll see results immediately."  
Why Would You Choose This Over Surgery? 
"We don't take anything away; we don't use a scalpel and there is no need for general anaesthetic and we can change things if you're unhappy," says Dr Nick Milojevic, doctor and own of the Milo Clinic. "In my opinion, traditional nose jobs are one of the most difficult operations in aesthetic surgery because often things go wrong and people don't like their finished result, whereas with this, there is no permanency, it's a lunchtime procedure, quick and relatively painless using very thin needles. There's also no downtime, it takes ten minutes max in some cases, and you'll instantly see the benefits, it's a real 'wow' moment when you look in the mirror post-treatment." 
If You Don't Like The Results, Can You Do Anything?
"Firstly, this is rare, but it's also interesting as I find that many people undergo the treatment as a trial/test run for the real surgery," explains Taktouk. "Many end up getting the nose they dreamed of and actually don't go onto have the surgery. Because it's not a permanent treatment it will wear off and you can top it up as you so wish." You can also actually reverse the effects with hyaluronidases, which Milojevic says is safe and simple to use: "Its an enzyme which breaks down and melts the natural hyaluronic acid which is in the filler we use to shape the nose, so if you were really unhappy, we can now do this to get rid of the results." 
Why Do You Think Treatments Like This Are Becoming Commonplace?
"Of course, you have social media promoting treatments like this, but it's also because it's such an easy treatment with no need of going under the knife," says Sibthorpe. "Dermal fillers smooth bumps, depressed bridges, beak-like noses and droopy tips, all without the need for surgery, which is why I think it's become so popular. It's accessible, straightforward and is minimal to no pain whatsoever." 
Be Honest, Is It Really Not Painful?
"The pain really is minimal, in fact, my patients regularly comment on how it hurts much less than they expected," assures Milojevic. "At most it'll feel like little mosquito bites, but that's it, it's also very quick so you barely have time to consider what's happening. It's also worth knowing that the hyaluronic acid is formulated with an aesthetic, so after the initial injection, the areas of treatment become numb anyway."
So, What Does The Treatment Actually Entail?
"After full consultation and consent is obtained, I put a numbing cream on the nose," advises Taktouk. "After it's taken effect, the treatment is bespoke to the type of nose you're dealing with. If it's a bump on the nose, we inject around it. If a turned down nose is the complaint, the filler is injected under the nose to prop it up. All in all, it takes anywhere between 15-30 minutes and you can return to work straight after." 
How Long Will The Results Last For? 
"Yes, it varies case by case, but you'll see the results stay put for twelve to eighteen months, often more in some cases," says Sibthorpe. "You can return to clinic whenever you feel you need it topped-up or re-looked at again." 
And Are There Any Side Effects?
"Redness, swelling and bruising are the most common ones but these settle quite quickly over the following days post treatment," says Taktouk. "Make sure your practitioner goes over the sides effects with you before you commit to the treatment." 
And Most Importantly, How Reliable Is The Treatment? 
"It's incredibly safe," assures Milojevic. "I've done three or four thousand cases and all my patients have been incredibly happy. Aside from a little bruising or swelling, we've never seen any serious sides effects, of course allergic reactions are possible, but providing you're seeing a reputable doctor at a reputable clinic, you'll be absolutely fine." 
Keen to try? These are five of the best clinics offering non-surgical nose jobs:
DISCLAIMER: We endeavour to always credit the correct original source of every image we use. If you think a credit may be incorrect, please contact us at [email protected].